Just heard this very funny Auto Tuned News Talking Heads
Did you know shortie was spelled 'shawtie'?
I'm so old.
Here's your Today in History:
Today is believed to be the date in 476 A.D. when the Western Roman Empire, which had lasted for almost 500 years, came to an end as Emperor Romulus Augustulus was deposed by a barbarian.
Historians have been theorizing about the causes of the fall of Rome ever since. Edward Gibbon's book The History of the Decline and Fall of the Roman Empire (1776) put forward the idea that the Christian Church was to blame. After Christianity became the official religion of the empire, the best and the brightest leaders became leaders of the church rather than leaders of the government or the military. Another theory is that the aqueducts, which carried the water supply, were lined with lead, and so the Romans slowly went crazy. Some geologists believe that the eruption of Mount Vesuvius released so much ash into the air that it ruined Roman agriculture and weakened the empire. One of the more recent theories is that the Roman army had been infiltrated by the barbarians themselves.
But whatever the cause, the fall of Rome actually wasn't the catastrophic event most people think it was. So-called barbarian rulers kept most of the basic laws in place, Latin remained the official language of government, everyone remained Christian and orgies continued but in private.
August 28, 1907 -
United Parcel Service begins service, in Seattle.
Hopefully some of those packages will arrive soon.
August 28, 1922 -
The first radio commercial aired on WEAF in New York City (WEAF stood for "Water, Earth, Air and Fire.)
It was a 10-minute advertisement for the Queensboro Realty Co., which had paid $100.
Programming must have really stunk if people listened to a 10 minute commercial.
August 28, 1963 -
During a 200,000-person civil rights rally in at the Lincoln Memorial in Washington, D.C., Martin Luther King, Jr. gives his famous "I have a dream speech".
August 28, 1982 -
Two crazy kids got married on this date.
Some of the people who were at that wedding are still alive. Some of them are unfortunately not. Some of them have gotten married (even to each other.) Others are not. Some of them had children. Some did not.
Those two crazy kids are still alive, married and have children.
Happy Anniversary Mary.
August 28, 1996 -
Unfortunately for others, the fairy tale has a very unhappy ending,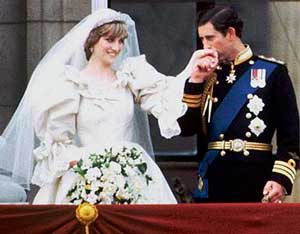 Britons Charles, Prince of Wales, and Diana, Princess of Wales, are divorced on this date. One year later, almost to the day, Diana, will have a very nasty accident in an Paris underpass.
(sorry I couldn't help myself - I promise I'll hold off on the Elvis Costello clips for awhile.)
And before I forget, Happy Birthday Claudia and Romolo.
And so it goes.