It's the
Fifth Night
of
Hanukkah
Unless you lay off all this fried food, you may have to begin considering your own pair of
Joey Thanksgiving's pants
for this holiday.
December 16, 1938 -
MGM
released its film version of
Charles Dickens' A Christmas Carol,
on this date.
Lionel Barrymore
was originally set to play
Scrooge
, but had to back out due to illness. Barrymore instead suggested his friend
Reginald Owen
take over the role. Barrymore did not perform the radio version of
A Christmas Carol
in
1938
so that it would not interfere with the success of the picture, and he appeared in a special trailer for it called
A Fireside Chat with Lionel Barrymore
.
December 16, 1951
-
NBC-TV
debuted
Dragnet
in a special preview on
Chesterfield Sound Off Time
on this date. (The show began officially on
January 3, 1952
.)
The series opener ran in real time, and it contained several clock-on-the-wall shots to keep track of time. The story starts with the police frantically trying to meet a
26
-minute deadline to satisfy the demands of a terrorist. The show ran for
26
minutes, excluding commercials.
December 16, 1959 -
20th Century Fox
releases the
Jules Verne
science fiction classic,
Journey to the Center of the Earth
, starring
Pat Boone, James Mason
and
Arlene Dahl,
on this date.
Pat Boone
didn't want to make this film but was talked into it by his agent. Years later he stated he's glad he did it because of the regular residual checks it brings in and because it's the movie he'll probably be best remembered for.
December 16, 1962 -
David Lean's
epic (in ever sense of the word) bio-pix of
T. E. Lawrence, Lawrence of Arabia
, starring
Peter O'Toole, Alec Guinness, Anthony Quinn, Jack Hawkins
and
Omar Sharif
premiered in the US in
NYC
on this date.
King
Hussein
of
Jordan
lent an entire brigade of his
Arab Legion
as extras for the film, so most of the "
soldiers
" are played by real soldiers. Hussein frequently visited the sets and became enamored of a young British secretary,
Antoinette Gardiner
, who became his second wife in
1962
. Their eldest son,
Abdullah II
King Of
Jordan
, ascended to the throne in
1999
.
December 16, 1965
-
One of the classic cold war thrillers,
The Spy Who Came in from the Cold
, starring
Richard Burton
, premiered in the US on this date.
Author
John le Carré
worked for British Intelligence
MI5
and
MI6
during the
1950s
and
1960s
and worked in
Berlin
where this film is partially set. Le Carré was there when the
Berlin Wall
was being constructed. Le Carré drew on this real life experience when he wrote the novel of '
The Spy Who Came in from the Cold
'.
December 16, 1971
-
Don McLean's eight-minute-plus
version of
American Pie
was released and became one of the longest songs to ever hit the pop charts.
If you prefer the clip with Don singing in it, here you go.
Kids, use the song as the
Cliff Notes
(
Shmoop
, if you prefer) for what happened during the
60s
(do they still print
Cliff Notes?
)
December 16, 1972
-
Soul singer
Billy Paul's
single,
Me and Mrs. Jones
hit No.
1
on the Billboard charts on this date.
The song was written by
Kenny Gamble, Leon Huff
and
Carey Gilbert
. Gamble and Huff formed a famous songwriting team that helped define the
Philadelphia Soul sound
of the '
70s
.
December 16, 1975
-
The groundbreaking sitcom (for it's time)
One Day At A Time
starring
Bonnie Franklin, Mackenzie Phillips
and
Valerie Bertinelli
premiered on this date.
In the original pilot,
Ann
(
Bonnie Franklin
) had only one daughter (
Mackenzie Phillips
). Executives weren't happy with the results; a new pilot was shot with
Valerie Bertinelli
added as the second daughter.
Mackenzie Phillips
(
Julie
) and
Valerie Bertinelli
(
Barbara)
were actually the same age. Phillips was taller and wiry, while Bertinelli was round-faced and looked like the younger of the two, so Phillips was cast as the older sister.
December 16, 1977
-
Saturday Night Fever
, starring
John Travolta
, went into general release on this date.
Oh John, what a long strange trip it's been since that polyester shirt.
Production had to be briefly halted so that
John Travolta
could attend the funeral of his girlfriend
Diana Hyland
. The couple had earlier appeared in
The Boy in the Plastic Bubble
, their only ever joint venture. It was Hyland who encouraged Travolta to take the role of
Tony Manero
.
When
John Travolta
first saw the rushes, he was greatly upset that his solo dance was cut in close-up. He called
Robert Stigwood
and vocalized his concerns. It didn't seem right he explained, that he had worked so hard to get in shape and learn a complex dance just to see the sequence cut down in the editing room. It was important to Travolta for audiences to see his work and to know without a doubt that he was doing his own dancing. Stigwood agreed and told Travolta to go back and sit with the editors and personally supervise a new cut of the solo sequence.
Don't forget to tune into another
The ACME Eagle Hand Soap Radio Hour
holiday special
Today in History:
December 16, 1773
-
The Boston Tea Party
took place
244
years ago today.
A group of young colonists, dressed as Native Americans, stormed a few British ships in
Boston Harbor
and tossed their tea cargo overboard in protest of the British insistence that Americans ride their horses on the left-hand side of the street. While this is often remembered as a defining historical moment in the development of our proud nation, it should not be forgotten that
Boston Harbor
was for a long time one of our most polluted waterways.
I equally deplores the ecologically disastrous precedent set by these hotheaded young good-for-nothings, and their demeaning depiction of Native Americans as savage, tea-hating polluters. Also please do not confuse the
Tea Party
with
Tea Baggers
- two very different things although men wearing short skirts figure prominently in both of them.
December 16, 1950
-
President
Harry S. Truman
declares a state of emergency, after Chinese troops enter the fight with communist
North Korea
in the
Korean War.
With all the business going on in the world in the intervening
67
years, the order is still in effect,
one
of
four
current states of national emergency granting extraordinary powers to the President.
What the hell were we thinking?
December 16, 1965
-
NASA
was in a piss-proud mood. Days before,
Gemini 6
(
Tom Stafford
and
Wally Schirra,
space cowboys aboard) and
Gemini 7
(
Frank Borman
and
Jim Lovell
, rocket men aboard) had successfully rendezvoused in space. Just before
Tom Stafford
and
Wally Schirra
were about to re-enter Earth's atmosphere, on this date, they radioed
Mission Control
with their startling sighting: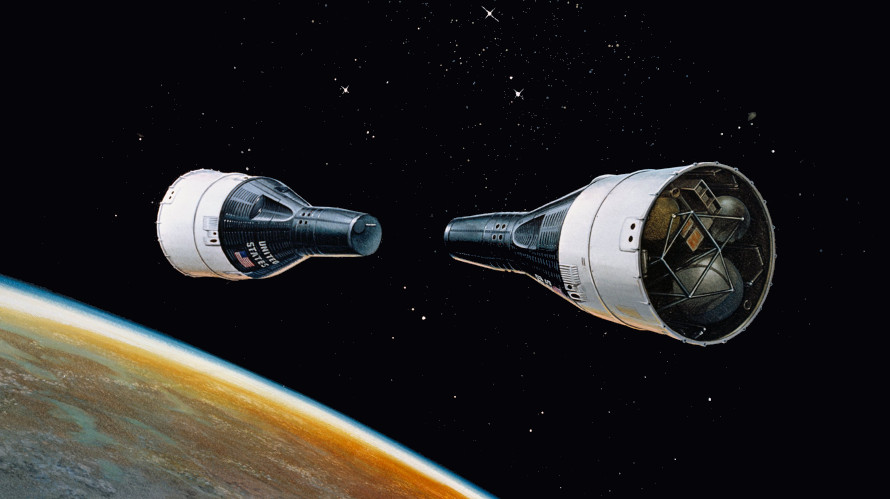 "
We have an object, looks like a satellite going from north to south, probably in polar orbit.... Looks like he might be going to re-enter soon.... You just might let me pick up that thing.... I see a command module and eight smaller modules in front. The pilot of the command module is wearing a red suit.
"
Wally and Tom do something even more startling; they break out in a chorus of
Jingle Bells
, accompanying themselves with a small harmonica and tiny small bells. The pair become the first men to perform
Christmas
carols from space.
NASA
, of course, was not amused having to pay the
ASCAP
fees.
December 16, 1985
-
What were you doing
32
years ago - I left work, cut through a parking garage in the middle of the block and walked passed the limos in front of
Sparks Steak House
on the next block on this date.
John Gotti
was looking to improve his position with
IBM
(the
Gambino crime syndicate
.) He had his boss
Paul Castellano
ventilated outside
Spark's Steak House
in
Manhattan
.
John and Paul are long gone but I, occasionally, get to visit my old office.
And so it goes
1135