September 10, 1922 -
Yma Sumac
(and not
Amy Camus
from
Brooklyn
), noted Peruvian soprano, one of the most famous proponents of exotica music, was born on this date.
She was said to have well over
four
octave range.
September 10, 1951
-
The underrated classic film (in spectacular Technicolor) by
Jean Renoir
,
The River
, was released in the
USA
on this date.
This film was instrumental in launching the careers of
Satyajit Ray
- an assistant on the film - and
Subrata Mitra
, who went on to become Ray's cinematographer.
September 10, 1955
-
Gunsmoke
premieres on
CBS-TV
on this date. The television series ran from
September 10, 1955
until
September 1, 1975
on
CBS
for
635
episodes. It had the longest run of any scripted series with continuing characters in American primetime television.
William Conrad
was the first choice to play Marshall
Matt Dillon
on TV, having established the role on radio, but his increasing obesity led to more photogenic actors being considered. Losing the role embittered Conrad for years, though he later starred in another
CBS television
series,
Cannon
(
1971-1975
).
Denver Pyle
was also considered for the role, as was nipple rouge manufacturer,
Raymond Burr
who was ultimately seen as too heavy-set for the part.
Rumors that the role was offered to
John Wayne
have been largely debunked, although he did apparent in an opening promotional video for the program.
Ah, if only
Raymond Burr
.
September 10, 1966
-
The Beatles' Revolver
album goes #
1
and stays #
1
for
6
weeks, on this date.
Revolver
is the only album on which
George Harrison
wrote
three
of the songs. On all the others he only has two or less cuts. On
The White Album
he had four, but it was a double album so he was only allotted his usual one track per-side.
September 10, 1988
-
Home Vision Entertainment
released the documentary
Comic Book Confidential
, directed by
Ron Mann
and featuring the work of
Robert Crumb, Will Eisner, William M. Gaines, Jack Kirby, Stan Lee,
and
Frank Miller
, on this date.
In the introductory credits the artists portrayed in the film are presented by a comic artist who is working on a comic page, filling the frames with the name and a typical comic character of each artist.
September 10, 1993
-
The science fiction television series
The X-Files
premiered with the episode
Pilot
on the
Fox network
on this date
During the opening titles,
Mulder
and
Scully's
FBI ID badges read "
Federal Bureau of Justice, United States Department of Investigation.
" The alteration was necessary as making a fake FBI badge, even for fictional purposes, is illegal.
Today in History
:
On
September 10, 1419
, supporters of the French Dolphin murdered
John the Fearless
.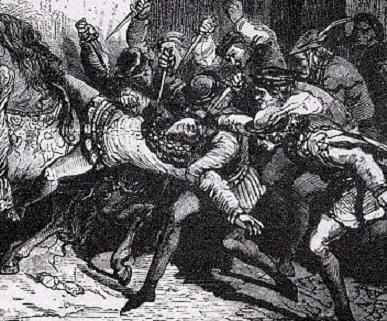 John's brothers,
Thomas the Prudent
and
Henry the Wary
, lived on into old age.
September 10, 1623
-
A cargo load of lumber and fur became the first exports in history from
North America
to
England
on this date. This ensured the commercial success of the new world, as Europe had long been paralyzed by a shortage of sticks and hair.
September 10, 1898
-
Empress
Elizabeth of Austria
was not a particularly happy royal. Known as the
Princess Diana
of her day, she was estranged from her husband,
Franz Joseph
, Emperor of
Austria
(because of the stifling nature of court life) she lost her daughter,
Sophie
, in
1857
, and her favorite cousin, King
Ludwig II
of
Bavaria
, in a tragic fashion. Her brother-in-law, Emperor
Maximilian of Mexico
was shot by revolutionaries. But most of all, she never was able to get over her most terrible tragedy, the suicide of her son,
Rudolph
, in
1889
.
She was still known as one of the most beautiful women in Europe well into her
60's
. Her decades-long hunger diets coupled with a need for movement and exercise which compelled her to undertake lengthy and strenuous hikes, caused malnutrition and depressions and led finally to suicidal fantasies.
The
sixty
-year old empress was stabbed with a file by a
twenty-four
year old anarchist,
Luigi Lucheni
, shortly after noon on
September 10, 1898
on the promenade of
Lake Geneva
as she boarded a steamship for
Montreux
. After the incident the Empress still walked for a few minutes. Because she was so strictly corseted, she was unaware how seriously she had been wounded.
Her last words were "
What happened to me?
"
September 10, 1932
-
You must take the A Train to go to Sugar Hill way up in Harlem.
..
It's the
81
th Anniversary of the famed
NYC
transit line (it was the
first
city owned line; the other
two
lines at the time were privately owned.)
Believe it or not,
Mike the Headless Chicken
(
April 1945 – March 1947
) was a
Wyandotte
rooster (
cockerel
) that lived for 18 months after its head had been cut off. Thought by many to be a hoax, the bird was taken by its owner to the
University of Utah
in
Salt Lake City
to establish its authenticity.
On Monday,
September 10, 1945
, farmer
Lloyd Olsen
of
Fruita, Colorado
, had his mother-in-law around for supper and was sent out to the yard by his wife to bring back a chicken. Olsen failed to completely decapitate the five-and-a-half month old bird named
Mike
. The axe missed the jugular vein, leaving one ear and most of the brain stem intact. Lloyd wasn't trusted with the knife on the farm after that.
On the first night after the decapitation
Mike
slept with his severed head under his wing.
September 10, 1953
-
Brothers
Gilbert
and
Clark Swanson
contributed to an American food revolution by selling their first TV dinner, for
98 cents
, on this date.
It let customers feast on turkey with corn bread stuffing, buttered peas, and sweet potatoes - right in front of their television screens. Americans eating habits and health would never be the same.
September 10, 1977
-
Convicted torture-killer
Hamida Djandoubi
, an immigrant from
Tunisia
, becomes the last person executed by
France
when he is guillotined in
Marseilles
on this date.
He did not survive his execution and there are no notes as to whether or not Djandoubi was buried with his head under his arm.
And so it goes
Before I let you go - CGPGrey
has done a masterful job of explaining for us old folks
What is reddit?
Now that the old folk know what it is - kids will be moving on to other social media platforms.