The town of
Cambridge England
has a pigeon problem. A very bad pigeon problem. The
Cambridge
City Council this year set up a $
175,000
"
rapid response
" cleaning team to target pigeon mess as well as chewing gum removal and to carry out extra litter-picking - but it is still awaiting a vehicle.
This apparently is not fast enough for one elderly resident of the small town. She has gone a one-woman vigilante crusade and begun taking matters into her own hands, literally and goes around strangling the pigeons. A spokesman for the town council was quoted as saying: "
It is illegal for an individual to kill pigeons just because they don't like them. (Only) local athority can do it if the pigeons are causing a health hazard.
"
Unknown pensioner of
Cambridge
, the
ACME
Corporation and it's subsidiaries, do not condone your actions, but we salute your plucky can do spirit.
Today is
Read a Book
Day.
I just finished
Salt: A World History
by
Mark Kurlansky.
September 6, 1925
-
The silent-film
The Phantom of the Opera
, starring,
Lon Chaney
(who considered it his crowning achievement) premiered in
NYC
on this date.
Rupert Julian
fought constantly with the cast and crew. Julian and
Lon Chaney
were not on speaking terms for most of the production, and had to communicate through intermediaries.
Norman Kerry
actually charged at Julian while riding a horse, knocking Julian to the ground in front of a group of onlookers.
September 6, 1935
-
This early
Astaire
and
Rogers
film,
Top Hat
, written specifically for Fred and Ginger, was released on this date.
The two-minute dance of "
The Piccolino
" was filmed in one take.
Fred Astaire
didn't care for the big finale production number so he handed singing duties on it over to
Ginger Rogers
. The dress
Ginger Rogers
wore in the number is on display in the
Smithsonian's National Museum of American History
.
September 6, 1936
-
The classic screwball comedy,
My Man Godfrey
, premiered on this date.
When
William Powell
and director
Gregory La Cava
had a disagreement over how
Godfrey
should be played, they talked it out over a bottle of Scotch in Powell's dressing room. The next day, LaCava returned to the movie set with a major headache, but Powell was not there. The director received a telegram from his star: "
WE MAY HAVE FOUND GODFREY LAST NIGHT BUT WE LOST POWELL. SEE YOU TOMORROW
."
September 6, 1944
-
Billy Wilder's
film-noir classic,
Double Indemnity
, starring
Fred MacMurray, Barbara Stanwyck
and
Edward G. Robinson
, opened in
NYC
on this date.
Billy Wilder
and
Raymond Chandler
did not get along well while writing this film's script, a process that was apparently filled with arguments. Wilder claimed that he flaunted his womanizing ability at the time to torment the sexually-repressed Chandler.
September 6, 1958
-
Steve McQueen
debuted in the western series,
Wanted: Dead or Alive
, on
CBS-TV
on this date.
Dick Powell
, the producer of the series, saw a preview of
The Blob
. Powell was so impressed with McQueen performance that he offered the young actor the lead of the series.
Today in History
:
September 6, 1776
-
American's first submersible,
David Bushnell's
egg-shaped
Turtle
, piloted by
Erza Lee
(after
Ezra Bushnell
, David's brother, the submarine's initial captain, died the night before) unsuccessfully attacked the British-vessel
HMS Eagle
in New York harbor on this date.
The bomb was released into the water and resulted in a frightening explosion. While the American
Turtle
failed to destroy its target, the British recognized the threat and moved the fleet. Royal Navy logs and reports from this period make no mention of this incident, and it is possible that the
Turtle's
attack may be more submarine legend than historical event.
September 6, 1901
-
While shaking hands at the
Pan-American Exposition
in
Buffalo, New York
, President
William McKinley
was shot twice in the abdomen at point-blank range with a .
32
caliber revolver, on this date. He, unintentionally, became the first President to ride in an automobile as a motorized ambulance takes him to a hospital.
The assassin, an anarchist by the name of
Leon Frank Czolgosz
, concealed his gun within a handkerchief, actually was a lone gunman (for once).
McKinley died a week later and became the
third
American president assassinated.
September 6, 1916
-
Clarence Saunders
opened the
Piggly Wiggly
® grocery store (the first self-service market,) at
79 Jefferson Street
in
Memphis, Tennessee
, on this date.
Piggly Wiggly's
introduction of self-service grocery shopping truly revolutionized the grocery industry.
There were shopping baskets, open shelves and no clerks to shop for the customer – all unheard of at the time. There are still more than
600 Piggly Wiggly
stores in the US today.
Although there can be no royalty in the
United States
, one young woman, is crowned each year as
Miss America
. The first such coronation was held for
Margaret Gorman
, on
September 6, 1921
.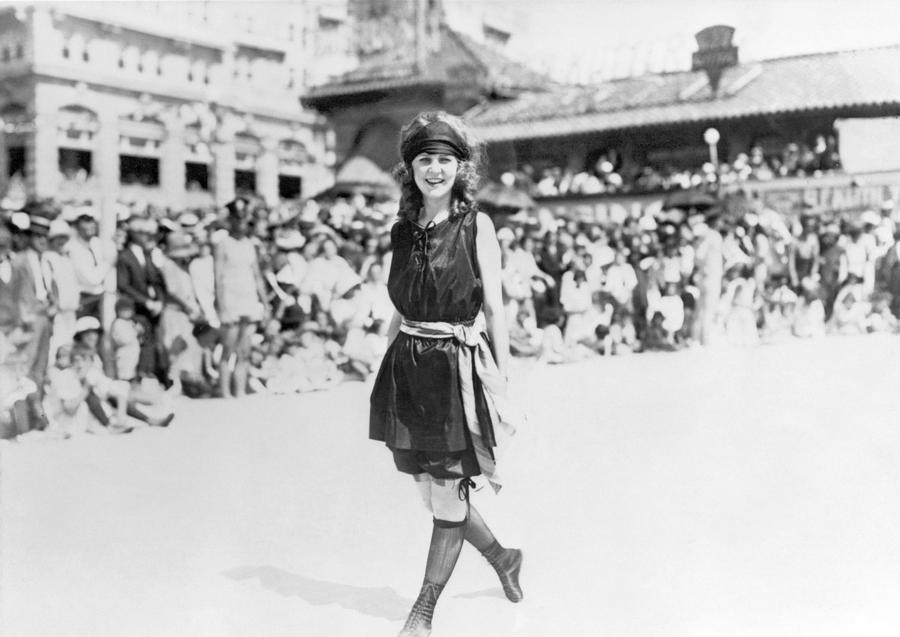 Miss America
reigns for one year, at which point she must retire-unless she removes her clothing, in which case she's deposed. (Or is that denuded?)
September 6, 1951
-
During a drinking party in Mexico City, author
William S. Burroughs
instructs his wife
Joan
to balance a glass of gin on her head. He then takes careful aim with his new .
38
pistol, and unintentionally blows her brains out in front of their friends. The Mexican authorities later charge Burroughs with criminal imprudence.
So kids
remember
, when a drunken Beat drug addict writer asks you to play "
William Tell" - Just Say No!!!
September 6, 1966
-
Parliamentary messenger
Demetrios Tsafendas
assassinated Prime Minister
Hendrik Verwoerd
, considered to be the primary architect of apartheid, by stabbing him in his chest on the floor of the South African legislature.
While Verwoerd died shortly thereafter, Apartheid tenaciously clung to life until 1994.
September 6, 1976
-
Years after their well-publicized break-up,
Frank Sinatra
privately orchestrated a surprise appearance of
Dean Martin
on
Jerry Lewis'
annual
Labor Day
telethon for the
MDA
. The two privately reconciled and maintained a private relationship throughout the rest of their lives.
If only Sinatra could have knock off broads and booze long enough to deal with the whole Israeli-Palestinian situation
And so it goes