Ellie Cole of Eastleigh, England
is the coolest woman in the world (she does not know that she is being filmed.)
You go girl!
September 18, 1951
-
20th Century Fox
premiered the science fiction classic,
The Day the Earth Stood Still
, directed by
Robert Wise
and starring
Michael Rennie
and
Patricia Neal
, in
New York
, on this date.
Patricia Neal
has admitted in interviews that she was completely unaware during the filming that the film would turn out so well and become one of the great science-fiction classics of all time. She assumed it would be just another one of the then-current and rather trashy flying saucer films that were popular at the time, and she found it difficult to keep a straight face while saying her lines.
September 18, 1963-
The show that taught elderly men, twin cousins might be lured into immoral acts with the purchase of grilled sausages -
The Patty Duke Show
, premiered on
ABC-TV
on this date.
Although the series was still doing well enough in the Nielsen ratings,
ABC
decided not to renew it for a
fourth
season.
ABC
wanted all of their black & white shows to switch color production.
United Artists
wanted more money to make the change. The network decided it would be more cost-effective to develop a new color show instead.
September 18, 1964
-
The most normal family's ever presented on US televsion,
The Addams Family
premiered on
ABC-TV
on this date.
Wednesday's
pet, a black widow spider, was named
Homer
. Her headless doll was named
Marie Antoinette
.
Pugsley's
pet Octopus was named
Aristotle
.
Morticia's
man-eating plant was named
Cleopatra
.
September 18, 1965
-
Kleenex stock rose precipitously as
I Dream of Jeannie
premiered on this date.
The fancy antique bottle in which Jeannie called home was actually a decorative
Jim Beam
liquor decanter, which originally contained "
Beam's Choice
" Kentucky Straight Bourbon Whisky. The bottle had been decorated and painted with gold leaf by the show's art department.
September 18, 1965 -
Mel Brooks
and
Buck Henry
started making the world safe from
KAOS
when
Get Smart
premiered on
NBC-TV
on this date.
Agent 99's
real name is never revealed, not even when she marries Smart, after which was is occasionally referred to as Mrs. Smart. In one episode her name was said to be
Susan Hilton
, however she later recanted and claimed it was an alias.
September 18, 1968
-
The film musical
Funny Girl
with
Barbra Streisand
premiered in NYC.
Barbra Streisand
was, at the time of the film's release, a voting member of
AMPAS
. When she found she was nominated, she, like any member nominated, voted for herself. If she hadn't, she wouldn't have tied with
Katharine Hepburn
for the year's Best Actress Oscar.
September 18, 1978
-
We first started living on the air in
Cincinnati
when
WKRP in Cincinnati
, premiered on
CBS-TV
on this date.
The show was videotaped instead of filmed because it was cheaper to get the rights to rock songs for a taped show than for a filmed show.
September 18, 1987
-
Pet bunnies felt a cold breeze on their neck when
Fatal Attractions
, starring
Michael Douglas
and
Glenn Close
, opened on this date.
When
Glenn Close
finally secured the part of
Alex Forrest
, one of the first things she did was to take the script to two different psychiatrists. She asked them, "
Is this behavior possible and if it is, why?
" The two psychiatrists who reviewed the script at
Glenn Close's
request both came to the same conclusion:
Alex Forrest's
behavior was, in its own way, classic behavior. Their diagnosis was that Alex had been molested and sexually tortured for an extended period of time while she was a child. As a result, she would naturally lash out at anyone who found her desirable.
September 18, 1994 -
Ken Burn's
series about America's favorite past time
Baseball
, premiered on
PBS
on this date.
When discussing
Yogi Berra's
many interesting quotes, a friend of Yogi's is alleged to have said, "
Hey, Yogi, what do you know?
" Yogi allegedly replied, "
I don't even suspect anything
." This exchange is actually taken from an exchange
Charles Chaplin
had in a Parisienne café in
Monsieur Verdoux
.
Today in History
:
Once again, I must ask all children and those with delicate natures to turn away from their computer screens as we discuss the bizarre deviant sexual behavior on the part of our founding fathers:
On
September 18, 1793
, President
George Washington
laid the foundation stone for the U.S. Capitol. According to numerous sources, President Washington "
laid the stone in a Masonic ceremony... preceded by a parade and followed by celebration and feasting.
"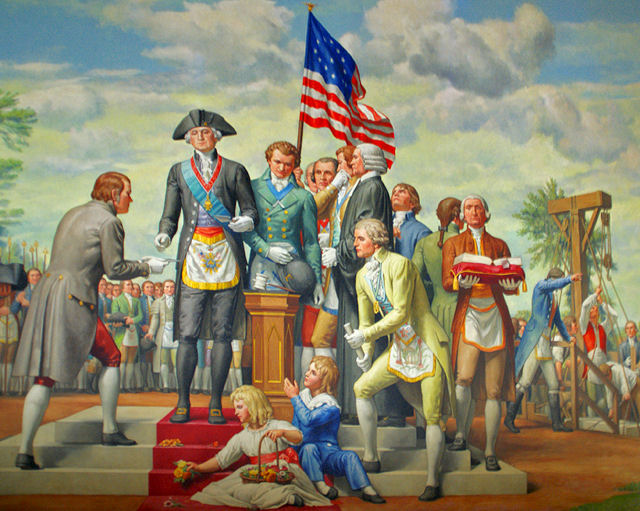 The
1792
competition for the design of the Capitol had been won by an amateur architect, and the building was therefore burned by the British before it could be completed. Congress had moved into the building on
November 22, 1800
, but managed to escape the fire.
September 18, 1851
-
The New York Times
published its first edition on this date. The newspaper, initially called the
New-York Daily Times
, was founded by
Henry Jarvis Raymond
, a politician and journalist.
It cost
one
penny per copy and was published six days per week, changing to seven days
1861
. Its name was changed to the
New York Times
in
1857
.
September 18, 1932
-
24-year-old starlet
Peg Entwhistle
dives head first from the letter "
H
" of the
HOLLYWOODLAND
sign in
Los Angeles
. She is the first person to commit suicide at the landmark.
Her body was discovered in the brush at the base of the hill two days later, and pronounced dead. When police examined her belongings, in her purse they found a note that read:
"I
am afraid, I am a coward. I am sorry for everything. If I had done this a long time ago, it would have saved a lot of pain. P.E
."
Two days later, in an ironic twist, Entwistle's uncle opened a letter addressed to her from the
Beverly Hills Playhouse
; it was mailed the day before she jumped. In it was an offer for her to play the lead role in a stage production—in which her character would commit suicide in the final act.
September 18, 1961 -
Dag Hammarskjold
, Secretary-General of the
UN
, was killed in a plane crash in
Northern Rhodesia
(now
Zambia
)on this date. He was flying to negotiate a cease-fire in the
Congo
.
Hammarskjold was the son of a former Swedish prime minister. In
1953
, he was elected to the top UN post and in
1957
was reelected. During his second term, he initiated and directed the
United Nation's
vigorous role in the
Belgian Congo
.
Strangely enough, for the past
31
year, I have worked in an office in one of the building that bears his name.
September 18, 1970
-
Jimi Hendrix
died in his sleep, in
London
, from of a barbiturate overdose when chunks of his vomited tuna sandwich wound up in his lungs, causing him to choke, on this date. He was
27
years old.
At least his family could take comfort that he did not choke on someone else's vomit.
Once again I must remind you that
Cass Elliot
did not choke to death on a ham sandwich. It is an urban myth born out of a quickly discarded speculation by the coroner, who noted a part eaten ham sandwich and figured she may have choked to death. In fact, she died of heart failure.
So cut it out.
September 18, 1992
-
Two weeks after being outed in the
New York
weekly
QW
, attorney
John Schlafly
admits in an interview with the
San Francisco Examiner
that he enjoys the love that dare not speak it's name. This causes a certain amount of consternation for his mother, archconservative gay rights opponent
Phyllis Schlafly
.
The Schlafly family have yet to fulfill their obligation as good Christians to present their rebellious son to the town elders and have him stoned to death as instructed in
Deut. 21:18
.
September 18, 1994
-
Vitas Gerulaitis
was killed in his sleep the previous night in the guest cottage of a friend's
Long Island
estate. His body was discovered on this date. The professional tennis player died from carbon monoxide poisoning, caused by a faulty propane swimming-pool heater.
How many more people must die from killer swimming pools?
And so it goes