Crowing Crows
decided not to record and release the song
August and Everything After
that their first album was named after.
Many years later, the group began performing the song at their concerts.
August 5, 1922
-
The silent-film classic,
Blood and Sand
, starring
Rudolph Valentino
and
Lila Lee
, was released on this date.
According to author
James Kirkwood, Jr.
, whose mother
Lila Lee
played
Carmen
in
Blood and Sand
,
Rudolph Valentino
liked to eat traditional Italian foods, heavily spiced with garlic. Therefore Lee asked that her love scenes with Valentino be shot in the morning so she wouldn't have to deal with his garlic breath after lunch.
August 5, 1953
-
Burt Lancaster
and
Deborah Kerr
got busy in the surf and someone may have gotten a horse head telegraph delivered to their bedroom -
From Here to Eternity
premiered in NYC on this date.
Harry Cohn
resisted the idea of casting
Montgomery Clift
as
Prewitt
as "
he was no soldier, no boxer and probably a homosexual
".
Fred Zinnemann
refused to make the film without him.
On
August 4, 1955
,
Carmen Miranda
suffered a heart attack during a segment of the live TV show
The Jimmy Durante Show
, although she did not realize it. After completing a dance number, she fell to her knees, and
Durante
instinctively told the band to "
stop da music!
".
He helped Miranda up to her feet as she laughed "
I'm all out of breath!
". "
Dat's OK, honey, I'll take yer lines
", Durante replied. Miranda laughed again and quickly pulled herself together, finishing the show. At the end of the broadcast, she smiled and waved, then exited the stage. She died later that night, on August 5, 1955, after suffering a second heart attack at her home in Beverly Hills.
As with all great performers - the show had to go on.
August 5, 1953
-
Alfred Hitchcock's
surprisingly light comedic touch is on full display in,
To Catch A Thief
, starring
Cary Grant
and
Grace Kelly
, opened in NYC on this date.
Cary Grant
had announced his retirement from acting in
February 1953
, stating that since the rise of Method actors like
Marlon Brando
, most people were no longer interested in seeing him. He was also angry at the way
Charles Chaplin
had been treated by the HUAAC. He was lured out of his retirement to make this film, and thereafter continued acting for a further 11 years.
August 5, 1956
-
Maureen McCormick
, actress, recording star and ex-junkie was born on this date.
After reading her autobiography, think of all the childhood fantasies (none of mine) that could have been fulfilled, had it been known the McCormick used to trade sex for cocaine.
August 5, 1957
–
American Bandstand
, a local Philadelphia show dedicated to the teenage "
baby-boomers
" by playing the songs and showing popular dances of the time, hosted by
Dick Clark
, debuts nationally on the ABC television network.
August 5, 1966
-
This was a big day in Beatles history:
The Beatles released their
Revolver
album in UK.
and The Beatles released
Yellow Submarine
and
Eleanor Rigby
as a double A single in UK.
A lot of kids weekly allowance must have flown out the door on this date.
Today in History:
August 5, 1884
–
The cornerstone for the
Statue of Liberty
was laid on Bedloe's Island in New York Harbor.
Children and horses were kept indoors on that day for fear of offending their delicate nature.
Norma J. Mortenson
was born on
June 1, 1926
, in Los Angeles. Her mother was insane, her father unknown. After her mother's institutionalization, Norma lived in foster homes and orphanages until 1937, when she was taken in by one of her crazy mother's friends. Five years later that woman's husband was transferred to the east coast (there was a war on), and the couple couldn't afford to bring the girl with them. To avoid returning to the orphanage, the now 18-year-old Norma married a boy named
Jimmy Dougherty
. He joined the Merchant Marines and was shipped out to the Pacific in 1944.
While he was away Norma got a job on the assembly line of a Burbank munitions factory. One day a photographer from "Yank" magazine came to the factory to take pictures for a piece on beautiful young factory workers with insane mothers. When the magazine was published, Norma's pictures were extremely well received. This quickly led to a successful career of letting people take pictures of her.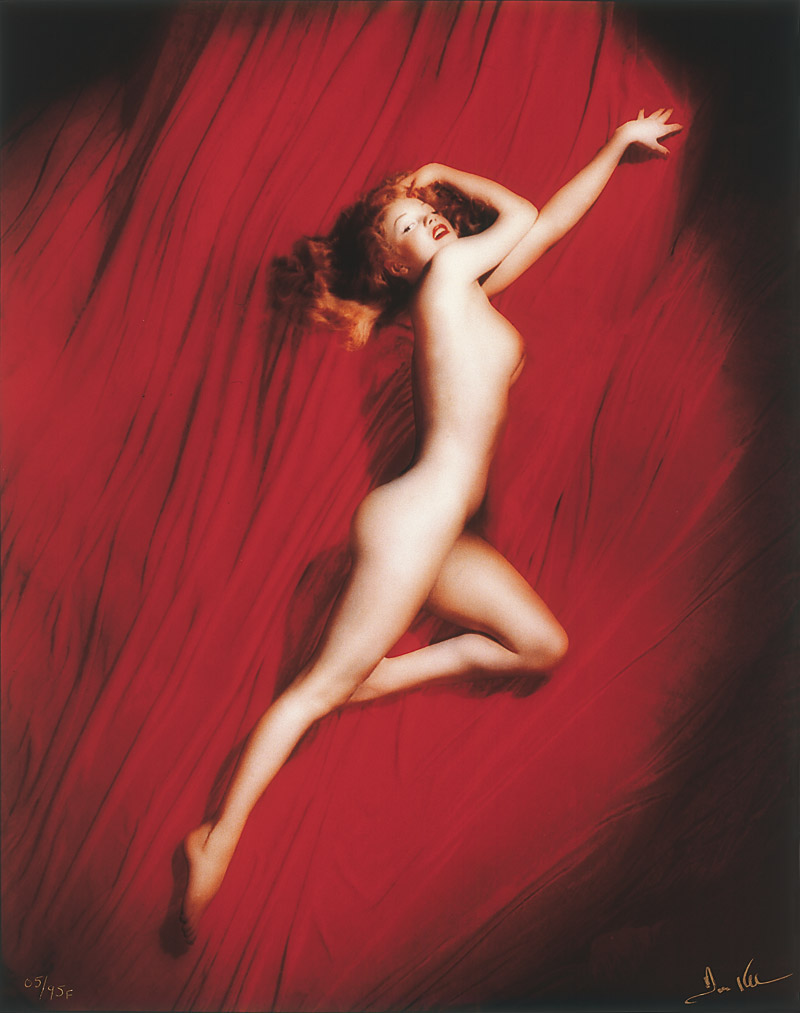 Returning from the war in 1946, Jimmy asked Norma what the hell kind of woman served meatloaf without mashed potatoes. She divorced him and signed a contract with Twentieth Century Fox.
She earned $125 per week, which was not bad for the divorced, factory-working daughter of a madwoman. It wasn't quite enough for Norma, however, so she dyed her hair blonde and changed her name to
Marilyn Monroe
.
Marilyn Monroe didn't do much better than
Norma Jeane Baker
until 1950, when she was given the role of Claudia Caswell in All About Eve. This led to bigger and bigger film roles and enabled her to begin dating baseball legend
Joe DiMaggio
in 1952. Upon the release of
Niagara
in 1953 she became an actual star, enabling her to marry him in 1954.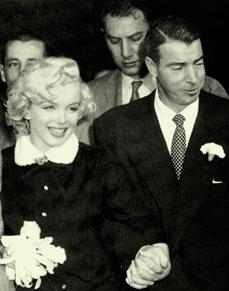 They divorced nine months later, in part because Marilyn was always lifting her weary eyes and asking Joe where he'd gone.
From this point forward she appeared only in famous movies. Two years later she married playwright
Arthur Miller
. She divorced him in 1961 and spent the rest of her short life Artlessly.
48 years ago today she died of natural causes, aggravated by sleeping pills, in her Brentwood home.
Unless she was murdered.
And so it goes.