50 Famous Last Quotes
Hopefully you all have a few years to compose your own.
August 3, 1926
-
Anthony Dominick Benedetto
, last of the great saloon singers was born on this date.
Mr. Bennett said that he has no intention of retiring, saying "
If you study the masters – Picasso, Jack Benny, Fred Astaire – right up to the day they died, they were performing. If you are creative, you get busier as you get older.
"
August 3, 1929
-
Four famous vaudevillian performers made the transition to the new medium of '
talking pictures
' with release, on this date, of the film
The Cocoanuts
, starring the Four Marx Brothers --
Chico, Groucho, Harpo
, and
Zeppo
.
According to Marx Bros. biographer
Joe Adamson
, the Marxes were so appalled by this film version of their hit Broadway show that they offered to buy the negative from Paramount so that they could burn it.
August 3, 1941
-
Martha
Kostyra
, business magnate, television host, author, magazine publisher and ex-con was born on this date.
Remember folks, she can do it all - create a beautiful floral arrangement or make a jail house shiv from a plastic spoon.
August 3, 1963
-
Allan Sherman
released
Hello Muddah, Hello Faddah (A Letter from Camp)
, in the US on this date
The song won a 1964 Grammy Award for comedy.
Today in History
:
August 3, 1492
-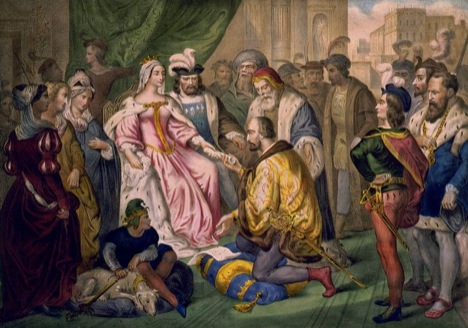 Christopher Columbus
famously set out to cross the ocean blue in a fleet of three ships: the
Nina
, the
Pinta
, and the
Santa Maria de Nuestra Senora la Reina de Los Angeles de Porciuncula
.
August 3, 1943
-
Gen
Patton
slaps shell-shocked private
Charles Kuhl
, in the hospital accusing him of cowardice.
The incident nearly ended Patton's career; he was ordered by Gen.
Dwight D. Eisenhower
to apologize for this and a second, similar episode. It seemed to help
Francis Ford Coppola's
career.
August 3, 1963
-
Almost a year after the world barely averted World War III during the Cuban Missile Crisis, the Hotline between the Pentagon and the Kremlin goes live.
The system consists of two teletype machines, with a full-time communications link routed through London, Copenhagen, Stockholm, and Helsinki.
August 3, 1966
-
Comedian and social critic
Lenny Bruce
dies of a morphine overdose in his Hollywood Hills home, two years after his original obituary was published in The Realist.
At the time of his death, Bruce was being maliciously harassed by police and districts attorney in various states for his groundbreaking standup performances, causing great difficulty in finding venues at which to perform.
August 3, 1996
-
An angry God makes
Macarena
by Los Del Rio #1 on the pop charts.
The accompanying dancing disease afflicts millions before final eradication.
And so it goes.