Today is the 35th annual
World Hello Day
. Anyone can participate in World Hello Day simply by greeting ten people. This demonstrates the importance of personal communication for preserving peace. World Hello Day was begun in response to the conflict between Egypt and Israel in the Fall of 1973. Since then, World Hello Day has been observed by people in 180 countries.
I'm still trying to transform this day into World Hello and give Kevin 10 bucks day.
November 21,1946
-
One of the greatest films about vets returning home after WWII, The Best Years of Our Lives, premiered in NYC on this date.
To avoid awkwardness when he first met his fellow cast members, Harold Russell made a point of reaching out with his hooks and taking their hands, thus putting them at ease with his disability.
November 21, 1976
-
Ok everybody, "...Gonna Fly Now, Flying High Now..", Rocky, premiered in NYC on this date.
This was the first sports film to win an Academy Award for Best Picture.
Today in History
-
November 21, 1694
-
Jean Francois Voltaire (Francois Marie Arouet) was born on this date. Voltaire is best known for having said things. Here are some of the witty things he said:
"God is a comedian playing to an audience too afraid to laugh."
"To succeed in the world it is not enough to be stupid, you must also be well-mannered."
"Anything too stupid to be said is sung."
"God created sex. Priests created marriage."
"It is an infantile superstition of the human spirit that virginity would be thought a virtue and not the barrier that separates ignorance from knowledge."
"He was unhappy only when he thought: and that is true of the majority of mankind."
"People who believe in absurdities will eventually commit atrocities."
And most significantly:
"A witty saying proves nothing."
November 21, 1921
-
U.S. President Warren G. Harding signed the Wills Campbell Act, which prohibited the medical prescription of beer and liquor on this date.
He was killed - probably by his wife - two years later and nobody seemed to mind (remember, this was the clown who lost the White House China in a poker game.)
Enough said.
November 21,1964
-
The upper deck of The Verrazano-Narrows Bridge opens to traffic (at the time it was the world's longest suspension bridge).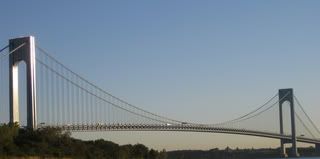 And it still takes forever to get to Jersey through Staten Island.
November 21, 1973
-
A gap of 18-1/2 minutes is revealed in one of the Watergate tapes, a conversation between Richard M. Nixon and Haldeman. The erasure is blamed on an accident by Nixon's private secretary Rose Mary Woods, but scientific analysis determines the erasures to be deliberate. Later, Chief of Staff Alexander Haig blames the erasure on "some sinister force".
Forensic experts are now working on Haldeman's notebook to see if they can find the imprint of any notes he may have taken that day but later destroyed.
November 21, 1980
-
The third deadliest hotel fire in history occurs at the MGM Grand Hotel in Las Vegas, caused by faulty wiring; 84 people dead. Helicopters were used to rescue stranded guests from the top floors.
No more pu-pu platters with charcoal grills in the suites.
November 21, 1993
-
Death of actor Bill Bixby, who played David Banner (The Incredible Hulk's mild mannered persona, before the gamma radiation) and also starred in The Courtship of Eddie's Father. Cancer at age 51.
November 21, 1997
-
Lead singer of INXS Michael Hutchence found hanged in his hotel room at the Ritz-Carlton in Sydney Australia. Police have denied that his death was due to Autoerotic Asphyxiation.
The fact that his pants were around his ankles and copies of the magazines "Hot Chicks in Tubs of Pudding" were scattered around the room, did not enter into it.
34
more shopping days until Christmas,
21
more shopping days until Hanukkah.
And so it goes