Drums just always sounded like the most fun part of that good music for me
.
Mark Lavon "

Levon

" Helm
, musician and actor, lost his battle with throat cancer yesterday. He was
71
.
If you or your kid cuts work or school today, lock up the snacks. They may come home with a case of the munchies.
If they were out celebrating the anniversary of the birth of
Klara Hitler's
bouncing baby little evil bastard named Adolf on this date in
1889
, smack them hard across the back of the head.
If they were celebrating the anniversary of the Columbine attack, have them talk to Brian,
That's all we're gonna say.
April 20, 1977
-
Annie Hall
, at
93
minutes, the shortest color film to ever win the Best Picture Oscar, premiered on this date (
Marty
, in glorious B & W was
91
minutes.)
The first rough cut ran
2
hours and
20
minutes. One scene cut from the film is a fantasy sequence of Annie and Alvy visiting hell. This scene was rewritten
20
years later for
Woody Allen's
film
Deconstructing Harry
.
Today in History
:
April 20, 1233
-
Pope
Gregory IX
places the Inquisition, in existence since
1227
, under the aegis of the Dominican Order on this date. Torture is apparently sometimes necessary to save souls, and the office continues to exist today as the
Congregation for the Doctrine of the Faith
.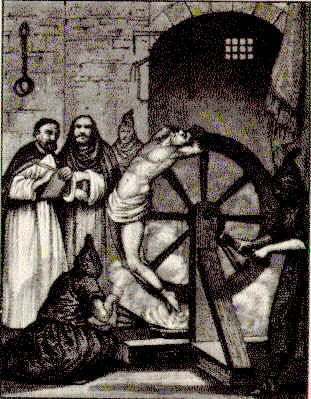 And until a few years ago, the congregation was headed by Prefect Cardinal
Joseph Ratzinger
.
April 20, 1979
-
President
Jimmy Carter
is attacked by a Killer Swamp Rabbit, while on vacation in Plains GA. The rabbit swam menacingly towards him, and he had to repel the ferocious creature with a paddle. There were no injuries.
Press Secretary
Jody Powell
leaked the story to the press, and the White House had a lot of explaining to do.
April 20, 1992
-
Alone in his apartment watching TV, British comedic legend
Benny Hill
suffered a fatal heart attack on this date.
His bloated toupee-less body with his underwear around his ankles were found four days later
April 20, 2010
-
While drilling at the Macondo Prospect, an explosion on the rig,
Deepwater Horizon
, caused by a blowout killed
11
crewmen and ignited a fireball visible from
35
miles away. The resulting fire could not be extinguished and, on this date,
Deepwater Horizon
sank, leaving the well gushing at the sea floor and causing the largest offshore oil spill in United States history.
BP announced on
April 18, 2012
that it has reached a class-action settlement with attorneys representing thousands of businesses and individuals who made claims after the 2010 oil spill in the Gulf of Mexico. Still to be approved by the Federal judge presiding over the case, BP estimates that it will total about $
7.8
billion, including associated costs and expenses. The case is far from over and the final cost to BP will probably be higher.
And so it goes
One Last Thing
- Here another video from my favorite poster on Youtube -
C.G.P. Grey
:
But we could spend all day going over the lies your teacher
told
you.