Here's a Christmas card from
Chuck Testa
the Mayor of San Juan, Puerto Rico.
The message on the card says in english, "
May this Christmas light your dream
." Nothing says
Feliz Navidad
dreams like a leopard ripping out the throat of a impala.
December 15, 1939
-
The motion picture
Gone With The Wind
, starring
Clark Gable
and
Vivien Leigh
, had its world premiere in Atlanta on this date.
It was the first movie premiere ceremony to be televised. The governor of Georgia proclaimed the day a state holiday in commemoration of the event and the holiday celebrations continued for three days .
The only four actors
David O. Selznick
ever seriously considered for the role
Rhett Butler
were
Clark Gable
,
Gary Cooper
,
Errol Flynn
and
Ronald Colman
. The chief impediment to Gable's casting was his MGM contract. Gable was not drawn to the material; he didn't see himself in a period production, and didn't believe that he could live up to the public's anticipation of the character. Eventually, he was persuaded by a $
50,000
bonus which would enable him to divorce his second wife Maria ("Ria") and marry
Carole Lombard
.
December 15, 1961
-
An underrated
Billy Wilder
film,
One, Two, Three
, opened in the US on this date
In
James Cagney's
autobiography, he says that
Horst Buchholz
was the only actor he really hated working with because he was uncooperative and tried all kinds of scene-stealing moves, which Cagney depended on
Billy Wilder
to correct. Had Wilder not firmly directed Bucholz, Cagney said that he "
was going to knock Buchholz on his ass, which at several points I would have been very happy to do
".
December 15, 1974
-
Mel Brooks'
send up of the Universal horror films,
Young Frankenstein
, opened on this date.
When
Mel Brooks
was preparing
Young Frankenstein
, he found that
Ken Strickfaden
, who had made the elaborate electrical machinery for the lab sequences in the Universal Frankenstein films, was still alive in the Los Angeles area. He visited Strickfaden and found that Strickfaden had saved all the equipment and had it stored in his garage. Brooks made a deal to rent the equipment for his film and gave Strickfaden the screen credit he'd deserved, but hadn't gotten, for the original films.
Today in History
:
December 15, 1944
-
En route to Paris, "
swing
" big band leader and whore monger
Glenn Miller
vanishes over the English Channel. Miller, listed as
Missing In Action
, was serving as a Major in the Army Air Force Band when his plane went down.
Miller's disappearance has led to many conspiracy theories over the years. Some allege that Miller was killed by friendly fire. Another theory holds that he landed safely, but died of a heart attack in a bordello in Paris. A third theory has also gained some recent credibility based on observations from his younger brother
Herb Miller
.
Glenn had been a chain-smoker for much of his life and by late 1944 was suffering from severe weight loss and shortness of breath, leading to speculation that he was terminally ill, probably with lung cancer. This theory also holds that he landed safely, but died of his illnesses on
December 16th
. Both of these latter theories overlook the fact that Miller wasn't alone on the flight; there were two other officers aboard the aircraft when it disappeared. They also have never been found.
To paraphrase my favorite quote once again, perhaps they too got carried away at that orgy in Paris.
December 15, 1961
-
Nazi
Adolf Eichmann
, former Reichssicherheitshauptamt (that's a real word) bureaucrat, was sentenced to death by a Jerusalem court on this date.
Eichmann had been arrested in Argentina and smuggled to Israel the previous year.
December 15, 1966
-
Walt Disney
, neo-nazi, commie hater, child pornography lover died on this day.
And he's not a giant frozen popicle in Cinderella's Castle!
Let us compare of two of the modern era's finest and most influential artists:
Georges Seurat
(
December 2, 1859
) and
Walt Disney
(
December 5, 1901
), both born in December.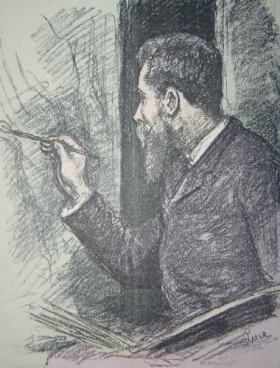 Young Seurat studied at the
Ecole des Beaux-Arts
and was strongly influenced by the work of
Rembrandt
and
Goya
. He studied optical science and aesthetic theory, and painted with a unique technique that he called "
divisionism
," but which others came to call "
pointillism
."
Young Disney arrived in Hollywood in
1923
with $
40
in his pocket, a suitcase, and a sketchbook. He had not studied at any fancy French schools. He drew cute little pictures of funny little animals, called "cartoons."
Seurat served a year of military service at Brest, then returned to Paris and had his drawing Aman-Jean at the official Salon in 1883. The following year, the Salon rejected the panels from his painting
Bathing at Asnieres
, so he stormed off with some friends and formed the "
Societe des Artistes Independentes
" (
Guys Who Got Rejected by the Salon
.)
Disney and his brother, Roy, sold a cartoon series called the "
Alice Comedies
," and landed a distribution deal. Over the next four years, they continued to produce "
Alice Comedies
" and more than two dozen episodes of "
Oswald the Lucky Rabbit
."
In 1886, after two years of labor, Seurat's
Sunday Afternoon on the Island of the Grande Jatte
was the centerpiece of the Societe's exhibition. It was hailed by critics, and he was recognized as the successor to the Impressionists.

In
1928
, Disney conceived of a funny little mouse while on a train ride, and "
Steamboat Willie
" became the first Mickey Mouse cartoon on
November 28, 1928
, at the Colony Theater in New York. Mickey was an instant hit, and by
1930
he was already earning Disney significant merchandise deals.
Seurat and his followers were dubbed the "
neo-impressionists
." Only at the time of his premature death in
1891
did his friends and family learn that he had been living with and had even fathered a child with his mistress.
Disney built an entertainment and recreation empire from Mickey Mouse, but was not frozen in liquid nitrogen after his death in
1966
. His followers are called the "
imagineers
."
(Seurat was not frozen, either, although I believe he may have briefly dated
Bernadette Peters
.)
5
more shopping days until Hanukkah,
10
more shopping days until
Christmas
.
And so it goes.