Dember 10, 1974
-
You're the ruler of the universe. Try to show a little taste!
Ed Wood Jr.
, either the world's greatest visionary director or the worst filmmaker of all time, suffered a fatal heart attack on this date.
It been
27
years since
Do They Know It's Christmas
the charity single by the all-star group Band Aid, was released.
As of the last check, The Band Aid/ Live Aid initiatives have raised over $200 million dollars. Not bad for basically a very crappy tune.
December 10, 1948
-
Another
Preston Sturges
Champagne cocktail laced with strychnine,
Unfaithfully Yours
, opened in the US on this date.
The orchestral conductor, Sir
Alfred de Carter
, is based loosely on the real life British conductor Sir
Thomas Beecham
. Beecham was the son of pharmacist Sir
Joseph Beecham
, the inventor of the laxative Beecham's Pills. Accordingly Harrison's character, Sir
Alfred de Carter
, is said to be named after Carter's Little Liver Pills, the American equivalent.
December 10, 1967
-
Julie Andrews!!!
Peter Cook
and
Dudley Moore
in their first starring comedy,
Bedazzled
, opened in the US on this date.
An article about
Peter Cook
that appeared in the
New Yorker
stated that the filmmakers didn't have a title for
Bedazzled
when it was being made. Cook suggested calling the film Raquel Welch. The producers didn't understand why Cook would want to name the movie after an actress that only appears for a few minutes in it. Cook explained that movie marquees put the lead actors names over the movie title. Thus the letters on the marquee would say "
Peter Cook and Dudley Moore in Raquel Welch
". The producers ended going for the more ordinary title.
December 10, 1974
–
The classic disaster movie,
Towering Inferno
, opened in NYC on this date.
Irwin Allen
originally wanted
Steve McQueen
to play the part of building architect
Doug Roberts
. McQueen however, fought for and got the role of fire chief O'Halloran. The role of
Doug Roberts
went to
Paul Newman
.
Paul Newman
and
Steve McQueen
were both paid the same: $
1
million and
7.5
% of box office each.
December 10, 1982
-
A pageant to B movies,
It Came from Hollywood
, opened in the US on this date.
Sadly this was never released on DVD. Paramount had planned to release the film on DVD in 2002. Due to copyright issues with several of the clips featured in the film, the release was ultimately canceled.
This was the perfect precursor to
MST 3000
.
December 10, 1984
–
Francis Ford Coppola's

Cotton Club
opened in NYC. I can remember waiting on line to see the film on the opening day (it was a very cold night in NYC 26 years ago.)
This film had so many extras that I truly believe every actor in NYC had this film on their resume at that time.
At one point, relations were so strained between director
Francis Ford Coppola
and producer
Robert Evans
that Coppola had Evans banned from the set.
Today in History
-
December 10, 1520
-
The heretic
Martin Luther
burnt the papal bull issued by
Leo X
, titled
Exsurge Domine
, demanding an end to his heresies on this date. Luther had published
95
points against the practice of granting indulgences, and the Catholic Church only had
94
points in favor of them.
Although technically he was the winner, Luther was subsequently excommunicated.
Luther went away mad and started his own religion.
December 10, 1848
-
Napoleon III
,
Louis Napoleon Bonaparte
(nephew of
Napoleon Bonaparte
), was elected president of France. By
1852
, he dismantled the Republic and replaced it with the Second Empire of France, with himself as emperor.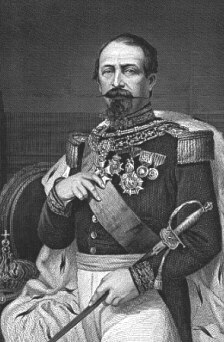 Last year I was happy that Mr. Bloomberg hasn't gotten this idea into his head. This year, I believe he unfortunately has read my blog.
December 10, 1936
-
Edward VIII
, abdicated the English throne to marry the twice divorced, horsey faced (and possibly transvestite) Mrs. Simpson - the woman he loved on this date.
Many in the government are secretly relieved, fearing having to share a bathroom with Mrs. Simpson.
December 10, 1958
-
Krishna Venta
(born
Francis Herman Pencovic
) died in Chatsworth, California in a suicide bombing when two disgruntled former followers (
Peter Duma Kamenoff
and
Ralph Muller
) who, although never offering any documentary evidence to support their claims, charged that Venta had both mishandled cult funds and been intimate with their wives.
Venta's remains are only ever identified through dental records.
They blow'd him up real good.
December 10, 1967
-
Soul singer
Otis Redding
plus four members of the Bar-Kays are killed when his airplane crashes into Lake Monona near Madison, Wisconsin.
So, poor Otis was spread out all over the dock of the bay.
December 10, 1993
-
Adolf Hitler
was baptized by proxy into the Church of Jesus Christ of Latter-Day Saints in their London temple on this date. Mormons also continued to vicariously baptism victims of the Holocaust over the strenuous objections of various Jewish groups such as the Simon Wiesenthal Center (even
Simon Wiesenthal
has had a baptism performed for himself after his death.)
While this is terribly unfair, please keep this in mind when considering Mitt Romney in 2012.
10
more shopping days until Hanukkah,
15
more shopping days until
Christmas
.
And so it goes.