Please help Presidential candidate
Rick Santorum
with his
Santorum
problem.
Continually clink on
Rick Santorum
until he gives up his campaign and can stop feeling harassed.
Two giants of animation sharing the same birthday
:
September 21, 1912
-
Chuck Jones
, animator and director of Warner Brothers cartoons
Bugs Bunny
and
Daffy Duck
, was born on this date.
September 21, 1920
-
Jay Ward
, cartoonist (
Rocky & his Friends, Bullwinkle
), was born on this date.
September 21, 1968
-
The police drama
ADAM 12
, premiered on NBC-TV on this date.
The "
one
" in "
One Adam 12
" stood for the area of the division they were stationed in, "
Adam
" referred to the type of car they drove (a two-man patrol car) and "12" was for the area they patrolled. However, "one" was the code for Central Division (downtown). Since the unit was shown working in Rampart Division, the actual call sign should have been
2-Adam-12
.
September 21, 1975
-
Sidney Lumet's
amazing film,
Dog Day Afternoon
, starring Al Pacino and John Cazale, premiered on this date.
The real bank robber (
John Wojtowicz
) had watched
The Godfather
to get ideas the day he robbed the Chase Manhattan bank. Both
Al Pacino
and
John Cazale
were in
The Godfather
.
September 21, 1993
-
The police drama
NYPD Blue
, premiered on ABC-TV on this date.
Dennis Franz
(Detective
Andy Sipowicz
) is the only cast member to stay with the series throughout its entire run and the only actor to appear in all 261 episodes.
Today in History
September 21, 1327
-
Former King
Edward II
had a particularly painful end on this date.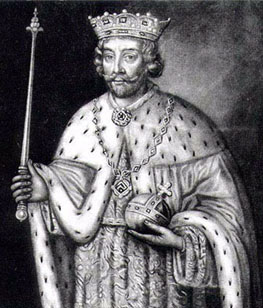 Edward had been overthrown by his wife,
Isabella
and her lover,
Roger Mortimer
. Edward had pissed off Isabella royally for among other things, sleeping with men. Isabella and Mortimer had
Edward II
imprisoned, after his abdication in favor of his son,
Edward III
.
It was rumored that Edward had been killed by the insertion of a piece of copper into his rectum (later a red-hot iron rod, as in the supposed murder of
Edmund Ironside
- King
Edmund II
was murdered in a lavatory; stabbed in the bowels when he sat down to relieve himself). Murder in this manner would have appeared a natural death, as a metal tube would have been inserted into the anus first, thus allowing the iron rod to penetrate the entrails without leaving a burn on the buttocks.
As I have said in the past, sometimes it is NOT good to be the king.
September 21, 1897
-
The New York Sun ran its famous editorial that answered a question from 8-year-old
Virginia O'Hanlon
: ``
Is there a Santa Claus?
''
Obviously, times were different back then given that
The New York Sun
was printing an editorial about Christmas in September.
September 21, 1915
-
With a winning bid of 6,600, Mr.
Cecil Chubb
purchases Stonehenge and 30 acres of land at auction. He donates the monument to the British state three years later.
He donated the monument because he could not reset Stonehenge correctly.
September 21, 1957
-
Perry Mason
with
Raymond Burr
premieres on CBS-TV .
Godzilla
,
Perry Mason
,
Ironside
, spokes model and owner of
Raymond Burr Nipple Rouge
- what couldn't he do?
September 21, 1975
-
Self-proclaimed revolutionary
Sara Jane Moore
attempted to kill President
Gerald Ford
as he walked from a San Francisco hotel.
A bullet she fired slightly wounded a man in the crowd but once again President Ford walks away unscathed.
September 21, 1983
-
In a speech to the U.S. Chamber of Commerce, Interior Secretary
James G. Watt
jokingly described a special advisory panel as consisting of '
a black ... a woman, two Jews and a cripple
.'
Although Watt apologized, he later resigned .
And so it goes.