People of NYC, an outbreak of '
gun shoot wounds
' had broken out over this past weekend.
Some 31 people seem to have contracted '
bullet wounds
' in New York City between early Saturday and early Monday. So far, only one person has died. We here at
ACME
suggest that you avoid crowds, events where alcohol and guns play are major theme and all houses that display NRA stickers.
I hardly ever recommend any personal thing but a very good friend of mine put together an excellent exhibition that you should seek out:
The Irish Whales: Olympic Champions of the NYPD, 1900 - 1924
At the NYC Police Museum, 100 Old Slip, New York, N.Y.
August 22nd through October 30th, 2011.
The exhibit will celebrate the accomplishments of a clique of New York City Police officers who dominated the world of weight throwing in the early part of the 20th Century, garnering dozens of medals in seven Olympiads. Members of the once world-renowned Irish-American Athletic Club, these men were known as "
The Irish Whales
," for their size and their dominance of the field of amateur athletics. This exhibit includes century-old trophies, medals, photographs and memorabilia, telling the little-known story of the Olympic champions of the NYPD.
At the NYC Police Museum, 100 Old Slip, New York, N.Y.
August 22nd through October 30th, 2011.
September 6, 1925
-
The silent-film
The Phantom of the Opera
, starring,
Lon Chaney
(who considered it his crowning achievement) premiered in NYC on this date.
The Phantom's makeup was designed to resemble a skull.
Lon Chaney
attached a strip of fish skin (a thin, translucent material) to his nostrils with spirit gum, pulled it back until he got the tilt he wanted, then attached the other end of the fish skin under his bald cap. For some shots, a wire-and-rubber device was used, and according to cameraman
Charles Van Enger
it cut into Chaney's nose and caused a good deal of bleeding. Cheeks were built up using a combination of cotton and collodion. Ears were glued back and the rest was greasepaint shaded in the proper areas of the face. The sight was said to have caused some patrons at the premiere to faint.
September 6, 1935
-
This early
Astaire
and
Rogers film
,
Top Hat
, written specifically for Fred and Ginger, was released on this date.
Mark Sandrich
, who directed five of the
Fred Astaire-Ginger Rogers
musicals, was a physicist before he got into filmmaking, and would devise blueprints for every scene, so he would know exactly where to put the cameras and the actors. The Venice canal set was so large it required two adjoining sound stages at RKO's Gower studio. The entire length was over 300 feet. Up to that time it was the largest set ever built on the RKO lot.
September 6, 1936
-
The classic screwball comedy,
My Man Godfrey
, premiered on this date.
When
William Powell
and director
Gregory La Cava
had a disagreement over how Godfrey should be played, they talked it out over a bottle of Scotch in Powell's dressing room. The next day, LaCava returned to the movie set with a major headache, but Powell was not there. The director received a telegram from his star: "
WE MAY HAVE FOUND GODFREY LAST NIGHT BUT WE LOST POWELL. SEE YOU TOMORROW
."
September 6, 1944
-
Billy Wilder's
film-noir classic,
Double Indemnity
, starring F
red MacMurray, Barbara Stanwyck
and
Edward G. Robinson
, premiered on this date (there is a little confusion on this date.)
Billy Wilder
and
Raymond Chandler
did not get along well while writing this film's script, a process that was apparently filled with arguments. Wilder claimed that he flaunted his womanizing ability at the time to torment the sexually-repressed Chandler.
Today in History
:
September 6, 1776
-
American's first submersible,
David Bushnell's
egg-shaped
Turtle
, piloted by
Erza Lee
(after on the eve of the submarine's first combat mission,the submarine's first combat mission,
Ezra Bushnell
died,) unsuccessfully attacked the British-vessel
HMS Eagle
in New York harbor.
The bomb was released into the water and resulted in a frightening explosion. While the American Turtle failed to destroy its target, the British recognized the threat and moved the fleet. Royal Navy logs and reports from this period make no mention of this incident, and it is possible that the
Turtle's
attack may be more submarine legend than historical event.
September 6, 1901
-
While shaking hands at the Pan-American Exposition in Buffalo, New York, President
William McKinley
is shot twice in the abdomen at point-blank range with a .32 caliber revolver.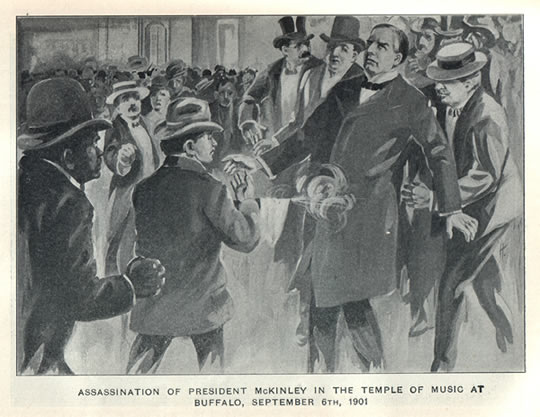 The assassin, an anarchist by the name of
Leon Frank Czolgosz
, concealed his gun within a handkerchief, actually was a lone gunman (for once).
McKinley dies a week later and became the third American president assassinated.
Although there can be no royalty in the United States, one young woman, is crowned each year as Miss America. The first such coronation was held for
Margaret Gorman
,
on September 6, 1921
.
Miss America reigns for one year, at which point she must retire-unless she removes her clothing, in which case she's deposed. (Or is that denuded?)
September 6, 1951
-
During a drinking party in Mexico City, author
William S. Burroughs
instructs his wife Joan to balance a glass of gin on her head. He then takes careful aim with his new .38 pistol, and unintentionally blows her brains out in front of their friends. The Mexican authorities later charge Burroughs with criminal imprudence.
So kids remember, when a drunken Beat drug addict writer asks you to play "
William Tell
" -
Just Say No
!!!
September 6, 1958
-
Steve McQueen
debuted in the western series,
Wanted: Dead or Alive
, on CBS-TV on this date.
Dick Powell
, the producer of the series, saw a preview of The Blob. Powell was so impressed with McQueen performance that he offered the young actor the lead of the series.
September 6, 1966
-
Parliamentary messenger
Demetrios Tsafendas
assassinated Prime Minister
Hendrik Verwoerd
, considered to be the primary architect of apartheid, by stabbing him in his chest on the floor of the South African legislature.
While Verwoerd died shortly thereafter, Apartheid tenaciously clung to life until 1994.
September 6, 1976
-
Years after their well-publicized break-up,
Frank Sinatra
privately orchestrated a surprize appearance of
Dean Martin
on
Jerry Lewis'
annual Labor Day telethon for the
MDA
. The two privately reconciled and maintained a private relationship throughout the rest of their lives.
If only Sinatra could have knock off broads and booze long enough to deal with the whole Israeli-Palestinian situation
September 6, 1988
-
The crippled soviet Soyuz TM-5 lands safely with 2 cosmonauts aboard. The craft had refused to come down from orbit, leading to the possibility of two cosmonauts being stranded in orbit with no hope of rescue.
In the event, some 'seat of the pants' flying saves the day but the mission closes-out safely more by luck than through planning.
And so it goes