August 29, 1970
-
The Kinks
released their tongue-in-cheek hit,
Lola
on this date.
This revived the career of
The Kinks
, at least in America where their popularity was fading. Their previous Top-40 in The States was
Sunny Afternoon
in
1966
.
August 29, 1915
-
...

Success is getting what you want; happiness is wanting what you get
...
Ingrid Bergman
, the Swedish three-time Academy Award, two-time Emmy Award, and Tony Award- winner (what a slouch) and "
a horrible example of womanhood and a powerful influence for evil
" was born (and died in
1982
) on this date.
August 29, 1920
-
Charles Christopher "

Bird

" Parker
, jazz saxophonist and composer was born on this date.
August 29, 1953
-
Warner Brothers
introduced
Speedy Gonzalez
in the cartoon
Cat-Tails for Two
on this date.
While this is the first cartoon featuring the character
Speedy Gonzales
, his depiction here is vastly different from the character he would later become. It wasn't until his second appearance,
Speedy Gonzales
(two years later,) that he was re-designed as the character we know him as today.
August 29, 1964
-
Walt Disney's
Mary Poppins
opened on this date. This is first movie I ever saw (but not on this date.)
Robert Wise
and
Ernest Lehman
visited the set to view rushes of
Julie Andrews'
performance. She was cast immediately in the lead for
The Sound of Music
on the strength of that visit.
August 29, 1967
-
ABC's
television ratings soared through the roof as
David Janssen
and
Barry Morse
starred in the final episode of
The Fugitive
on this date.
Some sources incorrectly state that an alternate ending for the series was planned in which Kimble would be seen removing a false arm, revealing him as the true killer. In the book
The Fugitive Recaptured
,
Barry Morse
reveals that this rumor may have started with a never-realized plan that he and
David Janssen
had for pulling a "false arm" gag at public appearances.
Today in History
:
August 29, 29/30AD
(Once again, Romans were too busy with their orgies and draining lead-lined wine goblets to accurately document events of the day.)
John the Baptist
(cousin of the itinerant carpenter of Nazareth) received a severe haircut from King
Herod
, because his teenage step-daughter,
Salome
,couldn't keep her shorts on while dancing.
Children are always such a handful.
More on Political Philosophy
...
John Locke
was born on
August 29, 1632
. Mr. Locke was a political philosopher, and many of his ideas found their way into the American Constitution.
He is best known for his essay concerning human understanding,
An Essay Concerning Human Understanding
, which remains famous to this day as the shortest essay ever written.
Another important political philosopher was born this week:
Jean Baptiste Colbert
was born on
August 29, 1619
.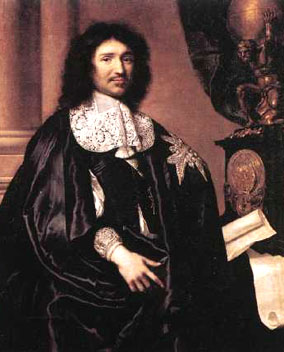 Colbert was the finance minister to King
Louis XIV
of France. His own Political Philosophy consisted of a big pile of money. This was a very effective politics, and therefore deemed insufficiently philosophical, which is why you tend to hear more about Locke and Hegel.
August 29, 1896
-
The Chinese-American dish
Chop Suey
was invented in New York City by the chef to visiting Chinese Ambassador
Li Hung-chang
.
Here is one of those bright dividing lines: if you know what chop suey is -
you're old
. If you've tasted chop suey -
you're really old
.
August 29, 1958
-
Michael Joseph Jackson
, the self-crowned King of Pop was born on this date.
Given that we've experienced an earthquake and a hurricane within a week, I'm expected Michael and his legion of zombie dancers to swarm out of the cemetery any day now.
August 29, 1966
-
The Beatles perform their last concert before paying fans at in San Francisco.
The performance marked the end of a four-year period dominated by touring and concerts including nearly sixty U.S. appearances and over one thousand four hundred internationally.
August 29, 2005
–
Hurricane
Katrina
devastates much of the U.S. Gulf Coast from Louisiana to the Florida Panhandle. The death toll eventually reached at least 1,600. An estimated 300 Louisiana residents died out of state; some 230 people perished in Mississippi. Property damage estimates were in the hundreds of billions of dollars.
Parts of the affected area has still not fully recovered. Please remember the victims of Hurricane
Katrina
.
And so it goes.