While I'm busy having fits over how the kids are trying to help, enjoy this classic
Laurel
and
Hardy
film,
Big Business
-
It should get you in the proper spirits.
December 12, 1531
-
It's the
Feast of Our Lady of Guadalupe
.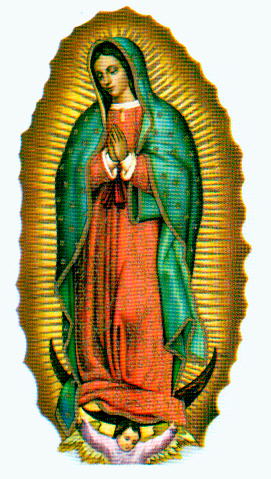 Juan Diego Cuauhtlatoatzin
, an indigenous peasant, had visions of the
Virgin Mary
. Legend held that the
Virgin Mary
appeared to
Juan Diego
outside Mexico City and left an imprint on his cactus-fiber poncho. The poncho became an icon for the
Virgin of Guadalupe
.
December 12, 1915
-
It's
Francis Albert Sinatra's
birthday.
Once again I've been asked (threatened by large burly men from Philadelphia of Italian ancestry) not to bring up his mafia connections, so today we will not be resorting to that cheap gimmick to slander the
Chairman of the Board
, greatest singer of the 20th century.
Today in History
:
December 12, 1937
-
Japanese aircraft shell and sink US gunboat
Panay
on the Yangtze River in China. Japan apologized, disciplining those involved and paying $2.2M reparations.
You think we might have seen something coming up.
December 12, 1980
-
Whip It
earns
Devo
a gold record on this date. It is the first distinction of its kind for any song about masturbation.
Whip it good.
December 12, 1991
-
Richard Gere
(who is not gay) marries supermodel
Cindy Crawford
(ditto).
Widespread rumors that Gere was intimate with a gerbil have yet to be verified.
Again,
Richard is not a homosexual or bisexual, he just get's carried away at those orgies.
December 12, 1968
-
Here's a rule I recommend: Never practice two vices at once
.
After a long and well enjoyed life,
Tallulah Bankhead
died in St. Luke's Hospital in New York City of double pneumonia, complicated by emphysema and malnutrition, on this date.
Her last coherent words reportedly were "
Codeine... bourbon
."
12
more shopping days until Christmas.
And so it goes.