Global Handwashing Day is a campaign to motivate and mobilize millions around the world to wash their hands with soap, the campaign is dedicated to raising awareness of handwashing with soap as a key approach to disease prevention.
According to the New York Times this week: 20 percent of people using the restrooms at Pennsylvania Station and Grand Central Terminal in New York did not wash their hands.
Remind me not to let anyone touch me when I get out of the subway this morning.
October 15, 1924
-
President
Calvin Coolidge
declared the Statue of Liberty to be a national monument on this date.
Previously, the statue had been considered merely a large French broad oxidizing in New York Harbor.
October 15, 1959
-
The TV show
The Untouchables
with
Robert Stack
as
Eliot Ness
, premiered on ABC TV on this date.
Walter Winchell
received a reported
$25,000
per episode for his narration on this series. With his signature machine gun dialog delivery, he could apparently rack up almost 200 words per minute.
Today in History -
It's
Evacuation Day
in Tunisia, I felt I had to know more. It turns out that Evacuation Day recognizes the important contributions made to the world of science by Tunisian proctologists. The less said about the gastroenterological rituals performed on this holiday the better.
It's the Feast Day of one of my favorite saints - Saint
Teresa of Avila
( it's her second mention this year)
She is also known as the
Roving Nun
(but should not be confused with the
Wandering Nun
, the
Meandering Nun
, or the
Hopelessly Disoriented Nun
). In case you still don't know who this Saint is - she's the one who was repeatedly pierced by God's golden shaft of light, again and again and again. She is the patron saint not only of Spain, but also bodily ills, headaches, laceworkers, opposition to Church Authorities, and people ridiculed for their piety.
She died in the arms of her close friend
Ann
e of Saint Bartholomew, allegedly from
Transverberation
("
the crossing of verbs
"). Her pierced heart is on display at Alba de Tormes, so if you're the kind of person that's interested in 400-year-old pierced human hearts you'll probably want to pay a visit. (You'll probably find it in the "
Pierced Human Hearts Room
" of the "
Three-to-Five Hundred Year Old Internal Organ Wing
.")
Saint Teresa famously said , "
There are more tears shed over answered prayers than over unanswered prayers
", (
Truman Capote
took this quote very seriously.) "
God
," she famously prayed, "
deliver me from sullen saints!
"
Friedrich Nietzsche
, who was born on this day in
1844
, apparently shared her sentiments if not her tactics.
October 15, 1582
-
Finally, with the formal implementation of the Gregorian calendar by Pope
Gregory XIII
, this day actually exists in Italy, Poland, Portugal, and Spain. The calendar jumped from
October 4
directly by
October 15
. People are generally relieved but never quite get over the feeling that they missed something during those 11 days.
October 15, 1940
-
Two of the most famous men in the world, not only had superficially similar looks, most famously their mustaches, but were born only four days apart in April of
1889
and both grew up in relative poverty. One of them decides to take a huge risk and release a film taking advantage of this freakish similarity.
The Great Dictator
, directed by and starring
Charlie Chaplin
, released on this date, bitterly satirizes Nazism and Adolf Hitler, culminating in an overt political plea to defy fascism. The film is exceptional in its period, in the days prior to American entry into World War II, as the United States was still formally at peace with Nazi Germany. Well before the full extent of the horrors of Nazism had been uncovered, Chaplin's film advanced a stirring, controversial condemnation of Hitler, fascism, and the Nazis, the latter of whom he excoriates in the film as "
machine men, with machine minds and machine hearts
".
October 15, 1951
-
A former starlet convinced the alcoholic, womanizing head of a television network to run the TV version of her somewhat successful radio program.
I Love Lucy
, the television situation comedy, starring
Lucille Ball
and
Desi Arnaz
, also featuring
Vivian Vance
and
William Frawley
, goes on to run on CBS for
181
episodes (including the "lost" Christmas episode and original pilot).
Then, the show introduced three more seasons, running from 1957 to 1960, known as The
Lucy-Desi Comedy Hour
(while Ball and Arnez go through an acrimonious divorce). I Love Lucy won five Emmy Awards and received numerous nominations. In 2002, it was ranked #2 on TV Guide's top 50 greatest shows of all time, behind
Seinfeld
and ahead of
The Honeymooners
. In 2007, it was placed on
Time
Magazine's (unranked) list of "
100 Best TV Shows of All-TIME
".
I Love Lucy
was the most-watched show in the United States in four of its six seasons, and was the first to end its run at the top of the ratings (to be matched only by
The Andy Griffith Show
and
Seinfeld
), although it did not have a formal series finale episode. Episodes of
I Love Lucy
are still syndicated in dozens of languages across the world.
October 15, 1964
-
Soviet Premier
Nikita Khrushchev
was too busy pounding his shoe at every official meeting to realize that he was ousted
and replaced by
Alexei N. Kosygin
as premier and by
Leonid I. Brezhnev
as Communist Party secretary.
October 15, 1990
-
Soviet leader
Mikhail Gorbachev
gives up the practice of shoe banging practices of the Soviet Premier all together
and was awarded the Nobel Peace Prize.
October 15, 1991
-
Despite sexual harassment allegations by
Anita Hill
, The Senate confirmed Judge
Clarence Thomas
as an associate justice of the U.S. Supreme Court by a vote of 52-48, the closest confirmation vote in court history.
Sorry but there's nothing funny I can say about this as we're stuck with this guy until heart disease or stroke carry him away.
October 15, 2002
-
Former ImClone Chief Executive Officer
Samuel Waksal
pleaded guilty to insider trading as part of an ongoing investigation into the trading of shares from his biotech company,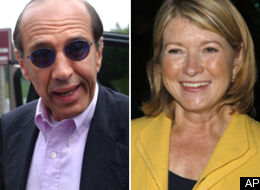 which also involved home decor diva and Waksal friend
Martha Stewart
.
And that wasn't a good thing for her.
And so it goes