October 7, 1952
-
It's
Vladimir Putin's
birthday.
Putin birthday present this year - female journalism students pose for a '
racy
' calendar for the Prime Minister.
October 7, 1950
-
First appearance of
Granny
in a
Looney Tunes
Cartoon,
Canary Row
premiered on this date.
Drink Friz! 6 Delicious Flavours
.
October 7, 1960
-
Ok kids,
Kirk Douglas
dons his leather jockstrap for
Spartacus
which had it's US premiere on this date.
For a while the studio did not want to give the blacklisted
Dalton Trumbo
screen credit for his work.
Stanley Kubrick
said that he would accept the credit.
Kirk Douglas
was so appalled by Kubrick's attempt to claim credit for someone else's work that he used his clout to ensure that Trumbo received his due credit - and in doing so effectively ended the Hollywood blacklist.
"
I am Spartacus!
"
October 7, 1972
-
William Friedkin's
taut policier,
The French Connection
, opened in NYC on this date.
The conductor on the subway train was the actual conductor, whose name was
Bob Morrone
. The actor who was supposed to play the conductor didn't show up on the day that scene was to be filmed. In addition, the motorman was the actual motorman. The Transit Authority refused to allow an actor to operate a subway train.
Today in History:
October 7, 1849
-
On this date,
Edgar Allen Poe
was found in a delirious state (Maryland) outside a Baltimore voting place (saloon).
Mr. Poe was often found delirious, especially outside voting places,
but this time his delirium was serious and he died.
October 7, 1952
-
American Bandstand
premieres on this date.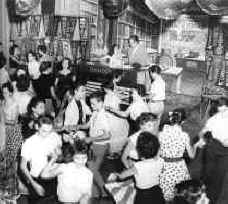 It premiered locally as a live show, Bandstand, on Philadelphia television station
WFIL-TV
(Channel
6
, now
WPVI-TV
) on this date in "Studio 'B'", which was located in their just-completed addition to the original 1947 building (4548 Market Street) and was hosted by
Bob Horn
, with
Lee Stewart
as co-host.
Dick Clark
did not become associated with the show until
1956
.
October 7, 1955
-
It was on this day in San Francisco at the Six Gallery, the poet
Allen Ginsberg
read his poem
Howl
for the first time.
The poem begins, "
I saw the best minds of my generation destroyed by madness
." His friend
Jack Kerouac
sat on the edge of the stage and when
Ginsberg
was done, the audience exploded in applause.
When
Lawrence Ferlinghetti
published the poem
Howl
out of his
City Lights
bookstore in San Francisco, he was arrested and tried for obscenity, but he was found not guilty.
October 7, 1960
-
Route 66
premiered on this date.
According to
Glenn Corbett
, none of the episodes he appeared in where shot along the real Route
66
. When he asked the producers why, he was told that the scenery along the actual highway wasn't considered interesting enough.
October 7, 1964
-
Walter W. Jenkins
, chief White House aide and longtime friend of President
Lyndon B. Johnson
, is arrested for disorderly conduct two blocks from the White House. Jenkins was discovered in a YMCA pay toilet with another man.
Ultimately, Jenkins is forced to resign, so as not to jeopardize Johnson's re-election campaign. Jenkins stated that during his arrest, his mind had been "
befuddled by fatigue, alcohol, physical illness, and lack of food
."
Yeah, that's it,
befuddled by fatigue
... Nothing is new under the sun, or in a men's public restroom.
And so it goes