time to 'fess up and come clean to the tax man.
I hope being sodomized by the IRS like every other U.S. citizen doesn't make this tax day any less special.
Now that I bummed you out, here's a little gift - A photo montage of every painting on display from the painting galleries in the MoMA on April 10, 2010.
You can thank me later.
Today in History
:
April 15, 1792
-
The Guillotine is first tested on human corpses.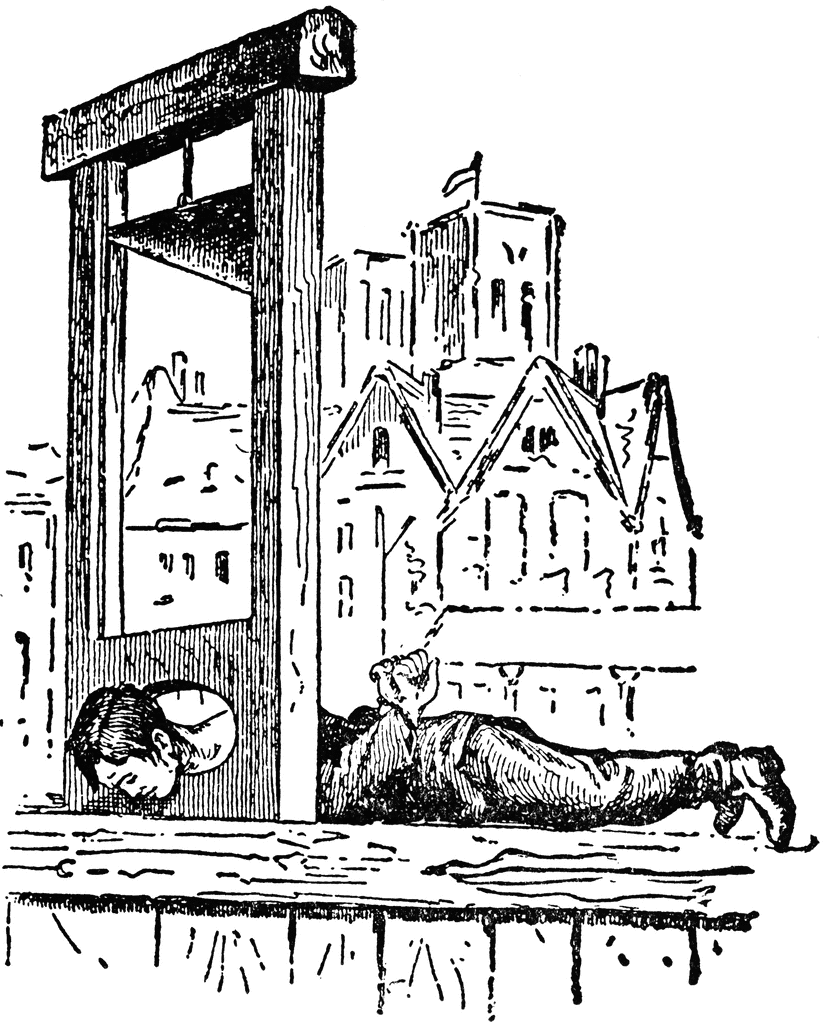 Delis all over France have to wait years for the meat slicer to be invented.
April 15, 1865
-
Abraham Lincoln
, the
16
th president of the United States, dies from a bullet wound inflicted the night before by
John Wilkes Booth
, an actor and Confederate sympathizer.
The president's death came only six days after Confederate General
Robert E. Lee
surrendered his massive army at Appomattox, effectively ending the American Civil War.
April 15, 1912
-
Unsinkable ship
Titanic
sinks after being torn by iceberg, with a loss of 1493 passengers.
Nearly
60%
of the first-class passengers survived. There were 212 staff members of the 712 survivors.
April 15, 1945
-
British and Canadian troops liberate the Bergen-Belsen death camp in northern Germany.
Bergen-Belsen was located in a village in west Germany about 30 miles north of Hanover. About 40,000 people were liberated from the camp, although about 13,000 later died of illness. Overall, about 70,000 people died in Belsen.
April 15, 1955
-
The first McDonald's franchise opens in Des Plains, a suburb of Chicago. Because it is the first one launched by
Ray Kroc
, he names it "
McDonald's #1
" despite the fact that the McDonald brothers had already opened eight of their chain restaurants before they began accepting licensees.
Kroc's unfortunate numbering system guarantees perpetual confusion for amateur fast food historians the world over.
April 15, 1962
-
Actress
Clara Blandick
, 80, the Auntie Em of the Wizard of Oz, takes an overdose of sleeping pills and ties a plastic bag around her head in a Hollywood hotel room.
Prior to this, she had prominently arranged her resume and press clippings so the newspapers would get her obituary right.
April 15, 1983
-
Tokyo Disneyland
opened. It was the first Disney park to be built outside of the United States
It is owned by The Oriental Land Company, which licenses the theme from The Walt Disney Company. Tokyo Disneyland and its companion park, Tokyo DisneySea, are the only Disney parks not owned by The Walt Disney Company.
April 15, 1990
-
Greta Garbo
died in New York City at age 84, on this date.
She finally got her wish.
And so it goes.