The Burns Administration will put a zero-tolerance anti-hipster policy at the center of its agenda. Charles Montgomery Burns understands that New Yorkers live under constant intimidation from this public nuisance. Hipsters threaten the cultural fabric of our great city with indiscriminate cynicism and irony. They are apathetic and use their bottomless trust funds to drive up rent for real New Yorkers.
Monty Burns says No More! With a multi-pronged approach his administration will put an end to this public menace.
Identifying hipsterism as a quality of life crime, the New York Police Department will finally have the means to protect ordinary New Yorkers from these undesirables. Only through a surge of force can we eradicate the poison of our society.
The proposed state-of-the-art Williamsburg Nuclear Power Plant is strategically planned for the epicenter of the hipster infestation and promises to eject them from this neighborhood once thought abandoned forever.
Monty Burns will change the sullied image of New York from a hipster haven to a place of law and order in order to invite outside investment, keep rents affordable for real New Yorkers and usher in a new era of stylistic accountability.
Vote C. Montgomery Burns for mayor of New York City. Help Mr. Burns rid the city of hipsters, because they hate you.
Today's Word: STURIONIC: Adjective, pertaining to the sturgeon. Mort had feasted on some much sturionic treats that he had begun smelling like a sturgeon.
October 7, 1950 -
First appearance of Granny in a Looney Tunes Cartoon, Canary Row premiered on this date.
Drink Friz! 6 Delicious Flavours.
October 7, 1960 -
Ok kids, Kirk Douglas dons his leather jockstrap for Spartacus which had it's US premiere on this date.
During the arduous, long shoot, Tony Curtis allegedly asked Jean Simmons, "Who do I have to screw to get off this film?" Some versions of the interaction include Simmons shouting back, "When you find out, let me know."
"I am Spartacus!"
October 7, 2972 -
William Friedkin's taut policier, The French Connection, opened in NYC on this date.
The real-life detectives Eddie Egan and Sonny Grosso, on whom the characters of Doyle and Russo are based, appear in the movie as the detectives' supervisors.
Today in History:
October 7, 1849 -
On this date, Edgar Allen Poe was found in a delirious state (Maryland) outside a Baltimore voting place (saloon).
Mr. Poe was often found delirious, especially outside voting places,
but this time his delirium was serious and he died.
October 7, 1952-
American Bandstand premieres on this date.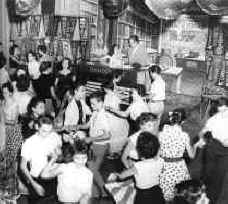 It premiered locally as a live show, Bandstand, on Philadelphia television station WFIL-TV (Channel 6, now WPVI-TV) on this date in "Studio 'B'", which was located in their just-completed addition to the original 1947 building (4548 Market Street) and was hosted by Bob Horn, with Lee Stewart as co-host. Dick Clark did not become associated with the show until 1956.
October 7, 1855 -
It was on this day in San Francisco at the Six Gallery, the poet Allen Ginsberg read his poem "Howl" for the first time.
The poem begins, "I saw the best minds of my generation destroyed by madness." His friend Jack Kerouac sat on the edge of the stage and when Ginsberg was done, the audience exploded in applause.
When Lawrence Ferlinghetti published the poem "Howl" out of his City Lights bookstore in San Francisco, he was arrested and tried for obscenity, but he was found not guilty.
October 7, 1952 -
It's Vladimir Putin's birthday.
Do you think that he looks out his bathroom window looking for Sarah Palin?
October 7, 1960
"Route 66" premiered on this date.
The series is best remembered for its iconic Corvette convertible and its instrumental theme song, which became a major pop hit.
October 7, 1964 -
Walter W. Jenkins, chief White House aide and longtime friend of President Lyndon B. Johnson, is arrested for disorderly conduct two blocks from the White House. Jenkins was discovered in a YMCA pay toilet with another man.
Ultimately, Jenkins is forced to resign, so as not to jeopardize Johnson's re-election campaign. Jenkins stated that during his arrest, his mind had been "befuddled by fatigue, alcohol, physical illness, and lack of food."
Yeah, that's it, befuddled by fatigue... Nothing is new under the sun, or in a men's public restroom.
And so it goes