It's Felt Hat Day
Remember, you can leave your hat on.
Patrick Swayze lost his battle with Pancreatic cancer last night.
DEATH be not proud, though some have called thee
Mighty and dreadfull, for, thou art not so,
For, those, whom thou think'st, thou dost overthrow,
Die not, poore death, nor yet canst thou kill me.
September 15, 1965 -
The Robinson Family get 'Lost in Space' for the first time on this date.
Oh, the pain, the pain.
September 5, 1971 -
First episode of the Columbo series premiered on NBC-TV on this date.
Columbo's first name is never explicitly revealed in the series. However, when Columbo flashes his badge in the episode "Dead Weight" (Season 1 Episode 3), the name 'Frank' can clearly be seen on his ID.
September 15, 1986 –
First broadcast of 'LA Law' on NBC-TV .
Viewers could tell the tone of the episode by the way the show's theme song began: if it began with the saxophone, the episode would have a lighter tone. If it began with the strings, the episode had a dark edge to it.
Today in History
September 15, 1776 -
The British occupied Manhattan, on this date. Outraged by the rents, discouraged by the lack of parking and homesick for bubble and squeak and spotted dick, however, they left shortly afterwards, leaving only journalists behind.
September 15, 1830 -
British MP William Huskisson was chatting amiably with the Duke of Wellington at the grand opening of the Liverpool & Manchester Railway, when all at once the right honorable gentleman distinguished himself for posterity by becoming the first human being in history to be run over by a train.
(The Duke of Wellington, on the other hand, is remembered for his Beef.)
September 15, 1864 -
Thirty-four years later, on this date, another hardy British soul, the explorer John Speke, distinguished himself by becoming the first European to see Africa's Lake Victoria, and then accidentally shoot and kill himself while hunting partridges
(conveniently, the day before he was to debate his finding with his famous exploration partner, Richard Burton - no, not that Richard Burton, the famous self circumciser and translator of 1001 Arabian Nights.)
September 15, 1885 -
P.T. Barnum's prize elephant Jumbo is struck dead by a freight train in St. Thomas, Ontario, Canada. It takes 150 men to haul the carcass up an embankment, from whence it is taken to a taxidermist. The stuffed Jumbo becomes a featured attraction in Barnum's circus.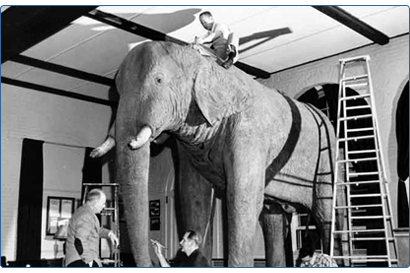 Goodbye Jumbo.
September 15, 1890
It's the birthday of Agatha Christie (Vanessa Redgrave), born in Devon, England. She was a Red Cross nurse during World War I. She started reading detective novels because she found they took her mind off her troubles and soon after, started writing her own.
Her big breakthrough book was her novel The Murder of Roger Ackroyd, which came out in 1926. It was the same year in which Christie had a fight with her husband, fled her own home, and was missing for ten days. There was a nationwide search. It was on the front pages of all the papers. And when she finally turned up, she was famous and all of her books were best-sellers.
September 15, 1928 -
Scottish bacteriologist and noted slob Alexander Fleming accidentally discovered that the mold penicillin had an antibiotic effect, on this date. Had he cleaned his laboratory every night and put all his things away like a good little boy, he never would have discovered penicillin, and half of us would be dead right now.
As I am deathly allergic to penicillin, his discovery has done little for me but I pass this along to you all.
September 15, 1954 -
In front of thousands of spectating New Yorkers at 51st and Lexington, Marilyn Monroe performs the now-famous skirt blowing scene during filming for The Seven Year Itch. The event basically boils down to a publicity stunt, as the whole thing gets reshot later on a Hollywood soundstage.
Unfortunately, this event is the final straw in the Monroe - Dimaggio marriage and it soon comes undone.
September 15, 1972 -
Indictments are brought against the seven Watergate conspirators: McCord, Frank Sturgis, Barker, Martinez, Gonzalez, E. Howard Hunt (noted spy, novelist and possible Kennedy assassin, rumored to have been the man on the grassy knoll), and Liddy (noted rat connoisseur).
And so it goes