There really is something quite wrong with what is happening here.
I'm trying to figure out what Coke is advertising with with slide?
Someone please sedate Glenn Beck and take him back to the home
Today in History:
September 4, 1882 -
Thomas Edison displayed the first practical electrical lighting system.
He successfully turned on the lights in a one square mile area of New York City (NY's Pearl Street Station).
September 4, 1885 -
The world's first cafeteria, The Exchange Buffet, catering to an exclusively male clientele, opens in New York. And if you hurry, there's still some of the original luncheon special available.
September 4, 1886 -
Geronimo was a prominent Native American leader of the Chiricahua Apache who warred against the encroachment of the United States on his tribal lands and people for over 25 years.
While outnumbered, Geronimo fought against both Mexican and United States troops and became famous for his daring exploits and numerous escapes from capture from 1858 to 1886. At the end of his military career, he led a small band of 38 men, women, and children. They evaded 5,000 U.S. troops (one fourth of the army at the time) and many units of the Mexican army for a year. His band was one of the last major forces of independent Indian warriors who refused to acknowledge the United States Government in the American West. This came to an end on this date, when Geronimo surrendered to United States Army General Nelson A. Miles at Skeleton Canyon, Arizona.
Dubya's grandpappy, the anti-Indiana Jones, somehow figures into this story (you knew he would). In 1918, certain remains of Geronimo were apparently stolen in a grave robbery. Three members of the Yale secret society of Skull and Bones served as Army volunteers at Fort Sill during World War I; one of those three members was Prescott Bush, grandfather of the forty-third President of the United States George W. Bush. They reportedly stole Geronimo's skull, some bones, and other items, including Geronimo's prized silver bridle, from the Apache Indian Prisoner of War Cemetery. The stolen items were alleged to have been taken to the society's tomb-like headquarters on the Yale University campus, and are supposedly used in rituals practiced by the group, one of which is said to be kissing the skull of Geronimo as an initiation.
September 4, 1888 -
George Eastman patents first rollfilm camera and registers "Kodak" on this date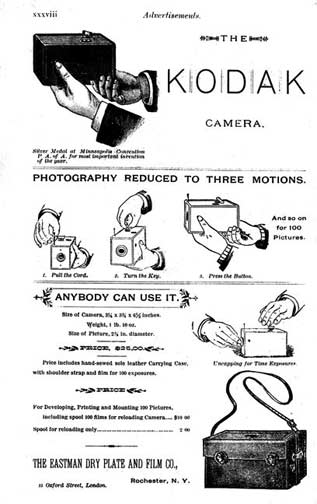 Remember, You press the button, we do the rest.
September 4, 1957 -
The Ford Motor Company introduces the Edsel.
The brand is known best as one of the biggest commercial failures in the history of American business.
September 4, 1972 -
American swimmer Mark Spitz became the first athlete to win seven Olympic gold medals .
For his all of his effort, he is forced to walk around in a Speedo for years - the chafing was horrible.
September 4, 1976 -
George W Bush is arrested in Kennebunkport, Maine for driving with a blood-alcohol level of 0.10 percent. He pays the $150 fine and has his driving privileges suspended for a month.
Years later, during Bush's 2000 campaign for President, a WPXT-TV reporter from Portland, Maine uncovers the arrest record just one week prior to election day. It is also revealed that Bush's V.P. candidate, Dick Cheney, had arrests for drunken driving in 1962 and 1963.
And so it goes