Today is the second day of the
Lunar New Year
. Some believe the
second
day is also the birthday of all dogs and remember them with special treats.
The
God of Wealth
presides over a vast bureaucracy with many minor deities under his authority. A majestic figure robed in exquisite silks often he is pictured riding a black tiger, a golden
yuanbao
(ancient ingot used for currency) is always close to him. Legend says that every
Lunar New Year, Tsai Shen
descends from heaven to inspect his followers.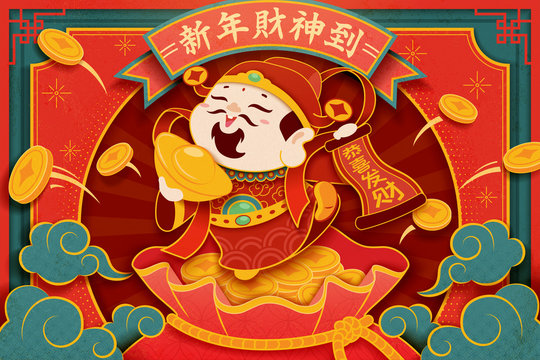 People eat dumplings to honor the god because the dumplings were thought to resemble yuanbao.
Tsai Shen
leaves for heaven on the second day of the
Lunar New Year
to report on whom should have good fortune in the following year.
Traditionally, it's the time for married women to visit their parents. In ancient times in
China
, women usually didn't visit their parents' places much once they got married. People nowadays can do that at any time, this custom, to visit birth parents on
second day
of the
Lunar New Year
celebrations, remains.
The
Writing Instrument Manufacturers Association
(
WIMA
) established today as
National Handwriting Day
back in
1977
, in order to celebrate
John Hancock's
birthday (who was born on
January 12th
, so go figure,) one of our Founding Fathers, as well as the first signer of the
U.S. Declaration of Independence
. Most people who were around then were taught penmanship as children, but that may no longer be the case for younger generations.
In most schools today, greater emphasis is placed on typing and computer technologies. Cursive is disappearing from the curriculum; many young people today learn only enough to sign their name - if they learn any cursive at all.
Remember, celebrate responsibly - practice your penmanship.
January 23, 1948
-
John Huston's
classic film,
Treasure of Sierra Madre
, starring
Humphrey Bogart, Walter Huston
and
Tim Holt
opens in
NYC
on this date.
John Huston
stated that working with his father on this picture and his dad's subsequent Oscar win were among the favorite moments of his life.
January 23, 1962
-
François Truffaut's
adaptation of the
Henri-Pierre Roché
novel,
Jules et Jim
, starring
Jeanne Moreau, Oskar Werner
, and
Henri Serre
was released in
France
, on this date.
Henri-Pierre Roché's
original novel was based on his own experiences as a young man. The original
Catherine
was still alive when the film was released and even attended the premiere incognito.
January 23, 1965
-
Petula Clark's
song
Downtown
, hit No. #
1
on the
Billboard Charts
on this date.
This was
Petula Clark's
first hit in the
US
, which was slow to discover her talents. In the
UK
, she was a star as a singer and as a television performer, where she was a regular on the
BBC
. In the early '
60s
, she also caught on in
France
when she started recording her songs in French. Oddly, she didn't get an American record deal until late in
1964
when a
Warner Bros
. executive named
Joe Smith,
who was vacationing in
England
, heard the song and signed her to a deal. (Bunkies, she's still alive and kicking.)
January 23, 1969
-
Elvis Presley
recorded the song
Suspicious Minds
at
American Sound
, a small studio in
Memphis
, on this date.
The song is a huge comeback hit for
Elvis
, (it was
seven years
since his last #
1
hit,) and gives him his last #
1
in
America
.
January 23, 1975
-
Barney Miller
, a TV series set in a
New York City
police station in
Greenwich Village
, premiered on
ABC-TV
on this date.
When
Harris
(
Ron Glass
) was asked to produce a porn film for an undercover sting, he uses the name Starry Night Productions as his cover. Years later, show writer Reinhold Weege used the name for his own production company, which produced Night Court.
January 23, 1977
-
The twelve-hour miniseries
Roots
premiered on
ABC-TV
on this date.
The show was programmed by
ABC
to air on several consecutive nights in prime time. It was considered a revolutionary approach to programming a mini-series, since most minis were aired once or twice a week over several weeks' time. It was revealed years later that the reason the network did this was so that they get the show "
out of the way
" in a hurry because they felt, nobody would watch the story if it aired over a longer period of time.
January 23, 1983
-
The A-Team
starring
George Peppard, Dirk Benedict
and
Mr. T
premiered on
NBC-TV
on this date.
According to the remaining cast members,
Mr. T
and
George Peppard
did not get along. Peppard was a "
proper movie actor
," but
Mr. T
became the real star of the show. Things got even worse when Peppard learned
Mr. T
was being paid more than he was.
January 23, 1991
-
NBC-TV
aired the first regularly scheduled episode of the series
Seinfeld
,
The Ex-Girlfriend
, on this date.
Before the show was set to air,
Jerry Seinfeld
asked
Jason Alexander
what he thought their chances for success were. Alexander said he thought they "
didn't have a chance
". When asked why, Alexander responded, "
Because the audience for this show is me, and I don't watch TV
."
January 23, 2003
-
The pilot episode of
Mythbusters
premiered on
The Discovery Channel
on this date.
Jamie Hyneman
and
Adam Savage
are known for not being friends off-set. Savage has admitted this freely, but stresses that the two of them got along well enough professionally (it was
Jamie Hyneman
who recommended
Adam Savage
as co-host in the first place) but make no effort to engage socially. He attributes this to clashing personalities rather than full-blown dislike.
Word
of the Day
Today in History
:
January 23, 1849
-
The idea of winning a doctor's degree gradually assumed the aspect of a great moral struggle, and the moral fight possessed immense attraction for me.
English-born
Elizabeth Blackwell
, becomes the first woman to receive an American medical degree, graduated at the top of her class from the medical school of
Hobart College, Geneva, NY
on this date.
January 23, 1870
-
One of the worse slaughters of Native American by
U.S.
troops occurred on this date. The Incident has become known as
the Marias Massacre
. While the
U.S. Cavalry
was looking for a band of hostile
Blackfoot Indians
led by
Mountain Chief
, they stumbled instead, onto a peaceable band of
Piegan Indians
led by
Chief Heavy Runner
and killed about
200
tribes people, many of them women and children.
140
others were captured, later to be turned loose without horses, adequate food, and clothing. As the refugees made their way to
Fort Benton, Montana
, some
ninety miles
away, many of them froze to death. In the meantime
Mountain Chief
and his people had escaped across the border into
Canada
.
Another proud day for the American military
January 23, 1897
-
Elva Zona Heaster
was found dead in
Greenbrier County, West Virginia
on this date. Authorities originally thought Heaster had died of natural causes, but her mother later claimed that Elva's ghost visited her and told her otherwise, leading to her widowed husband's arrest and conviction.
It was one of the few times in American legal history that the testimony of a ghost was taken into account at trial.
January 23, 1931
-
While touring in the
Netherlands
, the prima ballerina
Anna Pavlova's
train had a slight accident, derailing and being delayed for
12 hours
. She went outside dressed only in pajamas and a light scarf to see what was happening. As a result of this she caught a cold, which developed into pneumonia.
She died three weeks later on this date. At the end, she asked to hold her
Dying Swan
costume. Her last words were, "
Play that last measure very softly.
"
So kids, once again,
your mother was right
-
when it's cold outside, put on a sweater
.
January 23, 1978
-
Terry Kath
of band
Chicago
accidentally killed himself on this date while pretending to play
Russian Roulette
in
Woodland Hills
.
Kaith's last words were '
Don't worry, it's not loaded.
' The circumstances of his death gave him the dubious distinction of being one of the first celebrities to be nominated for a
Darwin Award.
Moral
:
Remember guns don't kill - however one bullet in the chamber is a killer
.
And so it goes