Happy Halloween!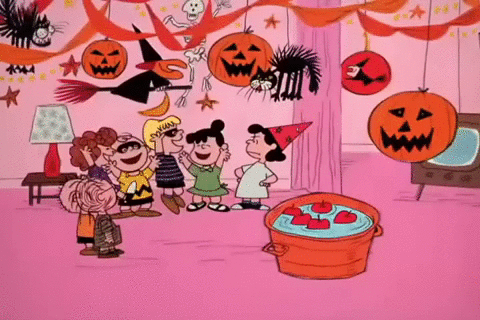 But remember,
Halloween
: it's a large secret
East Coast
syndicate backed primarily by
Big Sugar
and
Dental Schools.
Once again, I will not suggest that you go as a sociopath - we've had enough of them recently.
I'd have written more but I'm way behind in adding dead mice and ground glass into kids candy bags.
(For all you parents - if your kids went trick or treating, sort your kids candy later tonight. It is not a crime to save all the good chocolate for yourself. Tell'em you have to test it for the corona virus.)
October 31, 1912
-
The Musketeers of Pig Alley
, directed by
D.W. Griffith
and starring
Elmer Booth, Lillian Gish, Clara T. Bracy
and
Walter Miller,
premiered in the
US
on this date. The film is thought to be the first film about organized crime.
Most likely the first film to ever use follow-focus.
D.W. Griffith
convinced his most trusted cameraman,
G.W. Bitzer,
to fade out the background when the three gangsters walk towards the alley in the opening scene.
October 31, 1945
-
René Clair's
adaptation of
Agatha Christie's
classic murder mystery
And Then There Were None
was released in the
US
on this date.
In recent years it has come to light that much of
Agatha Christie's
plot appears to have been inspired by a little-known
1930
play by
Owen Davis
titled
The Ninth Guest
, which utilized the same framework of people being brought together by an unknown host who proceeds to kill them one-by-one.
Columbia Pictures'
atmospheric
1934
movie version,
The Ninth Guest
, has never been released on home video, but is now in the public domain.
October 31, 1949
-
Cecil B. DeMille's
wonderfully campy (although not intentional) version of
Samson and Delilah
, starring
Hedy LaMarr
and
Victor Mature
premiered on this date.
For the scene in which Samson kills the lion,
Victor Mature
refused to wrestle a tame movie lion. Told by Producer and Director
Cecil B. DeMille
that the lion had no teeth, Mature replied, "
I don't want to be gummed to death, either.
" The scene shows a stuntman wrestling the tame lion, intercut with close-ups of Mature wrestling a lion skin.
October 31, 1970
-
Led Zeppelin
started a four week run, on this date, at No.
1
on the
Billboard
album chart with
Led Zeppelin III
, the bands second
US
chart topper.
Although critics were typically confused over the change in musical style and gave the album a mixed response,
Led Zeppelin III
has since been acknowledged as representing an important milestone in the band's history and a turning point in their music.
October 31, 1992
-
The
Boyz II Men
single
End Of The Road
was the #
1
song on the
Billboard
Hot 100
for the
12th consecutive week
, on this date, breaking the record held by
Elvis Presley's
two-side
d Don't be Cruel/Hound Dog
, which was #
1
for
11 weeks
in
1956
.
Boyz II Men's
bass singer,
Michael McCary,
got a spoken interlude on this song where he tells the girl he knew she was cheating but stayed with her anyway because he loved her so much. This section is an homage to vocal groups of the '
50s
and '
60s
that would often give their bass singer a similar spoken part.
October 31, 1986
-
Roland Joffé's
powerful historical drama,
The Mission
, starring,
Robert De Niro, Jeremy Irons, Aidan Quinn
, and
Liam Neeson
, premiered in the
US
on this date.
The film was released four years after its uncredited source book
The Lost Cities of Paraguay
by Father
C. J. McNaspy
was published. McNaspy also acted as a historical consultant to the film, which was loosely based on McNaspy's work.
Another book from the back shelves of the
ACME Library
Today in History
:
Oct 31, 1517
-
The papacy was earning a good income by the indulgences system that allowed Christians to purchase remission from penance in purgatory. Appalled at the indulgences system, the Augustinian monk
Martin Luther
nailed his
Ninety-five Thesis
to the door of the
Wittenberg Palace All Saints' Church
, on this date.
Although he was a terrible anti-semite, Luther was one of history's most significant figures, rocking the religious world when he penned a document attacking the Catholic Church's corrupt practice of selling "
indulgences
" to absolve sin. His writing signaled the beginning of the
Protestant Reformation
in
Germany
and
Protestantism
in general, shattering the external structure of the medieval church and at the same time reviving the religious consciousness of
Europe
.
October 31, 1926
-
Harry Houdini
died in room
401
of
Grace Hospital
in
Detroit
on this date.
The escape artist was killed by diffuse peritonitis, after having undergone an emergency appendectomy.
Contrary to popular belief, the fatal appendicitis could not have been caused by a punch to the stomach.
October 31, 1941
-
The carving of the four presidents on
Mount Rushmore
in the
Black Hills National Forest
of
South Dakota, USA
was completed on this date after
14 years
of construction by Danish-American sculptor
Gutzon Borglum
and
400
stone masons.
The total cost of the project was $
989,992.32
, and
85 percent
of that cost was funded by
Congress
. Despite the dangerous nature of the job, none of the crew died during construction.
October 31, 1950
-
You don't pay an actor to act. An actor will do that for free because we love to act. You pay an actor to wait.
John Franklin Candy
, the great Canadian comedian and actor, was born on this date.
October 31, 1956 -
Humans set foot at the
South Pole
for the first time since Captain
Robert F. Scott
and his team in
1912
, when a party led by Admiral
George J. Dufek
of the
US Navy
landed there in an
R4D-5L Skytrain
aircraft, on this date.
The purpose of the flight was to survey the
South Pole
for the construction of a scientific research station there.
October 31, 1963
-
On
Halloween
night, hundreds gathered to watch the
Holiday on Ice
show at the
Indianapolis State Fairgrounds Coliseum
on this date. (Perhaps not how I would be spending my evening, but to each his own.)
In the final minutes of the show, a leaking
100-pound
propane tank exploded beneath a seating area. The blast sent spectators and large pieces of debris flying into the air.
Seventy-four
people were killed and more than
400
were injured. It definitely put a crimp in their evening.
October 31, 1963
-
The Beatles
returned to London today in
1963
from a short tour of
Sweden
, their first outside
England
. They were greeted at
Heathrow
airport by photographers, journalists, and hundreds of screaming fans, adding to the growing evidence that
Beatlemania
was going to be around for more than a few weeks.
Ed Sullivan
was there headed back to the States after a vacation, and was impressed. He was fully aware that he had missed out on being the first to put
Elvis Presley
on television and determined not to repeat the mistake, had his people look into getting them on his show.
October 31, 1984
-
Indian Prime Minister
Indira Gandhi
was not having a good day. Daughter of
Nehru
, the first prime minister of the newly independent India and fashion plate of the
60s
, Mrs. Gandhi was running late for an interview with
Peter Ustinov
, who was filming a documentary for Irish television.
Two
Sikh members of her bodyguard, annoyed with her involvement in the storming of the
Golden Temple
(The holiest of Sikh sites) took this moment to express their vexation with their boss and assassinated her on the spot.
This sparked Hindu-Sikh clashes across the country.
Four days
of anti-Sikh rioting followed in
India
. The government said more than
2,700
people, mostly Sikhs, were killed, while newspapers and human-rights groups put the death toll between
10,000
and
17,000
.
Once again, people should be checking the references of their bodyguards more carefully.
October 31, 1993
-
Federico Fellini
, considered as one of the most influential and widely revered film-makers of the
20th Century
, passed away on this date.
He made some
24
films, including
La Strada, La Dolce Vita, 8 1/2
, and
Amarcord
, all hallmarks throughout the
50s
and
60s
Art House world.
October 31, 1993
-
The young phenom
River Phoenix
had an unfortunate time at the
Viper Room
in
West Hollywood
on this date.
An apocryphal story at the time was that River's last words were supposedly, "
No paparazzi, I want anonymity"
, although the quote has become something of an urban legend. In fact, according to witnesses, River stumbled out of the nightclub and fell hard, face-first, onto the sidewalk (experts believed he likely died at that moment) before spasming violently against the pavement for eight minutes, never having uttered a word.
October 31, 1999
-
Jesse Martin
of
Australia
became the youngest person (at age
18
) to circumnavigate the globe, sailing solo, non-stop and unsupported.
He sailed from
Melbourne, Australia
, on
December 8, 1998
(at age
17
), sailing south of
New Zealand
, through the
South Pacific
, around
South America
, north on the
Atlantic
, back south past
Africa
, through the
Indian Ocean
and back to
Melbourne
, and returned on this date, taking
327 days 12 hours 52 minutes.
Before you steal all of your kid sister's
Halloween
candy,
Remember that
Christmas
is in
55 days
!
and there are
28 days
until
Hanukkah
And so it goes