There are
185 days
left in
2018
Therefore, there are
130 day
until the Midterm elections.
The right side of your brain controls the left side of your body, and the left side of your brain controls the right side of your body.
In a sweeping two-year study, published in
2013
in the journal
PLOS One
, researchers looked at the brains of more than
1,000
people and found no evidence for significant differences in brain-side dominance among individuals. There is a connection between the two but I'll let you figure it out.
June 29, 1940
-
According to the
Batman Canon
: two gangsters working for
Tony Zucco
rubbed out a circus highwire team known as the
Flying Graysons
, leaving their son
Dick
(
Robin
) an orphan on this date.
Lucky for
Dick
, a rugged virile older man,
Bruce Wayne
was there to give him the care and attention a strapping young man in snug fitting swimming trunks and tights needs.
June 29, 1968
-
Tip-Toe Thru The Tulips With Me
by
Tiny Tim
(
Herbert Khaury
) peaks at #
17
on this date.
Proof positive, people did massive amounts of drugs in the
'60s
.
June 29, 1979 -
United Artists
releases the
eleventh
film in the
James Bond
franchise,
Moonraker
, directed by
Lewis Gilbert
and starring
Roger Moore
in his
fourth
outing as
James Bond
, in the
US
on this date.
Albert R. Broccoli
complained that
Maurice Binder's
title sequence cost more than the entire budget of
Dr. No.
June 29, 1984
-
One of the original gross out comedies of the
80s
,
Bachelor Party
, opened on this date.
Both
Kelly McGillis
and
Paul Reiser
were originally considered for the lead-roles early in production but were replaced due to lack of chemistry between the actors.
June 29, 1988
-
The
John Landis
blockbuster film,
Coming To America
, starring
Eddie Murphy, Arsenio Hall, James Earl Jones, John Amos
and a plethora of stars in funny cameo roles, opened on this date.
The "
McDowell's
" restaurant was actually a
Wendy's
on
Queens Boulevard
that was scheduled to be closed for a complete renovation. Although the production had approval from
McDonald's
corporate headquarters, they apparently didn't pass the word down to their local outlets. On the day the "
McDowell's
" sign was erected, the manager of the
McDonald's
1/2
mile further up the road arrived with his lawyer, and proceeded to take photographs while telling the set dressing crew they were going to be sued for everything they were worth.
June 29, 2007 -
Brad Bird's
brilliant film,
Ratatouille
, starring the voice work of
Patton Oswalt, Ian Holm, Janeane Garofalo, Peter O'Toole, Brad Garrett,
and
Brian Dennehy
premiered in the US on this date.
Pet rats were kept at the studio in the hallway for more than a year so that the animators could study the movement of their fur, noses, ears, paws, and tails.
Another important lesson about
drinking
Today in History:
June 29, 1613
-
The
Globe Theater, William Shakespeare's
original theatrical venue, burns to the ground on this date. According to one of the few surviving documents of the event, no one was hurt except a man who put out his burning breeches with a bottle of ale.
It must have not been a very good bottle of ale.
Canada Day
is soon upon bunkies, so here's some history about our neighbor to the north -
June 29, 1864
-
The worst railway disaster in
Canada's
history killed
99
people and injured
100
more on this date, when a train, which had been carrying many German and Polish immigrants, failed to stop at an open bridge (the
Beloeil Bridge
) and plunged into the the
Richelieu River
near
Quebec
.
The engineer, who was new to his job, claimed that he did not see the signal. The
St-Hilaire
train disaster is still considered
Canada's
worst train crash in history.
June 29, 1967
-
Actress
Jayne Mansfield
may or may not have been decapitated in a car crash, when her convertible collides with a parked tractor-trailer. To downplay the supposed gruesome death, sources spread the falsehood that only her wig flew off in the accident.
Her
three
children survived in the back seat of the
1966 Buick Electra
. Daughter
Mariska Hargitay
was
3 years
old at the time and began her film career at 19.
June 29, 1971
-
When
Soyuz 11
disengaged from the
Salyut
space station, cosmonauts
Georgi Dobrovolsky, Vladislav Volkov
and
Viktor Patsayev
were killed by a faulty pressurization valve on this date.
All the oxygen leaks out of the
Soyuz
cabin before Patsayev could close the valve by hand, and the crew was asphyxiated.
I hate when that happens.
June 29, 1978
-
The body of
Bob Crane
was discovered in bed with an electric cord wrapped around his neck and his head smashed in, on this date.
When
Scottsdale
police searched the apartment belonging to the former star of television's
Hogan's Heroes
, they discovered a video camera and a large library of amateur porn starring Crane and a parade of random women. (
Parade of Random Women
- still a great name for an indie band.) No one has every been convicted of his murder.
June 29, 1992 -
Mohammed Boudiaf
was assassinated by one of his own bodyguards less than six months after becoming President of
Algeria
. A former hero in the war of independence, Boudiaf had been chosen by the
Islamic Salvation Front
to serve as figurehead for their regime. More than
100,000
Algerians would later die in political bloodshed in the following decade.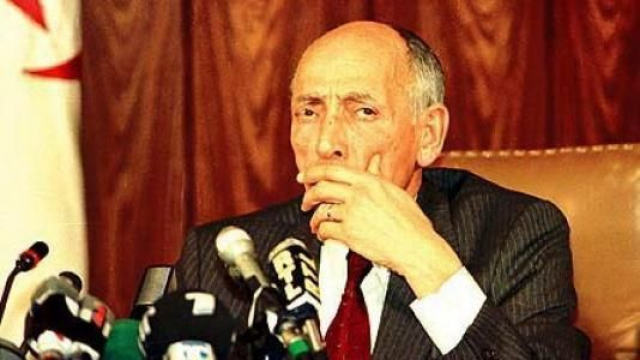 (Please note - this was probably not a good business motto to choice a protection agency - we will not kill you within the first six months or your money back.)
And so it goes
939