Today is
Go For A Ride Day
. The day is supposed to encourages you to get out into the world – hop on your bike, into your car, or simply get your walking boots out of storage and go on a trip. Don't worry too much about where you're going, just enjoy the journey.
If you're planning to have
Thanksgiving
dinner at your home this week, you should be planning to take a trip to your local supermarket.
November 22, 1940 -
The Letter
, starring
Bette Davis
(at her best) premiered in
NYC
on this date.
The first scene that
William Wyler
shot was the famous opening shot in which we see
Leslie
shoot
Geoffrey Hammond.
The opening shot, which lasted
two minutes
on screen, took an entire day to film, and that was before even a single word of dialogue was spoken. The studio expected him to shoot at a rate of
3-4
script pages a day, but the opening shot reflected a mere paragraph on page one.
November 22, 1968 -
The Beatles
released their long-awaited double album, simply called
The Beatles,
but better known as
The White Album.
The album was the first
the Beatles
undertook following the death of their manager,
Brian Epstein
, and the first released by their own record label,
Apple
.
November 22, 1975
–
KC and the Sunshine Band
song,
That's the Way
(
I Like It
), hit No #
1
on the Billboard Charts on this date.
A
1975 Time
magazine article cited this song as an example of "
sex rock
," naming it, along with
Donna Summer's Love To Love You Baby
as part of a new wave of sexually suggestive songs that were all the rage, but drawing opposition from conservative groups.

November 22, 1991 -
Barry Sonnenfeld
take on
Charles Addams New Yorker
Cartoons,
The Addams Family
, starring
Raul Julia, Anjelica Huston, Christopher Lloyd
and
Christina Ricci
, premiered on this date.
In the original series,
Grandmama
was
Gomez's
mother, and her name was
Eudora Addams
. In the movies, she is
Morticia's
mother, and her name was changed to
Esmerelda Frump
(
Morticia's
mother in the series was
Hestor Frump
). This provided a joke for
The Addams Family
musical.
Morticia
, angry at
Gomez
, brings up the time his mother came to visit for a week, "
And she's still here, living in the attic.
" Gomez responds, "
My mother? I thought she was your mother!
"

November 22, 1995
-
Toy Story
was released as the first feature-length film created completely using computer-generated imagery.
Sid Phillips
is said to be inspired by a former
Pixar
employee of the same last name who was known to disassemble toys and use the parts to build bizarre creations.
Let's talk
turkey
Today in History:
November 22, 1888
-
According to the
Edgar Rice Burroughs'
novel,
Tarzan of the Apes
(Lord
Greystoke
) was born on this date.
November 22, 1928
-
Maurice Ravel
composition
Boléro
has it's first public performance in
Paris
on this date.
Boléro
became
Ravel's
most famous composition, much to the surprise of the composer, who had predicted that most orchestras would refuse to play it
November 22, 1963
-
We, in this country, in this generation, are - by destiny rather than choice - the watchmen on the walls of world freedom.
- from the address that President
John F. Kennedy
never got to deliver in
Dallas
on this date.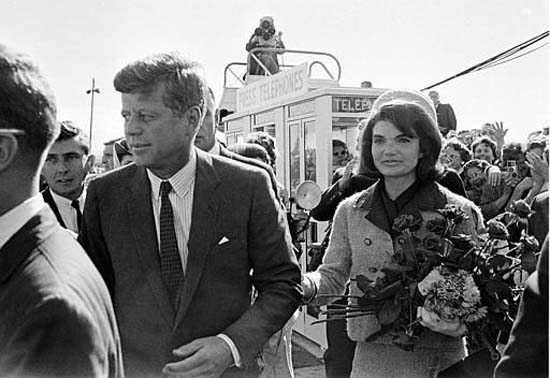 A covert
CIA
operation privately funded by a plutocratic cabal of multinational industrial interests acting in conjunction with extraterrestrial forces and the
Knights Templar
succeeded in making it appear that
Lee Harvey Oswald
had assassinated President
Kennedy
, on this date.
Or if this is too much for you, you can always believe in the
MAGIC BULLET
.
November 22, 1963
-
The Steam Ferry
Cornelius G. Kolff
vanished without a trace, on this date. On its way with nearly
400 hundred
people, mostly on their way to work, the disappearance of the
Cornelius G. Kolff
remains both one of
New York's
most horrific maritime tragedies and perhaps its most intriguing mystery.
You probable think that you never heard about this event because it was overshadowed by the assassination of
JFK
that same day - but you never heard about it because it never happened. Artist
Joe Reginella
created the elaborate hoax using slick brochures, a web site and even a statue are luring hapless tourists to a far corner of
Staten Island
in search of a museum devoted to the made-up tragedy.
November 22, 1968
-
Many a KKK member and
Daughter of the Civil War
were given the vapors on this date in history.
Capt.
Kirk
(
William Shatner
) and Lt.
Uhura
(
Nichelle Nichols
) share the first
interracial kiss
in TV history on
Star Trek
on this date.
November 22, 1975
-
Juan Carlos Alfonso Víctor María de Borbón y Borbón-Dos Sicilias
was proclaimed King of
Spain
after he confirms with advisers that
Francisco Franco
planned to be dead for a while.
Juan Carlos
is related to both Queen
Elizabeth
and Prince
Philip
(and as you know they are related to each other.) To confuse matters even more, his wife Queen
Sofia,
is related to all three of them. King
Juan Carlos
had to abdicate in favor of his son,
Felipe VI
(who is so related to Prince
Charles
though all four of the above mentioned people that they are practically first cousins,) proving once again, sometimes it's not good to be the king who spends too much money.
Oh, love among the royals.
Before you go - In case you run out of conversational topics this
Thanksgiving
, tune in, once again, this:
I believe we'll be dipping a toe into this every now and then all day Thursday!
And so it goes
1158