It's also
National One Hit Wonder
day. Celebrate responsibly - listen to only one or two of them at a time.
Ice Ice Baby - Vanilla Ice
Party All The Time - Eddie Murphy
I Ran (So Far Away)
–
A Flock of Seagulls
Somebody's Watching Me – Rockwell
Michael Jackson
sang backup.
Rockwell's
sister
Hazel
was married to Jackson's brother
Jermaine
.
Michael Jackson
was at the height of his powers, and
Rockwell
knew he could get the song released if he could convince Michael to sing on it.
September 25, 1943
-
An excellent
Merrie Melodies
cartoon,
A Corny Concerto
was released on this date.
This is the only
Looney Tunes
cartoon in which
Porky Pig
hunts
Bugs Bunny
(not counting
Porky's Hare Hunt
, the first cartoon to feature the rabbit character eventually known as
Bugs
.)
September 25, 1961
-
One of the greatest sports movies of all time,
The Hustler
, premiered on this date.
Boxer
Jake LaMotta
appears as as one of the many bartenders in the film. His one line is "
Check
," and he says it
three
times.
September 25, 1964
-
The series
Gomer Pyle, U.S.M.C.
, starring
Jim Nabors
(who was not married to
Rock Hudson
) premiered on
CBS-TV
on this date.
Although, the series has a military setting, and the Vietnam War was going on at the time it originally aired, the war itself is never discussed.
September 25, 1965
-
The Beatles Cartoon Show
premiered on
ABC-TV
on this date. It racked up a
13
score (or
52
share), then unheard of in daytime television.
The Beatles
themselves reportedly did not care for this series. They were also less than enthusiastic about the idea of the producers doing a feature film. However, they changed their minds about the feature film when they began seeing completed footage from
Yellow Submarine
.
September 25, 1970
-
Everybody was implored to '
Get Happy
' when
The Partridge Family
on this date.
Danny Bonaduce
revealed years later that during the run of the series, many people actually thought the kids played their own instruments and thought that they should perform live. However, the only member of the cast to actually tour and perform was
David Cassidy
who at the time had a successful singing career in the
USA
and
UK
.
September 25, 1987
-
20th Century Fox
releases the
Rob Reiner
directed film,
The Princess Bride
, starring
Cary Elwes, Mandy Patinkin, Christopher Guest, Robin Wright
and
Peter Falk
, in limited release, on this date.
Writer
William Goldman
was on set during one of the flame burst scenes in the forest when
Robin Wright's
dress caught fire. Although Goldman knew this was intentional, he was so caught up in the moment that he shouted, "
Her dress is on fire!
", thus ruining the take.
Today in History
-
On this day in
1789
, Congress proposed
twelve
amendments to the
Constitution
of the
United States
.
Habeas Corpus Christi
and
Freedom from Unreasonably Surging Seashores
were ultimately rejected but the other
ten
passed and have come to be known as the "
Bill of Rights
."
In honor of this important anniversary, I have chosen to celebrate my favorite amendment, in the hopes that it may also soon be yours. I am speaking of the
Ninth Amendment
.
Like that of
Beethoven
, the Constitution's
Ninth
is the standard against which all others must be measured. Unlike Beethoven's, it doesn't climax with a resounding choral tribute to
Joy
(but that could be fixed).
Here is the
ninth
amendment: "
The enumeration in the Constitution, of certain rights, shall not be construed to deny or disparage others retained by the people.
"
This important amendment should not be neglected just because of some awkwardly placed commas.
Under the
first
amendment, for example, I have been given the right to say any stupid thing that pops into my head. (This should not be confused with the responsibility of doing so, which is reserved to journalists.
Donald Trump
seems confused about this.) This is an enumerated right. My right not to have to listen to anyone else's idiotic opinion is not enumerated, but it's just as important.
In the
second
amendment, in order to preserve peace and order in the state, I have been granted the right to stockpile dangerous weapons. Unenumerated but no less important is my right not to be caught in the crossfire while you fire off a couple of clips at a Sunday School picnic. (The
NRA
generally seems to have missed this subtle point.)
Under the
eighth
amendment, I have the right not to be drawn and quartered, boiled in pitch, burned at the stake, or belittled by a British producer on national television. But this does not overrule my right to be entertained.
Let us all take a moment to give thanks to the
Ninth
Amendment, which preserves us not only from the tyranny of government, but the far more dangerous tyranny of one another.
September 25, 1890
-
The "
1890 Manifesto
", sometimes simply called "
The Manifesto
", is a statement which officially ceased the practice of plural marriage in
The Church of Jesus Christ of Latter-day Saints
(
LDS
Church).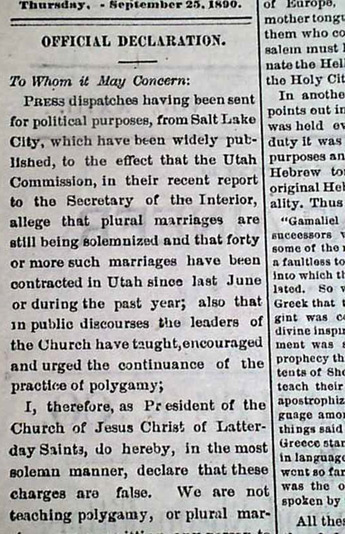 Announced by church president
Wilford Woodruff
on this date, the
Manifesto
was a dramatic turning point in The Mormons renounced the practice of polygamy after
six
decades in exchange for statehood for
Utah
. This was a great day in the history of
The Church of Jesus Christ of Latter-day Saints
, as many of the church leaders are finally able to sleep with both eyes closed.
September 25, 1919
-
President
Woodrow Wilson
became seriously ill and collapsed after a speech to promote the
League of Nations
in
Pueblo, Colorado
, on this date. On
October 2, 1919
, Wilson suffered a serious stroke that almost totally incapacitated him, leaving him paralyzed on his left side and blind in his left eye. For at least a few months, he was confined to a wheelchair. Afterwards, he could walk only with the assistance of a cane. The full extent of his disability was kept from the public until after his death on
February 3, 1924
.
Remarkably, Wilson was, with few exceptions, kept out of the presence of Vice President
Thomas R. Marshall
, his cabinet or Congressional visitors to the White House for the remainder of his presidential term. His second wife,
Edith
, would continually tell people for the next
five
years that the President was in the bathroom and couldn't be disturbed. This was, as of 2015, the most serious case of presidential disability in American history and was later cited as a key example why ratification of the
25th
Amendment and a large supply of
TP
at the
White House
was seen as important.
September 25, 1980
-
John Bonham
, drummer for the seminal rock band,
Led Zeppelin
, actually did choke to death in his sleep on a regurgitated ham sandwich on this date.
The coroner's report concludes that it was his own vomit and no one else's.
September 25, 1981
-
Sandra Day O'Connor
became the first female justice of the U.S. Supreme Court when she was sworn in as the
102nd
justice on this date.
She had been nominated the previous
July
by President
Ronald Reagan.
(One of my faithful reader was one of her law clerks.)
* There are
90
days until
Christmas
(I'm sure many of you have failed the naughty/ nice test already. Maybe you still have time.)
*
I was mistaken and there are 91 more days until Christmas. Please feel free to go to hell in a hand basket on me; I'll take it up with Santa.
And so it goes