We must develop and maintain the capacity to forgive. He who is devoid of the power to forgive is devoid of the power to love. There is some good in the worst of us and some evil in the best of us. When we discover this, we are less prone to hate our enemies.
Besides being a sales day at department stores, it's
Martin Luther King Day
.
To celebrate the day and the man, I'd like you to once again opine these words: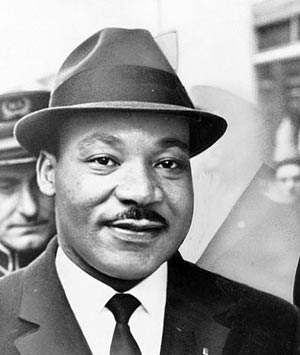 ...
Faith is taking the first step even when you don't see the whole staircase.
Hopefully your life will be filled with many moments to make the right choice.

January 19, 1942
-
The first of nine films to feature
Spencer Tracy
and
Katharine Hepburn
,
Woman of the Year
premiered on this date.
Katharine Hepburn
refused to reveal who wrote the screen play to
Louis B. Mayer
until after he bought the project from Hepburn. Hepburn was afraid that Mayer would low-ball the two authors (
Michael Kanin
and
Ring Lardner Jr.
) because at the time they were both relatively unknown.
January 19, 1949 -
The music I heard growing up, since there was no TV or cinema or record covers, I didn't know if it was black, white, hip, square, male, female... whatever. I'd hear melodies and things and got intrigued on that level.
Robert Palmer
, blue-eyed soul singer, was born on this date.
January 19, 1952
-
In the first match-up between
Wile E. Coyote
and
Bugs Bunny
,
Operation: Rabbit
, premiered on this date.
This was the second cartoon to feature
Wile E. Coyote
(following
1949's Fast and Furry-ous
), and the first in which he is identified by his full name. It is also the first in which the
Coyote
speaks.
January 19,1953 -
68%
of all television sets in the
United States
were tuned in to
I Love Lucy
on this date to watch
Lucy
give birth to a baby boy - the same day Ball gave birth to her son,
Desi Arnaz Junior
.
All the while they couldn't say pregnant on TV or be seen sleeping in the same bed - it appears to be the second virgin birth. The audience for the program was larger than that watching the inauguration of President
Dwight D. Eisenhower
the following day.
January 19, 1957 -
Ernie Kovacs
burst into the public consciousness with the comedy special,
The Silent Show
, premiering on this date.
It was filmed for broadcast first, in color, on the
NBC
network in
1957
. A second version of the show was created on videotape and broadcast
November 10, 1961
, on the
ABC
network.
Though both were broadcast in color, only B&W kinescopes of these shows survive, although an excerpt of the color show was aired as part of the
NBC 50th Anniversary Special
in
1976
.
Today in History:
January 19, 1809
-
Edgar Allan Poe
, writer who contributed to the creation of both the detective and science fiction genre, was born in
Boston
on this date.
His best known stories include:
Fall of the House of Usher
and
The Tell-Tale Heart
. His most famous poems are
The Raven
and
Annabel Lee
.
.
January 19, 1937
–
Bisexual Billionaire, future germaphobe and aviator
Howard Hughes
designed and flew the plane
Silver Bullet
setting a landplane speed record and a transcontinental record of
7
hours,
28
minutes and
25
seconds,
flying from
Los Angeles
to
Newark, New Jersey
on this date.
January 19, 1992
-
In Florida, the
64
-year-old award-winning playwright
Edward Albee
was arrested on a
Key Biscayne
beach for indecent exposure on this date. Charges were later dropped when it was determined that Albee had removed his swimming trunks only to rinse out the sand that was in them and had not done anything vulgar or immoral.
Thank goodness he didn't try to touch his
Tiny Alice
.
And so it goes.