As much as you think it would be cool - there's a near snowballs chance in hell that you'll ever get to actually do this
Also, most of you won't have the job of owning a marijuana dispensary to fall back on.
September 23, 1944 -
Frank Capra's
screwball comedy,
Arsenic and Old Lace
finally gets it US general release on this date. The film was based on a hit play and had to wait to be released until after it
Broadway
run had ended.
Cary Grant
considered his acting in this film to be horribly over the top and often called it his least favorite of all his movies.
September 23, 1949 -
Is a dream a lie if it don't come true?
It's the Boss is eligible to begin collecting social security today.
If you are of a certain age, at one point, Bruce meant everything to you.
September 23, 1962 -
The Jetsons
debuted on
Sunday
night's prime time lineup on this date.
The Jetsons
only ran for only
24
episodes during the
1962-1963
TV season.
The youth of America want to know, "
Did it always rain dog poop in the future with all those outdoor dog walking tracks?
"
September 23, 1967 -
The Letter
by
Box Tops
topped the charts on this date.
At
1:58
, the
Box Tops'
version of this was the last #
1
hit to be shorter than
two
minutes in length. (You can thank me for the earworm later.)
September 23, 1969 -
Marcus Welby MD
, starring the not terribly sober
Robert Young
, premiered on
ABC-TV
on this date.
The exterior of Dr.
Welby's
office was the same building used as the Cleaver family home on
Leave It to Beaver
with only Welby's shingle as the new addition to the set.

September 23, 1970
-
The only American film
Akira Kurosawa
almost directed,
Tora! Tora! Tora!
, was released on this date.
Akira Kurosawa
agreed to direct the Japanese part of the film only because he was told that
David Lean
was to direct the American part. This was a lie,
David Lean
was never part of the project. When Kurosawa found out about this, he tried to get himself fired from the production - and succeeded.
The film was considered a flop when it was released in the
United States
, but was a huge success in
Japan
.
September 23, 1990 -
PBS
premiered
Ken Burns
powerful
11
hour miniseries
The Civil War
on this date.
The documentary took six long years to make - two years longer than the actual war.
Today in History:
September 23, 480 BC
-
It's the birthday of the Greek poet
Euripides
, born near
Athens
on this date.
Euripides
has the greatest number of plays that have survived for the modern reader -
19
of them—including
Medea
.
Remember -
Euripides, I ripa dos
.
September 23, 63 BC -
Gaius Octavius Thurinus
(
Augustus Caesar
) was born on this day. The first real Roman Emperor, Caesar introduced the famous
Pax Romana
. This was a political policy which stated that any country which did not object to being conquered by
Rome
would be conquered by
Rome
.
Countries not wishing to be conquered by
Rome
stood in violation of this policy, and were therefore invaded until they agreed to be conquered. This ensured peace throughout the world.
September 23, 1779
-
During the Revolutionary War, While on break from
Led Zeppelin
, the American navy under Scotsman
John Paul Jones
(
Robert Stack
), commanding from
Bonhomme Richard
, defeated and captured the British man-of-war
Serapis
on this date. Jones, chose to name the ship after
Benjamin Franklin's
Poor Richard's Almanac
.
Fierce fighting ensued, and when Richard began to sink, Serapis commander Richard Pearson called over to ask if Richard would surrender and Jones responded, "I have not yet begun to fight!"--a response that would become a slogan of the U.S. Navy. Pearson surrendered and Jones took control of Serapis. Imagine the amount of rum consumed (it was an American Ship - I'm sure there was no sodomy!)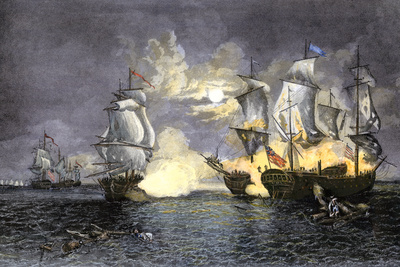 The
Bonhomie Richard
sank two days after the battle.
September 23, 1939 -
Sigmund Freud
was not having a good day. He had been suffering from the late stages of cancer of the jaw when he decided to commit suicide with the help of his personal physician,
Max Schur
on this date.
The good doctor administered
21
mg of
morphine
-- a lethal dose, in three large doses of morphine in the space of several hours. Sometimes
21
mg of
morphine
is just
21
mg of
death
.
September 23, 1950
-
Congress passes the
McCarran Act
, also known as
The Internal Security Act of 1950
, overriding
Harry Truman's
veto. The act provides for severe restrictions on civil liberties, suspension of free speech, and placing of undesirable Americans in concentration camps.
Much of the Act has been repealed, but some portions remain intact.
So watch it, bub.
September 23, 1952
-
Responding to accusations that he diverted $
18,000
in contributions into his pocket, Senator
Richard M. Nixon
rescues his candidacy for
Vice President
by insisting that he had never accepted any money.
Although Nixon does admit he accepted a cocker spaniel named
Checkers
for his daughter
Tricia
. The televised monologue rescues his political career.
http://pdxretro.com/wp-content/uploads/2011/09/nixon-and-checkers_thumb.jpg
Little is know about this political operative,
Checkers
. Recently unclassified
FBI
documents reveal that
Checker
advised Nixon not to shave just prior to his famous televised debate with Kennedy.
Checkers
was also recorded on his deathbed in late '
68
advising Nixon's men about creating a list of enemies of the future President.
September 23, 1969
-
An article in the
Northern Illinois University
student newspaper
The Northern Star
propagated the rumor that "
Paul is dead
."
But if you play
I'm so Tired
from the White Album (and smoke an enormous amount of dope,) you hear the question
Is Paul McCartney Dead?
And
Revolution #9
implores,
Turn me on dead man
.
Well, sort of. Remember it's
I buried Paul
and not
cranberry sauce
.
And so it goes