Mardi Gras is in two weeks - get busy.


February 7, 1908
-
Buster Crabbe
, Olympic swimmer and actor, was born on this date.
Crabbe is the only actor who played
Tarzan, Flash Gordon
and
Buck Rogers
— the top three comic strip heroes of the 1930s.
February 7, 1914
-
Charlie Chaplin
first appears as The Tramp, as his first film
Kid Auto Races at Venice
is released at Keystone Studios. The Tramp, as portrayed by Chaplin, is a bumbling but usually good-hearted character who is most famously presented as a vagrant who endeavors to behave with the manners and dignity of a gentleman despite his actual social status.
However, while he is ready to take what paying work that is available, he also uses his cunning to get what he needs to survive and escape the authority figures who will not tolerate his antics. With only a small number of exceptions, Chaplin would play only
The Tramp
(or slight variations on the character) on film until
The Great Dictator
.
February 7, 1962
-
Edward John "Eddie" Izzard
, stand-up comedian, dramatic actor and until recently an executive transvestite, was born on this date.
Long time readers of this silliness may have realized that I am very partial to Mr Izzard, Executive Transvestite.
February 7, 1965
-
... Charlie Brown is the one person I identify with. C.B. is such a loser. He wasn't even the star of his own Halloween special
.
Christopher Julius "

Chris

" Rock III
, comedian, actor, screenwriter, television producer, film producer, director and not an executive transvestite was born on this date.
February 7, 1974
-
Mel Brooks'

Blazing Saddles
opened on this date. Fart jokes gain a certain cache afterwards.
Mel Brooks
never told
Frankie Laine
that the theme song '
Blazing Saddles
' was for a comedy. Frankie thought it was a dramatic western. Mel was worried Frankie wouldn't sing it with conviction if he knew the truth.
Today in History:
February 7, 1812
-
Charles Dickens
, English novelist, was born in Portsmouth, England on this date.
He was the quintessential Victorian author.
February 7, 1845
-
An '
intemperate
' vandal,
William Lloyd
, entered the British Museum and smashes the irreplaceable Portland Vase into over 200 pieces. The elaborate glass amphora was created when
Augustus
was Caesar and is about ten inches high.
It takes a lot of crazy glue and months to repair.
On
February 7, 1898
, the trial of
Emile Zola
began in Paris. He lost, but then eventually he won. He accused someone of something. Somehow, the actor
Paul Muni
was involved. Or vice-versa. Long story.
It all began in the backwoods of Illinois... no, that was Lincoln. Never mind
February 7, 1940
-
Walt Disney's
second feature-length movie,
Pinocchio
, premiered at the Center Theatre in Manhattan on this date.
The first animated film to win an Academy Award in a competitive category.
Snow White and the Seven Dwarfs
won an honorary Oscar two years earlier.
February 7, 1964
-
It was
48
years ago today,
The Beatles
arrive at JFK International Airport to begin their first tour of the United States. They helped bring about a social revolution whose effects can be felt to this day.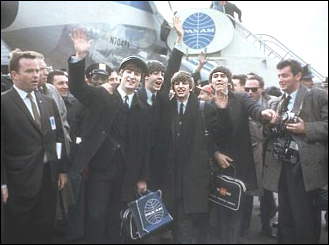 The Beatles
came from Britain, sometimes known as England, a little island in the North Atlantic from which many people have come to the United States over the years, some of them without guitars.
The British (or English), like so many other Europeans, have a long and storied history. Although it took the French to perfect the guillotine, the English (or British) made up for in zeal what they lacked in technological savvy, and next week is the anniversary of three British (or English) queens having their heads hewn from their shoulders.
On
February 8, 1587
, after nineteen years in prison,
Mary
Queen of Scots was beheaded.
On
February 12, 1554
, Lady
Jane Grey
, Queen for nine days in
1553
, was beheaded.
On
February 13, 1542
,
Catherine Howard, Henry VIII's
Vth wife, was beheaded.
If you can get to an English (or British) pub next week, order a beer with extra head and see if they get the joke. Be prudent, however, as people will sometimes react in unexpected ways when asked for any kind of head at all.)
February 7, 1968
-
It became necessary to destroy the town to save it. --
This was a quote attributed by
Peter Arnett
(written on this date.) to an anonymous American major speaking about the town of Ben Tre, the main town in Ben Tre province, Vietnam, after the Americans had heavily bombarded it.
February 7, 1990
-
The Soviet Union's Communist Party agreed to let opposition political parties compete for control of the country, thereby giving up its monopoly on power.
They were forced to sell of most of their properties on Baltic Avenue.
And so it goes.