The great
Etta Brown
passed away the other day and I didn't want it to go unnoticed.
Perhaps someday a really good biographical film will be made about this fine singer.
I can't believe no one has thought of this before but a corruption trial in Cleveland is being covered in an unusual way -
Puppet's Court
:
All trials from now on should be covered this way.
January 22, 1968
-
The comedy show
Rowan and Martin's Laugh-In
, hosted by
Dan Rowan
and
Dick Martin
, premiered on NBC television on this date.
The show originally aired as a one-time special on
September 9, 1967
. It was such a phenomenal success that it was given a regular one-hour time slot on Monday nights, replacing
The Man from U.N.C.L.E.
Today in History
-
Today is the birthday of Grand Duke
Ivan III
of Moscow, better known as
Ivan the Great
.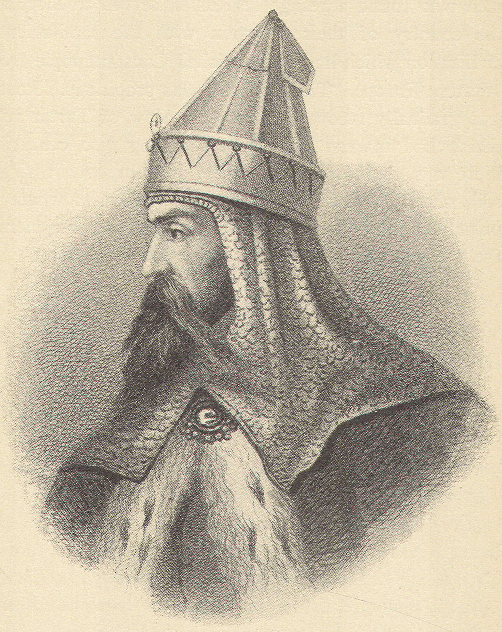 He was born in
1440
and became Grand Duke of Moscow in
1462
. Although Moscow was a lot of fun, it was not yet Russia. Ivan was determined to remedy that shortcoming as quickly as possible: he had tsars in his eyes.
To enlarge his dominions he began nibbling at his smaller neighbors, paying an annual tribute to the Golden Horde of Tatars to keep them from nibbling at him. Having eventually swallowed most of his surroundings, Ivan decided in 1480 that it was time to stop paying the Golden Horde.
The Golden Horde reminded him that it was time for their annual tribute. Ivan ignored them.
The Golden Horde sent him polite reminders in the mail, but he ignored these also.
They sent reminders on brightly colored stationery embossed with the words
PAYMENT PAST DUE
, but Ivan, alas, remained indifferent.
Finally the Golden Horde marched against Ivan and he marched his own troops out to meet them. The two armies met, faced off, and simultaneously retreated.
This was a victory for Ivan, in that neither he nor his descendants ever paid tribute to the Golden Horde again. But it was also a defeat for Ivan, who was therefore denied the rank of tsar.
(The first real tsar of Russia was his grandson,
Ivan IV
, "
the shooting tsar
.")
January 22, 1521
-
The Holy Roman Emperor,
Charles V
commenced the imperial Diet of Worms, on this date, to address the issues
Martin Luther
brought up in his
95
Theses.
While worms in general are quite unpleasant to consume, most people were afraid to contridict the Emperor, so many people in Europe became Protestant.
It was on this date in
1807
that U.S. President
Thomas Jefferson
exposed a plot by his former vice-president and unconvicted murderer,
Aaron Burr
, to establish an empire in the southwestern part of the continent. Burr was eventually acquitted as a result of Chief Justice Marshall's tree-falling-in-forest ruling that treason wasn't treason unless someone was there to see it—along with someone else who saw the same thing. The vice-presidency was never the same.
From that date forward, retiring vice-presidents have been compelled to either retire into the political obsolescence of private life, where we can safely ignore them, or into the presidency, where we can keep an eye on them (or in
Dick Cheney's
case, get to run the government away from prying eyes.)
January 22, 1901
-
After
63
years, England stopped sales of the Queen
Victoria
postage stamps series and began the King
Edward VII
series on this date.
Alexandrina Victoria
(
Hanover
, if she needed a last name) the Queen of the United Kingdom of Great Britain and Ireland and Empress of India of the British Raj, finally gave up the ghost much to the relief of her
59
year old son Edward, permitting him to finally get a job.
January 22, 1905
-
Thousands of demonstrating Russian workers were fired on by Imperial army troops in St. Petersburg
on what became known as "
Red Sunday
" or "
Bloody Sunday
".
96
people were killed, and over
300
were wounded. This incident marks the beginning of the so-called
1905
revolution.
January 22, 1918
-
Manitoba, Canada film censor board decides to ban comedies, on the grounds that they make audiences too frivolous.
Canada does not fully recover their true frivolousness until the broadcasting of
SCTV
in the early
80's
.
January 22, 1973
-
The Supreme Court in a
7-2
ruling handed down its
Roe vs. Wade
decision, which legalized abortion, using a trimester approach. The court ruled that a woman's right to privacy encompasses her decision to terminate a pregnancy.
Norma McCorvey
, the anonymous
Jane Roe
, revealed her identity in
1989
. She ended up having her 3rd baby that was the initial focus of the issue.
January 22, 1984
-
The future began today. The Apple Macintosh, the first consumer computer to popularize the computer mouse and the graphical user interface, was introduced during Super Bowl
XVIII
with its famous
1984
television commercial.
Now that Steve Jobs is gone, we can stop saying 'Hooray for Big Brother!!!'
And so it goes.