Another great match up between
Baldwin/ Krasinski
I'm not sure even after I've had 3 Martinis would I let Alex sucker punch me for 20 Grand (who the hell am I kidding - tax exempt, after three delicious icy cold bone dry Sapphire Martinis, Mr. Baldwin could have his way with me.)
Its National Chocolate Chip Day today. Celebrate and enjoy the sweet, taste of chocolate chip cookies.
So go out and eat some raw cookie dough to celebrate (hopefully they've licked the whole salmonella poisoning thing.)
May 15, 1958
-
Vincente Minnelli's
lush valentine to
La Belle Époque
era,
Gigi
premiered in NYC on this date.
From
1954-56
,
Arthur Freed
had to battle the Hays Code in order to bring
Colette's
tale of a courtesan-in-training to the cinema. He eventually convinced the film industry's Code Office to view the story as condemning rather than glorifying a system of mistresses.
May 15, 1886
-
Emily Dickenson
finally heard the buzzing of that fly in her room on this date.
The poet
Emily Dickinson
died in Amherst, Mass. on this date, where she had lived in seclusion for the previous 24 years.
This day is little remembered and yet of great import. It was on May 15, 1916, that Sir Mark Sykes of Britain and Georges Picot of France, with Russia's assent, confirmed their agreement to carve up the tottering Ottoman Empire between them.
Most of the mess that was the 20th Century can be traced back to the accord. In brief, here are some of the some of the issues these knuckleheads were trying to sort out -
Russia
vs
Turkey
vs
Greece
over Constantinople, the Straits and Thrace
France
vs
the Arabs
vs
Turkey
over Syria
Britain
vs
France
vs
the Arabs
vs
the Zionists
over Palestine
Greece
vs
Turkey
vs
Italy
over Smyrna and southwest Asia Minor
Britain
vs
France
vs
the Arabs
vs
Turkey
over Kurdish northern Iraq
France

vs

Turkey
over southeastern Asia Minor and Alexandretta
Russia
vs
Turkey
over Armenia and The southeast Black Sea coast
America
, for once, had no dog in this fight.
May 15, 1915 -
In Germany
Clara Immerwahr
, chemist and wife of chemist
Fritz Haber
, shot herself in the heart with her husband's service weapon in their garden, possibly in response to his having personally overseen the first successful use of chlorine at the Second Battle of Ypres on
April 22, 1915
.
That same morning, Haber left for the Eastern Front to oversee gas release against the Russians, not even staying for the funeral arrangements.He was branded a war criminal after the Allied victory, but still won the Nobel Prize in
1918
for ammonia synthesis.
You know this was a marriage made to last for the ages.
May 15, 1918
-
The US Post Office Department (later renamed the USPS) begins the first regular airmail service in the world (between New York City, Philadelphia and Washington, DC).
Of course this new service was a rousing success - the plane got lost and the mail finally had to be sent via train days later.
The Postal Service has not improved much since then
May 15, 1928
-
Plane Crazy
was the first animated cartoon to feature
Mickey Mous
e as well as
Minnie Mouse
(Mickey's girlfriend). The short was co-directed by
Walt Disney
and
Ub Iwerks
.
Iwerks was also the main animator for this short and reportedly spent six weeks working on it.
Hugh Harman
and
Rudolf Ising
were credited for assisting him; these two had already signed their contracts with
Charles Mintz
, but he was still in the process of forming his new studio and so for the time being they were still employed by Disney.
This short would be the last they animated under this somewhat awkward situation. In case you don't know it kids, these guys are the giants of animation and they all worked on this one cartoon.
May 15, 1960
-
The Soviet Union launches
Sputnik IV
, a three-ton spacecraft containing a "
dummy cosmonaut
." The mission goes fine until they attempt to retrofire.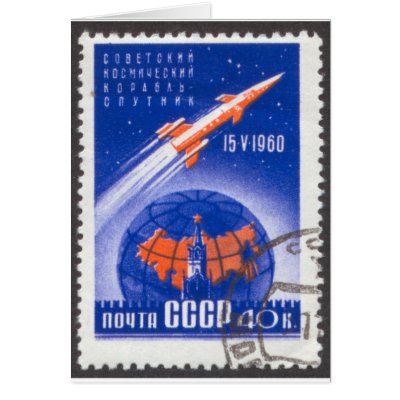 A bug in the guidance system had pointed the capsule in the wrong direction, so instead of dropping into the atmosphere the satellite moves into a higher orbit.
May 15, 1972
-
On
February 16, 1972
,
Arthur Bremer
quit his job as a janitor. Two weeks later, he began his diary on March 1 with the words, "
It is my personal plan to assassinate by pistol either

Richard Nixon

or

George Wallace
". His purpose was "
to do

SOMETHING BOLD AND DRAMATIC, FORCEFUL & DYNAMIC, A STATEMENT

of my manhood for the world to see
".
In his haste, the gunman forgets to yell his carefully-chosen catchphrase, "
Penny for your thoughts!
"
And when Gov.
George Wallace
survives the assassination attempt, albeit confined to a wheelchair, Bremer's name is soon forgotten.
Happy Birthday
Michael
.
And so it goes