It's
Holy Thursday
, also known as
Maundy Thursday
, today (remember to wash your feet or the feet of someone else, if you are so inclined.)
Amongst the other things going on (remember: don't go to a dinner party with 12 other people) -
It a big confessional day - so in honor of that, as has been my wont, I will repost,
Confessions of a Fallen Altar boy
- tales from my misspent youth as an Altar boy at St. John's. Hear the wanton tales of Catholic youth gone wrong, of the beatings by drunken priest, the secret drinking of the sacramental wine, the willful intent to force others to puke up the Eucharist.
Those uninterested in this, need not read the posting.
April 21, 1951
-
Les Paul
and
Mary Ford
topped the charts with their hit of the classic
How High the Moon
on this date.
The recording by
Les Paul
and
Mary Ford
is noteworthy for Paul's pioneering use of overdubbing - i.e., layering guitar parts one atop another, a technique also referred to as multitracking or "
sound on sound
" recording.
April 21, 1990
-
Sinead O'Connor
topped the charts with a cover of
Prince's
Nothing Compares 2U
on this date.
The video shot for this song was the first time most people saw what
Sinead O'Connor
looked like and were surprised that she was bald. She shaved her head when she first started recording because she wanted to make a statement and not be known for her beauty.
Make of this what you will - the following people were born on this day:
Alexandra Mary Windsor II
(
1926
),
Iggy Pop
(
James Newell Osterberg
) (
1947
) ,
Patti LuPone
(
1949
),
Tony Danza
(
1951
)
&
Robert Smith
(
1959
)
Today in History
-
April 21, 753 BC
-
Traditional date of the foundation of Rome by
Romulus
and his brother,
Remus
, as a refuge for runaway slaves and murderers who captured the neighboring Sabine women for wives (they are hoping to finish building it any day now.)
But since the Gregorian Calendar was just a gleam in Pope
Julius
eye - who knows.
April 21, 1836
-
With the battle cry, '
Remember the Alamo!
' Texan forces under
Sam Houston
defeated the army of Mexican General
Antonio Lopez de Santa Anna
, assuring Texas independence .
According to legend,
Santa Ana
was astride a mulatto, or "
yellow
" prostitute,
Emily Morgan
, who came to be celebrated in song as
The Yellow Rose of Texas
.
Now you know.
April 21,1792
-
Jose da Silva Xavier, Tiradentes
, considered by many to be Brazil's
George Washington
, was having an extremely bad day. The Portuguese rulers of Brazil were not happy with his seditious talk of independence.
Tiradentes
was hung in Rio de Janeiro on this date. His body was broken into pieces.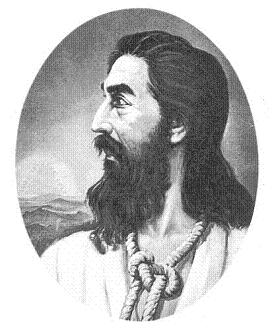 With his blood, a document was written declaring his memory infamous. His head was exposed in Vila Rica. Pieces of his body were exposed in the cities between Vila Rica and Rio, in an attempt to scare the people who had listened to the independence ideas of
Tiradentes
.
He began to be considered a national hero by the republicans in the late 19th century, and after the republic was proclaimed in Brazil in 1889 the anniversary of his death (April 21) became a national holiday.
April 21, 1910
-
Halley's comet reappeared, last seen in 1835 on this date.
The Earth passes safely through the comet's tail with no perceptible effect, of course, not counting the death of Mark Twain on this date.
This time, the reports were not exaggerated.
April 21, 1918
-
German fighter ace
Manfred von Richthofen
, known as
The Red Baron
, is shot down and killed over Vaux sur Somme in France on this date.
There is no truth to the rumor that
Snoopy
fired the fatal shot.
April 21, 1997
-
Ashes of
Timothy Leary
and
Gene Roddenberry
launched into orbit (This marked the beginning of the space funeral industry.)
I guess this is the highest Dr.
Leary
will ever get.
April 21, 2003
-
Nina Simone
, dubbed the
high priestess of soul
, died in France on this date.
Kids go out and buy one of her CD's, your life will be better for it.
And so it goes.