Bon temps roulez mes amis
. It's
Mardi Gras
(
Fat Tuesday
) folks. So everybody shake your groove thing.
Today is also know as
Shrove Tuesday
or
Pancake Day
, which heralds the beginning of fasting in Lent. On this day (so the historians say) there were feasts of pancakes to use up the supplies of fat, butter and eggs... foods that were forbidden during austere Lent.
In England there are several celebrations on this day but perhaps the best known one is the
Pancake Day Race
at Olney in Buckinghamshire which has been held since
1445
. The race came about when a woman cooking pancakes heard the shriving bell summoning her to confession. She ran to church wearing her apron and still holding her frying pan, and thus without knowing it, started a tradition that has lasted for over five hundred years.
Keep flipping them pancakes
It's
International Women's Day
today. It is a major day of global celebration for the economic, political and social achievements of women.
It's convenient that it occurs during Women's History Month.
March 8, 1945
-
George Michael Dolenz, Jr
., actor, musician, director and circus boy was born on this date.
Speaking of Georges -
Georgios Kyriacos Panayiotou
officially broke up with his boyfriend, sources say. So if your looking for a drug fueled ex-pop singer, whose not into the ladies - gentlemen, he's on the market.
Today in History -
March 8, 1933
-
The quintessential backstage musical,
42nd Street
, premiered in New York City on this date.
...
Remember Sawyer, you're going out there a youngster, but you've got to come back a star!
March 8, 1950
-
Marshal
Voroshilov
announces the existence of the Soviet atomic bomb.
This baffled the western powers, who were sure they had left it somewhere safe.
33 years later, on this date, the ever swift President
Ronald Reagan
gets around to calling the Soviets, "
an evil empire
."
March 8, 1959
-
The apex of the golden age of Television was achieved on this date when
Groucho, Chico
and
Harpo
make their final TV appearance together.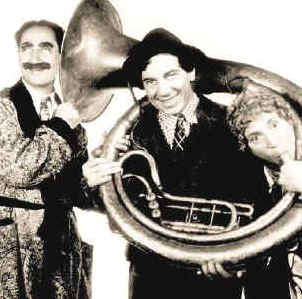 It was all down hill from here (sorry I still couldn't find a clip. I'll find it though)
March 8, 1968
-
The Soviet submarine,
K-129
, sinks in the Pacific Ocean, killing all 97 crewmembers aboard. Later in the year a U.S. submarine secretly retrieves an encryption machine, codebooks, and nuclear warheads from the Soviet vessel.
A further bold attempt is made in
1974
to bring up the entire submarine using the CIA ship
Glomar Explorer
, built by Howard Hughes. That mission supposedly fails, and is made public by the Los Angeles Times to the great embarrassment of the Agency.
March 8, 1969
-
Mad Monster Party
is released by
Embassy Pictures
for
Rankin/Bass Productions
, Inc on this date.
It's the silliest party of the year ... and you're all invited!
(You might ask why this wasn't released during Halloween. That's another story.)
March 8, 1999
-
Where have you gone Joe DiMaggio? Our nation turns its lonely eyes to you
.
Joseph Paul "

Joe

" DiMaggio
passed away in his Florida home on this date in 1999.
Does anyone know if he left his
Mr. Coffee
machine on?
And so it goes.