September 22, 1960
-
Joan Marie Larkin
, singer/ musician extraordinaire was born on this date.
September 22, 1957
-
The comedy-western series
Maverick
, premiered on ABC-TV on this date .
On April 21, 2006, a ten-foot tall bronze statue of
James Garner
as
Bret Maverick
was unveiled in Garner's hometown of Norman, Oklahoma
September 22, 1964
-
Napoleon Solo
and
Illya Kuryakin
, who kept the world safe on
The Man from U.N.C.L.E
, made their first appearance on NBC-TV on this date.
Everybody knows that
U.N.C.L.E.
stands for the
United Network Command for Law Enforcement
. Anybody remember what their archenemy
THRUSH
stood for - anybody?
Technological Hierarchy for the Removal of Undesirables and the Subjugation of Humanity
- that's a mouthful.
Today is the first day of autumn.
By happy coincidence, it's also the first day of fall.
Many people in the northern hemisphere are disturbed by the changes they see around them at about this time each year. It gets darker earlier, temperatures drop, leaves change color and die, and the Red Soxs tend to drop out of playoff contention.
There have been myths about the changing of the seasons as long as there have been children to lie to. Some primitive peoples believed that leaves changed color because Nature was pining for her abducted daughter; others blamed it on the seasonal absence of sunlight-fed chlorophyll, allowing
xanthophyll
,
carotene
, and
antocyanin
to determine leaf color. We may never know the truth.
The first day of autumn is sometimes also referred to as the
Autumnal Equinox
. Don't be alarmed by the title. It's just fall.
We can get through this thing.
September 22, 1994
-
You could get a cup of coffee at
Central Perk
for the first time when
Friends
, premiered on NBC-TV on this date.
The shows original theme song was
Shiny Happy People
by
R.E.M.
, but was changed later on to
I'll Be There For You
by
The Rembrandts
. And even though he would never admit it,
Michael Stipe
must be as mad as hell.
Today in History
:
September 22, 1761
-
George III
and
Charlotte
of Mecklenburg-Strelitz are crowned King and Queen of the Great Britain. Which is funny because George was not British. He was German. He had been Elector of Hanover. (Although he was the first King of England in a very long time the spoke English as his first language, if at all.)
But he ends his days, completely blind, increasingly deaf and totally insane locked up in Windsor Castle, with his son acting as Regent for the remainder of
George III's
life.
I've said it before - sometimes it's not so good to be King.
September 22, 1776
-
An American Captain was hanged as a spy with no trial by the British, under the orders of General William Howe, in New York City during the Revolutionary War. He was considered as one of the incendiaries of the burning of NYC.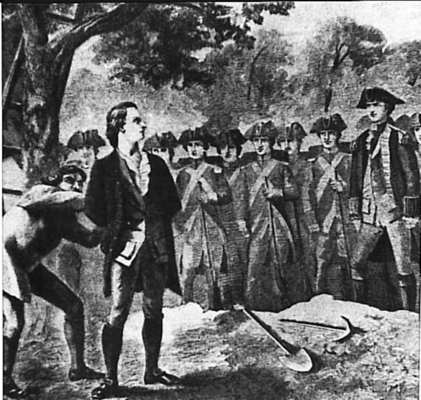 Moments before his execution, he expressed regret that he couldn't be hanged more than once. This remark catapulted him to posthumous fame (but only after his death), and
Nathan Hale
is revered to this day.
September 22, 1869
-
Richard Wagner's
opera
Das Rheingold
premieres in Munich.
Beer drinkers around the world rejoice!!!
September 22, 1961
-
President
John Kennedy
took a break from hanging out with
Frank Sinatra
and having sex with
Marilyn Monroe
to sign a congressional act establishing the Peace Corps.
The government-funded volunteer organization was created to fight hunger, disease, illiteracy, poverty, and lack of opportunity around the world.
Sometimes it good to be the President (and sometimes it sucks, as Mr. Kennedy would eventually find out.)
September 22, 1980
-
In a stunning blow to America's feminine hygiene, consumer products manufacturer
Procter & Gamble
initiates the largest tampon recall in history, pulling
Rely
Tampons from store shelves.
The action results from the ongoing
Toxic Shock Syndrome
controversy.
No comment.
And so it goes