It was a beautiful weekend, it's nice to know that the first day ice cream was sold in the US, on this date, in
1786
.
And there's no true to the rumor that
Martha Washington
or
Dolley Madison
sold to scoop to a very young
Barbara Walters
.
It's
Dean Martin's
,
Tom Jones'
and
Prince's
birthday today.
(The Purple One is involved in a protracted dispute with YouTube, so there are no available clips of his songs)
Talk about cosmic convergence.
Today in History
-
June 7, 1494
-
Spain
and
Portugal
signed the
Treaty of Tordesillas
(which divides the New World between the two countries. Hence, the Brazilians speak Portuguese rather than Spanish). In the volatile, war-torn world in which we live, many historical documents have become required reading. Not this one. You will never be standing at a cocktail party where someone says, "
It's all because of that damn Treaty of Tordesillas
."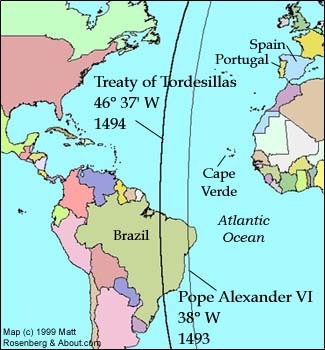 No one will ever blame the failures of the Middle East Peace Process or the brinkmanship in south Asia on the harsh conditions of the Treaty of Tordesillas. You'll never see your favorite pundit toss off the "Treaty of Tordesillas" in an ironic and off-handed way. You won't hear Noam Chomsky cite it as a cause or effect of American imperialism. It will never attract the directorial eye of Michael Moore or Oliver Stone.
You already know more about that treaty than most people alive today. You may now forget it ever existed. It has no relevance to your life.
June 7, 1502
-
Ugo Buoncompagni
was born on this date. He became Pope
Gregory XIII
in
1572
and remained the Pope until 1585. He is best known for reforming the Julian calendar, which is why it's now Gregorian instead of Julian.
Had he reformed the calendar before becoming Pope, it would be the Ugian Calendar. That would have been a calendar worth having.
June 7, 1692
-
At 11:43am, a catastrophic earthquake strikes
Port Royal, Jamaica
, then known as "
the richest and wickedest city in the world
." Buildings are shaken apart and ships in harbor hurled onto busy streets.
In just three minutes, the temblor takes out 70% of the population, killing 1,600 and seriously injuring 3,000 others.
June 7, 1954
-
Despondent over court-ordered estrogen treatments to cure his homosexuality,
Alan Turing
commits suicide by consuming an apple laced with cyanide. (His inspiration -
Snow White
, his favorite movie.)
Turing is considered the founder of modern computing, a pioneer in the field of Artificial Intelligence, and a crucial member of the team that cracked Germany's Enigma cipher in World War II.
So, apparently an apple a day does keep the doctor away - permanently.
June 7, 1982
-
In an effort to defray its
$500,000
annual upkeep costs,
Priscilla Presley
opens
Graceland
to the public only five years after
Elvis
died in an upstairs bathroom. The bathroom is kept off-limits to tourists.
Think about how much money Priscilla could have made if you charged people to use the bathroom.
And so it goes.