In honor of the occasion, here's a little history -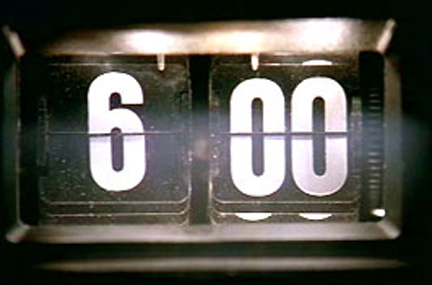 Groundhog Day
,
February 2nd
, is a popular tradition in the United States. It is also a legend that traverses centuries, its origins clouded in the mists of time with ethnic cultures and animals awakening on specific dates. Myths such as this tie our present to the distant past when nature did, indeed, influence our lives. It is the day that the Groundhog comes out of his hole after a long winter sleep to look for his shadow.
If he sees it, he regards it as an omen of six more weeks of bad weather and returns to his hole.
If the day is cloudy and, hence, shadowless, he takes it as a sign of spring and stays above ground.
The groundhog tradition stems from similar beliefs associated with
Candlemas Day
and the days of early Christians in Europe, and for centuries the custom was to have the clergy bless candles and distribute them to the people. Even then, it marked a milestone in the winter and the weather that day was important.
According to an old English song:
If Candlemas be fair and bright,
Come, Winter, have another flight;
If Candlemas brings clouds and rain,
Go Winter, and come not again.
The Roman legions, during the conquest of the northern country, supposedly brought this tradition to the Teutons, or Germans, who picked it up and concluded that if the sun made an appearance on Candlemas Day, an animal, the hedgehog, would cast a shadow, thus predicting six more weeks of bad weather, which they interpolated as the length of the
Second Winter
.
Pennsylvania's earliest settlers were Germans and they found groundhogs to in profusion in many parts of the state. They determined that the groundhog, resembling the European hedgehog, was a most intelligent and sensible animal and therefore decided that if the sun did appear on February 2nd, so wise an animal as the groundhog would see its shadow and hurry back into its underground home for another six weeks of winter.
The Germans recited:
For as the sun shines on Candlemas Day,
So far will the snow swirl until the May.
This passage may be the one most closely represented by the first Punxsutawney Groundhog Day observances because there were references to the length of shadows in early Groundhog Day predictions.
Another February 2nd belief, used by American 19th century farmers, was:
Groundhog Day - Half your hay
.
New England farmers knew that we were not close to the end of winter, no matter how cloudy February 2nd was. Indeed, February 2nd is often the heart of winter. If the farmer didn't have half his hay remaining, there may have been lean times for the cows before spring and fresh grass arrived.
The ancient Candlemas legend and similar belief continue to be recognized annually on February 2nd due to the efforts of the Punxsutawney Groundhog Club.
Growing Fame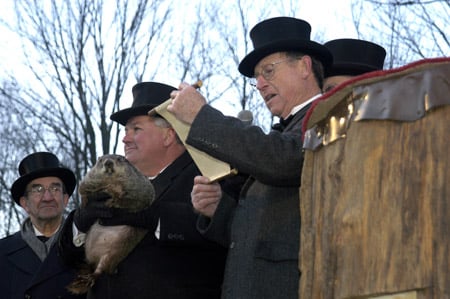 From offering support of political events, to rooting for area sports teams, to becoming the star of a Hollywood movie, Dr. Phil has increasingly been in the public eye. Early observances of Dr. Phil's predictions were conducted privately in the wooded areas that neighbor the town. Today's celebration sees tens of thousands of visitors from all over the world as revelers await Phil's appearance as most fans wait to see their favorite rock stars.
The Punxsutawney Spirit newspaper is credited with printing the news of the first observance in 1886 (one year before the first legendary trek to Gobbler's Knob. Let's polish the Knob everybody):
"Today is groundhog day, and up to the time of going to press the beast has not seen his shadow."
Over the course of Dr. Phil's appearances, Phil has had numerous noteworthy highlights:
During Prohibition Dr. Phil threatened to impose 60 weeks of winter on the community if he wasn't allowed a drink.
In 1958 Dr. Phil announced that it was a "United States Chucknik," rather than a Soviet Sputnik or Muttnik that became the first man-made satellite to orbit Earth.
In 1981 Dr. Phil wore a yellow ribbon, and nothing else in honor of the American hostages in Iran. Several elderly women and young children fainted. Strong men had to be restrained from gouging their eyes out.
Dr. Phil traveled to Washington DC in 1986 to meet with President Reagan. He was joined by Groundhog Club President Jim Means, Al Anthony and Bill Null.
Dr. Phil met Pennsylvania Governor Dick Thornburg in 1987.
In 1993, Columbia Pictures released the movie Groundhog Day starring Bill Murray.
Dr.Phil frequently appeared on the Oprah Winfrey and David Letterman show.
In the years following the release of the movie, record crowds numbering as high as 30,000 have visited Gobbler's Knob to 'polish the Knob' in Punxsutawney!
BTW, the damn vermin saw his shadow so six more weeks of inane psychobabble!!!
Today in History
:
James Joyce
was born on
February 2, 1882
. Mr. Joyce was one of many drunken Irish geniuses who got the hell out of Ireland as soon as he could afford a passport.
Mr. Joyce wrote
Ulysses
, a famous book perhaps most notable for the fact that few people ever actually read it.
Gertrude Stein
was born a day later, eight years earlier. She wrote books that were much easier to read than Mr. Joyce's yet made even less sense.
Congestion Advisory
In
1626
, Dutchman
Peter Minuit
bought the island of Manhattan for
$24
. People often joke about that, but twenty-four bucks wasn't such an unreasonable price. It was a lot of money back then, and it's not like Mr. Minuit just turned around and built Times Square. Manhattan was a big rock in the middle of cold rushing waters and the weather was awful, even for a Dutchman. It wasn't even a city until
February 2, 1653
, when it became
New Amsterdam
. It had a population of 800 at the time.
Eventually it was renamed
New York
, which, according to the 2000 census, has a population of more than 8 million. This represents an increase of one million percent. At this rate, by the year
2319
New York will have a population of over 80 billion.
Anticipate more traffic
.
February 2, 1793
-
Czech composer
Franz Kotzwara
, who penned
The Battle of Prague
, visited a prostitute in Vine Street, Westminster named
Susannah Hill
. After dinner with her in her lodgings, Kotzwara paid her two shillings and requested that she cut off his testicles. Hill refused to do so. Kotzwara then proceeded to tie a rope around the doorknob and then his neck and proceeded to have vigorous sexual intercourse with Hill. After it was over, Kotzwara was dead.
His is most likely the first recorded death from erotic asphyxiation.
Now you know.
Following a custom she maintained throughout her widowhood,
Queen Victoria
spent Christmas at Osborne House on the Isle of Wight. She died there from a cerebral hemorrhage on January 22, 1901, at the age of 81. At her deathbed she was attended by her son, the future King, and her oldest grandson, German Emperor William II. As she had wished, her own sons lifted her into the coffin. She was dressed in a white dress and her wedding veil. Her funeral was held on
February 2nd
, and after two days of lying-in-state, she was interred beside Prince Albert in the Frogmore Mausoleum at Windsor Great Park. Since Victoria disliked black funerals, London was instead festooned in purple and white.
When she was laid to rest at Frogmore Mausoleum, it began to snow. Victoria had reigned for a total of 63 years, seven months and two days—the longest of any British monarch.
February 2, 1964
-
The GI Joe doll made its debut on the market as a popular American toy.
It would be several years before GI Joe would be released with his Kung Fu grip. Even though GI Joe is 12" of fighting machine - Joe is genital-less - so the grip is useless.
February 2, 1971
-
Idi Amin
assumes power in Uganda, taking the government from
President Milton Obote
. One of his favorite pastimes seems to have been eating the brains of live prisoners. Also while in office, he eats one of his own sons.
How lovely
February 2, 1979
-
Sid Vicious, bassist for the Sex Pistols, dies in his sleep of a heroin overdose.
He was waiting to stand trial for the stabbing death of his girlfriend, Nancy Spungen.
The
Oscar
nominations are in:
Best Supporting Actress
:
Penelope Cruz,
Nine
Vera Farmiga,
Up in the Air
Maggie Gyllenhaal,
Crazy Heart
Anna Kendrick,
Up in the Air
Mo'nique,
Precious
Best Supporting Actor
:
Matt Damon,
Invictus
Woody Harrelson,
The Messenger
Christopher Plummer,
The Last Station
Stanley Tucci,
The Lovely Bones
Christoph Waltz,
Inglourious Basterds
Best Actress
:
Sandra Bullock,
The Blind Side
Helen Mirren,
The Last Station
Carey Mulligan,
An Education
Gabourey Sidibe,
Precious
Meryl Streep,
Julie & Julia
Best Actor
:
Jeff Bridges,
Crazy Heart
George Clooney,
Up in the Air
Colin Firth,
A Single Man
Morgan Freeman,
Invictus
Jeremy Renner,
The Hurt Locker
Best Director
:
Jame Cameron,
Avatar
Kathryn Bigelow,
The Hurt Locker
Quentin Tarantino,
Inglourious Basterds
Lee Daniels,
Precious
Jason Reitman,
Up in the Air
Original Screenplay
:
The Hurt Locker
Inglourious Basterds
The Messenger
A Serious Man
Up
Adapted Screenplay
:
District 9
An Education
In the Loop
Precious
Up in the Air
Foreign Language Film
:
Ajami
El secreto de sus ojos
The Milk of Sorrow
Un Prophete
The White Ribbon
Animated Film
:
Coraline
Fantastic Mr. Fox
The Princess and the Frog
The Secret of Kells
Up
Best Picture
:
Avatar
The Blind Side
District 9
An Education
The Hurt Locker
Inglourious Basterds
Precious
A Serious Man
Up
Up in the Air
The Oscar will be held on March 7th.
And so it goes.