March 16
-
Today is the celebration of
St. Urho's Day
, Patron saint of
Finnish vineyard
workers. Attributed to him is the miracle of banishing grasshoppers from Finland which he accomplished with a few choice Finnish phrases, thereby saving the season's grape crop.
But in reality a bunch of very drunk people made this up in
1956
.
It's
National Hiccup Day
today (apparently, according to the interweb, this is a cure for hiccups.)
It's also known as
synchronous diaphragmatic flutter
or
singultus
.
Now you know.
March 16, 1934
-
An (almost) all singing
Popeye
cartoon,
The Man on the Flying Trapeze
, premiered on this date.
The Daring Young Man On The Flying Trapeze
is based on a real person:
Jules Leotard.
He was a former law student who ran away from home and joined a circus as an adolescent. Young Jules was the first performer to wear the skin-tight suit of clothes that would later be named after him; he died of tuberculosis aged only
twenty-eight
.
March 16, 1954
-
Max Ophüls
beautifully acted film,
La Ronde
, premiered in the US on this date. (
Psst kids
,
the films about the transmission of syphilis
-
really
.)
The film was shot the picture entirely in the studio.
This is a must-see film - find time to watch it today..
March 16, 1954
-
Elia Kazan's
powerful family drama,
East of Eden
, premiered in
Los Angeles
on this date (this is the only one of the "
big three
"
James Dean
films to be released before his death.)
It's hard to remember how innovative
James Dean's
acting was in the '
50s
. Dean would provoke
Raymond Massey
off-camera so that the elder actor would hate him and he could get into character easier.
While traveling in the tropics this season -

Today in History:
March 16 1190
-
More than
150
and perhaps as many as
500
Jews, secured in
Clifford's Tower
at
York
, died from suicide and massacre after they were sieged by townspeople under
Richard Malebys
on this date. Malebys was a nobleman who owed money to the Jews; after their siege all records relating to moneylending were destroyed.
This was seen as a warm-up for the Crusaders invasion of the
Holy Land
. It is the largest massacre of Jews in the history of the
United Kingdom
.
March 16 1792
-
At a masquerade ball, a disgruntled Captain
Jacob Johan Ankarstroem
shot Swedish King
Gustav III
near the heart with a bullet composed of lead and carpet tacks, on this date. It took the King almost two weeks to die.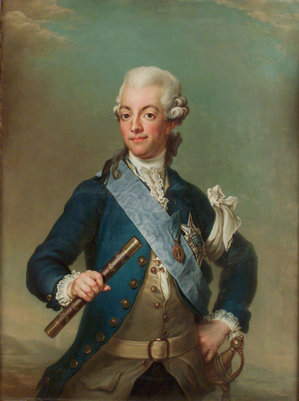 Shakespeare
never wrote about
Gustavus
, probably because
Gustavus
was born well after
Shakespeare's
death, but
Giuseppe Verdi
(or his stage name,
Joe Green
) wrote an opera about the affair called
Un Ballo in Maschera
("
A Bull in Mascara
").
As punishment, the Captain was decapitated, drawn, and quartered.
Ouch!!!
March 16, 1912
-
All lives have triumphs and tragedies, laughter and tears, and mine has been no different. What really matters is whether, after all of that, you remain strong and a comfort to your loved ones. I have tried to meet that test.
Thelma Catherine Pat Nixon (nee Ryan)
- the patron saint of long suffering political wives and good Republican cloth coats was born on this date.
March 16, 1916
–
Tsutomu Yamaguchi
, born on this date, was one of the only individuals who witnessed and survived both atom bombs in
Japan, Hiroshima
on
August 6th,
and
Nagasaki
on
August 9
.
Mr. Yamaguchi slowly recovered and went on to live a relatively normal life. He died from radiation related stomach cancer at
93
, on
January 4, 2010
.
March 16, 1926
-
I never got a formal education. So my intellect is my common sense. I don't have anything else going for me. And my common sense opens the door to instinct.
Joseph Levitch
, comedian, actor, producer, writer, director, singer,
Légion d'honneur
recipient and the dollar sign in
Dean Martin
eyes, was born on this date.
March 16, 1926
-
Robert H. Goddard
, fueled the first hopes of space travel when he successfully launched the world's first liquid-fueled rocket at
Auburn, Massachusetts
on this date.
The rocket traveled for
2.5
seconds at a speed of about
60 mph
, reaching an altitude of 41 feet. The rocket was
10
feet tall, constructed out of thin pipes, and was fueled by liquid oxygen and gasoline.
March 16 1949
-
It's
Erik Estrada's
birthday today.
Reason enough to live another day.
March 16 1978
-
Italian
Red Brigades
kidnapped former Italian Premier
Aldo Moro
on this date, in order to obtain the release of imprisoned comrades.
Moro was murdered and his body was later found on
May 9, 1978
.
And so it goes.
1407