September
is the
ninth
month of the year, which is why its name is derived from the Latin
Septem
, meaning
seven
. (We have previously addressed this problem last month; see
August
, the
Sixth Month
.) On the French Revolutionary calendar,
September
is known as
Vendémiaire
(
vintage
,) and in Dutch,
September
is "
the begining of autumn
", "
Hertmaand
." The Basque refer to it as "
ear month
," and the Congolese, "
sánza ya libwá
" (
Ninth
month), the Irish called it "
the month of plenty
", and the Samoan call it, "
Septembe
r."
September
is:
Children's Good Manners
Month
Internet Safety
Month (remember always use protection while surfing the net)
National Pleasure Your Mate
Month (again - protection)
Cable TV
Month
Pediculosis Prevention
Month (I beg you, don't look it up)
Metaphysical Awareness
Month
Prostate Cancer Awareness
Month.
So remember, Listen to
Samuel L Jackson
and
Love the Glove!
Since
September
is a return to months ending with an '
R
', it was believed that
Oysters
were back in season.
Let's join
Matt Damon
explaining the religious symbolism of
Lewis Carroll's
poem, (Dare to eat an oyster today.)
It's
Emma M. Nutt
Day, the first woman telephone operator, hired in
1878
. She was hired personally by
Alexander Graham Bell
. A few hours after Emma started work her sister
Stella Nutt
went into the family business and became the world's second female telephone operator.
Emma loved the job, and worked at it for
33
years. She, reportedly, was able to remember every single phone number in the
New England Telephone Company
directory.
She apparently had no life.
September 1, 1902
-
Le Voyage dans la lune
(
A Trip to the Moon
), written and directed by
Georges Méliès
, assisted by his brother
Gaston
, considered to be the first science fiction movie, was released on this date.
After finishing work on the film,
Georges Méliès
intended to release it in
America
and thereby make lots of money. Unfortunately,
Thomas A. Edison's
film technicians had already secretly made copies of the film, which was shown across the
USA
within weeks. Melies never made any money from the film's American showings, and went broke several years later (while Edison made a fortune on the film.)
September 1, 1938
-
Frank Capra
bounced back from the disastrous reviews of
Lost Horizon
, released the previous year, with
You Can't Take It with You
, which opened in
NYC
on this date.
Shortly before filming began,
Lionel Barrymore
lost the use of his legs to crippling arthritis and a hip injury. To accommodate him, the script was altered so that his character had a sprained ankle, and Barrymore did the film on crutches.
Lionel Barrymore
would receive injections every hour to help relieve the pain of his arthritis.
September 1, 1948
-
Paramount released the
Anatole Litvak
noir classic,
Sorry Wrong Number
, starring
Barbara Stanwyck
and
Burt Lancaster
, on this date.
Agnes Moorehead,
who created the role of
Mrs. Stevenson
on the radio, was offered a small role in the film. Insulted, she turned it down. The radio broadcast proved so popular that the radio play was restaged seven times through to
1960
, each production starring Moorehead.
September 1, 1947
-
The screwball comedy, in which
Myrna Loy
and
Shirley Temple
play sisters in the film yet
Myrna Loy
was more than
20
years older that
Shirley Temple
,
The Bachelor and the Bobby-Soxer
, opened nationwide on this date.
The film won Sidney Sheldon an Academy Award for the screenplay.
September 1, 1972 -
David Bowie
released
John, I'm only Dancing
in the
U.K.
on this date.
This song is about a homosexual relationship. After dancing with a girl, Bowie reassures his male partner that he's "
only dancing
" with her and is not romantically involved. It has also been suggested this was Bowie's response to a derogatory comment made by
John Lennon
about Bowie's cross-dressing.
Today in History:
September 1, 1854 -
Engelbert Humperdinck
was born on this date,
No, not that one,
this one, the German opera composer.
September 1, 1897
-
The first subway in
North America
was opened in
Boston
on this date. Trolley car grid-lock and street congestion on main thoroughfares motivated the
Massachusetts
Legislature to authorize the construction of the subway. (Either that, or their unnatural love of dank, urine drenched underground stations.)
The "
cut and cover
" method of construction was used, with a deep trench dug or "
cut
" on
Tremont Street
, and a steel structure built around it and then filled in or "
covered up
." The
Boston
subway designers visited the
Budapest Subway
, and the later
Paris Metro
.
September 1, 1904
-
Helen Keller
with the tireless assistance of teacher
Annie Mansfield Sullivan
, graduated cum laude from
Radcliffe College
at age
24
.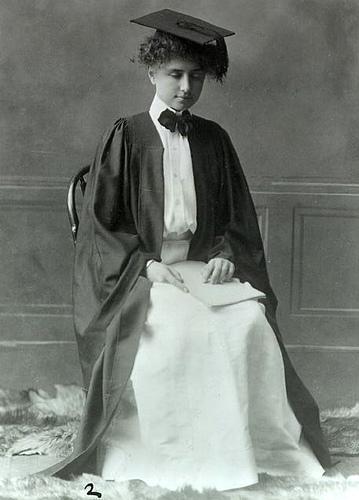 Helen Keller
was the first non-seeing, non-hearing person to enroll in an institution for higher learning - and then to graduate with a degree.
September 1, 1914
–
The last passenger pigeon, a female named
Martha
, died in captivity in the
Cincinnati Zoo
on this date.
There are various reasons for the extinction of the passenger pigeon - the main one unfortunately was they tasted so damn good broasted.
Her body was frozen into a block of ice and sent to the
Smithsonian Institution
, where it was skinned and mounted.
Martha
(named after
Martha Washington
) is in the museum's archived collection, and was recently on display again.
September 1, 1923
-
The worst earthquake in
Japan's
history hit the
Kanto Plain
between
Tokyo
and
Yokohama
with a magnitude of
7.9
on the Richter scale. The earthquake and subsequent fires killed nearly
140,000
people and destroyed most of both cities.
The fires started because the earthquake occurred at noon, when charcoal cooking stoves were in use.
People, please stop using your hibachis in your rice paper houses.
September 1, 1932
-
No man could hold life so carelessly without falling down a manhole before he is done
...
New York City Mayor
James Walker
who had been the Mayor since being elected in
1926
was forced to resign following charges of graft and corruption in his administration on this date.
September 1, 1939
-
Germany
, ever eager to start their
Second World War Tour
(the Foreign Minister of
Germany, Joachim von Ribbentrop
was seen running around Europe in the Tour T-Shirt, months earlier,) began it at
5:30AM
on this date when
Hitler was so happy that day, he orders extermination of the mentally ill in
Germany
and
Austria
on this day as well.
September 1, 1939
-
Mary Jean Tomlin
, Academy Award nominated, Tony, Emmy, and Grammy Award winning actress, comedian, writer and producer was born on this date.
One of her first "
professional
" gigs was as a waitress in
Howard Johnson's
on
Broadway
near
Times Square
. Her comments to customers and staff heard over the eatery's microphone attracted her first big-city audience.
September 1, 1961
-
TWA Flight 529
, a
Lockheed Constellation L-049
propliner, crashed shortly after takeoff from
Midway Airport
in
Chicago
, killing all
73
passengers and 5 crew on board.
At the time, it was the deadliest single plane disaster in US history.
September 1, 1972
-
The anti-American and anti-Semitic (towards the end of his life)
Bobby Fischer
became the World Chess Champion in
Reykjavik, Iceland
, defeating
Boris Spassky
of the
Soviet Union
on this date.
He had become the youngest United States Junior Chess Champion at
13
years old followed by the US championship at age
14
and many consider him to be one of the greatest natural talent Chess Players ever.
And so it goes.