It's
National Chocolate Eclair Day
. While the eclair is a delicious dessert, their charms escape me.
Maybe it's the fake vanilla pudding most bakeries use rather than Bavarian cream.
June 22, 1946
-
Another of the classic
40s Daffy Duck
cartoons,
Hollywood Daffy
, was released on this date.
The director of the cartoon was an uncredited effort by
Friz Freleng
.
June 22, 1955
-
Disney's
film about dog breeding,
The Lady and the Tramp
, was released on this date.
Peggy Lee
later sued Disney for breach of contract claiming that she still retained rights to the transcripts. She was awarded $
2.3m
, but not without a lengthy legal battle with the studio which was finally settled in
1991
.
June 22, 1961
-
A great old-fashion thriller,
The Guns of Navarone
, was released on this date.
Because the stars were all too old for their characters, the movie was nicknamed "
Elderly Gang Goes Off to War
" by the British press.
David Niven
initially felt that he was badly miscast in the offbeat role of a corporal, but later said he considered it to be one of his best performances despite being too old for the part.
June 22, 1966
-
Mike Nichol's
first film,
Who's Afraid of Virginia Woolf?
, opened on this date.
Who's Afraid of Virginia Woolf?
became the first motion picture in Academy Awards and cinema history to be nominated for every Academy Award category in which it was eligible, including Best Adapted Screenplay (
Ernest Lehman
), Director (
Mike Nichols
), all the acting categories (
Richard Burton, Elizabeth Taylor, George Segal
and
Sandy Dennis
), and Picture of the Year (
Ernest Lehman
), since
Cimarron
(
1931
).
June 22, 1966
-
The first screenplay of
Woody Allen's
produced,
What's New Pussycat?
, starring
Peter O'Toole, Peter Sellers
(and co-starring
Woody Allen
) premiered in the
US
on this date.
While rehearsing his lines about people cheating on each other in the hotel, French actor
Jacques Balutin
suddenly saw
Peter O'Toole
unexpectedly roar with laughter. Asking
Peter Sellers
to join them, O'Toole insisted that he did it one more time. Obliging to his request, his performance produced the same hysterical effect. Only when both actors stopped laughing out loud did they admit to Balutin his bad pronunciation of "
cheat on
" made it sound more like "
shit on
".
June 22, 1968
-
This Guy's in Love with You
by
Herb Alpert
topped the charts on this date.
Alpert sang this to his first wife in a
1968
TV special called
The Beat of the Brass
. The sequence was taped on the beach in
Malibu
. The song was not intended to be released, but after it was used in the TV special, thousands of telephone calls to
CBS
asking about it convinced label owner Alpert to release it as a single
two
days after the show aired.
Today in History:
June 22, 1633
-
The
Holy Office
in
Rome
strong-armed
Galileo Galilei
into recanting his scientific view that the
Sun
, not the
Earth
, is the center of the
Universe
.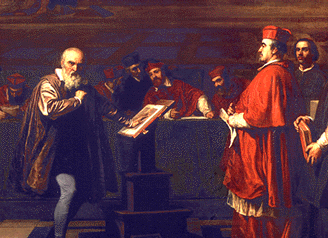 This was the second time he was forced to recant
Earth
orbits
Sun
by the Pope. Almost immediately, on
October 31, 1992
, the
Vatican
admitted it was wrong.
June 22, 1906 -
Billy Wilder
was born on this date. Not surprisingly, Mr. Wilder would go on to produce
Some Like It Hot
, starring
Marilyn Monroe, Tony Curtis
and
Jack Lemmon
, all of whom frolicked giddily on the beach in bikinis. Mr. Wilder, you see, was comfortable in his season.
Not like some people. Some people had to force it. Some people had to prove something. Some people were like
Brian Wilson
, who was born the day before summer (
June 20
) in
1942
, and subsequently became a "
Beach Boy
" and released an album called
Endless Summer
.
June 22, 1918
-
The worst circus train wreck in history occurred just outside
Hammond, Indiana
on this date. A seriously over-tired engineer,
Alonzo Sargent
, fell asleep at the throttle of a trainload of empty Pullman cars and slammed into the rear of the
26
-car
Hagenbeck-Wallace
circus train.
86
of the
400
performers and workers on board were killed. There were no reports on whether or not the crowd at the previous days performance was greater than the gawkers at the scene of the wreck.
June 22, 1933
-
German chancellor Adolf Hitler banned every political party on this date, except his own Evil Nazi Bastards from winning elections.
The Evil Nazi Bastards swept the next elections, demonstrating the public's strong support for this measure.
June 22, 1940
-
Eight days after German forces overran
Paris, France
was forced to sign an armistice on this date; hilarity ensues.
Adolf Hitler forces the instrument of surrender to be signed in the very railcar in which the French inflicted the humiliating
World War I Treaty of Versailles
upon the Germans. (In a bizarre co-incidence, it was also the anniversary of
Napoleon's
second abdication in
1815
.)
June 22, 1941
-
The German Army invaded
Russia
on this date, quickly destroying five Russian armies and one fourth of the Red air force. At completion of the war in
1945
, nearly
27
million Soviets were dead.
Thus ended the
German- Soviet
"
Peace and Friendship
" Treaty.
June 22, 1949
-
Possibly, the most talented actress of her generation,
Mary Louise Streep
, was born on this date.
She originally applied to Law School but slept in on the morning of her interview and took it as a sign she was destined for other things.
Imagine if she applied herself, how far her career would go.
June 22, 1969
-
The patron saint of bachelors of a certain age,
Judy Garland
died of a barbiturate overdose in her
London
apartment, either by accident or suicide.
Folks, she did not do a header into the toilet and drown.
June 22, 1993
-
I never have tantrums. If anything makes me mad, I'm silent. If I'm not talking, leave me alone. ...
The patron saint of long suffering political wives and good Republican cloth coats,
Thelma Catherine "Pat" Ryan Nixon
died on this date.
And so it goes.