August 5, 1922
-
The silent-film classic,
Blood and Sand
, starring
Rudolph Valentino
and
Lila Lee
, was released on this date.
Rudolph Valentino
and
Natacha Rambova
hoped to have the film shot in
Spain
, but the studio ultimately elected to shoot the whole film on the backlot in
Hollywood
.
August 5, 1953 -
Burt Lancaster
and
Deborah Kerr
got busy in the surf and someone may have gotten a horse head telegram delivered to their bedroom -
From Here to Eternity
premiered in
NYC
on this date.
The now classic scene between
Burt Lancaster
and
Deborah Kerr
in the rushing water on the beach was not written to take place there. The idea to film with the waves hitting them was a last minute inspiration from the director.
On
August 4, 1955
,
Carmen Miranda
suffered a heart attack during a segment of the live TV show
The Jimmy Durante Show
, although she did not realize it. After completing a dance number, she fell to her knees, and Durante instinctively told the band to "
stop da music!
".
He helped Miranda up to her feet as she laughed "
I'm all out of breath!
". "
Dat's OK, honey, I'll take yer lines
", Durante replied. Miranda laughed again and quickly pulled herself together, finishing the show. At the end of the broadcast, she smiled and waved, then exited the stage. She died later that night, on
August 5, 1955
, after suffering a second heart attack at her home in
Beverly Hills
.
As with all great performers - the show had to go on.
August 5, 1955 -
Alfred Hitchcock's
surprisingly light comedic touch is on full display in,
To Catch A Thief
, starring
Cary Grant
and
Grace Kelly
, opened in
NYC
on this date.
John Robie
mentions that as a youth he was in a trapeze group that traveled around Europe. In real life,
Cary Grant
was in an acrobatic troupe that toured around
Europe
(and eventually came to
America
) when he was young.
August 5, 1966
-
This was a big day in
Beatles
history:
The Beatles
released their
Revolver
album in
UK
on this date.
and they also released
Yellow Submarine
and
Eleanor Rigby
as a double A single in
UK
. A lot of kids weekly allowance must have flown out the door on this date.
Today in History:
August 5, 1861
-
Folks, please note
: The
US
government established the first income tax on
US
citizens on this date (
Abraham Lincoln
was president at the time.) The
Revenue Act of 1861
established a tax of
3
percent on incomes of more than $
800
US Dollars.
The tax, which was used for financial aid during the
Civil War
, was rescinded in
1872
.
August 5, 1884
–
The cornerstone for the
Statue of Liberty
was laid on
Bedloe's Island
in
New York Harbor
on this date.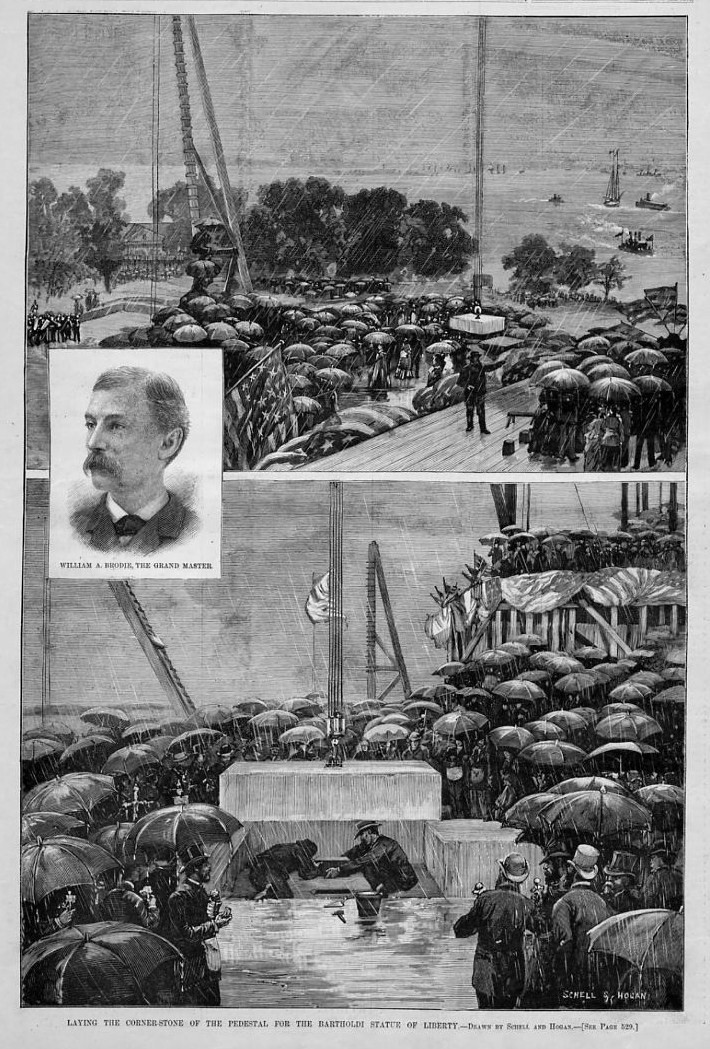 Children and horses were kept indoors on that day for fear of offending their delicate nature.
August 5, 1914
-
The first electric traffic signal, based on a design by
James Hoge
, was installed on this date.
The system of red and green lights, indicating stop and go, was installed in
Cleveland, Ohio
, on the corner of
East 105th Street
and
Euclid Avenue
. Lost in the miasma of time is the name of the person that first ran the red light.
August 5, 1926 -
Harry Houdini
stayed in a coffin, submerged in the swimming pool of
New York's Hotel Shelton
for one hour and a half, on this date.
Note
: He currently has exceeded his own record substantially.
August 5, 1957 –
American Bandstand
, a local
Philadelphia
show dedicated to the teenage "
baby-boomers
" by playing the songs and showing popular dances of the time, hosted by
Dick Clark
,debuted nationally on the
ABC
television network on this date.
Please be careful, Mr. Clark still doesn't realize that he's dead, and is roaming the nation in search of brains to feast upon.
August 5, 1962
-
52
years ago today, a very unhappy
Marilyn Monroe
(
Norma J. Mortenson
) died of natural causes, aggravated by sleeping pills, in her
Brentwood
home.
Unless she was murdered.
And so it goes.