For the moment, it's the only one you're ever going to have -
Happy Earth Day!
So go outside and hug a tree. If you don't want to be this familiar with nature, give a warm but firm shake hands to your house plants.
Here's a little poem you can remember to help on this
Earth Day
-
Choosing to let it mellow can make a difference in water usage, and save you some money long term, depending on the part of the country you live in.
April 22, 1935 -
Universal Studios
released the sequel to the original
Frankenstein
movie,
Bride of Frankenstein
, starring
Boris Karloff, Colin Clive
and
Elsa Lanchester
on this date.
"
The Bride
", the most obscure of
Universal Studios' Classic Monsters
, is on screen for less than
five
minutes and is the only "
Classic Monster
" never to have killed anyone.

April 22, 1939 -
Warner Bros
. released the film,
Dark Victory
, starring
Bette Davis
(in one of her favorite roles) and
George Brent
on this date.

George Brent
and
Bette Davis
were having an affair during the making of this film. Brent, uncharacteristically gave Davis a bracelet,
B-E-T-T-E
spelled out in diamonds (
George Brent
was notorious in Hollywood at the time, for being '
very cheap
'.) He made a half-hearted joke with Miss Davis about being thankfully that she had such a short name. She laughed and said, "
Well it's really E-L-I-Z-A-B-E-T-H, you know!
" He didn't think it was funny. (This is my second favorite Bette Davis stories.)
April 22, 1942
-
One of Hitchcock's brilliant
World War II
efforts,
Saboteur
, premiered in
Washington DC
on this date.
The shot of the ship on its side toward the end was an actual shot of the ocean liner
SS Normandie
, which had caught fire and capsized at its pier in
New York
. The fire was an accident, not sabotage, though there were rumors of sabotage at the time.
April 22, 1950 -
Peter Frampton
, musician, singer, producer, and multi-instrumentalist, was born on this date.
If you were a teenager in the mid
70's
, you were issued your standard copy of
Frampton Comes Alive
to face your '
awkward
' years.
April 22, 1953 -
Twentieth Century Fox
releases the surrealistic science fiction film
Invaders from Mars
, directed by
William Cameron Menzies
on this date.
This was actually one of the first science fiction scripts written in the
1950s
. The revised version of the script was completed in
September 1950
. The film wasn't produced until
1952
and released in early
1953
.
Today in History:
April 22, 1451
-
Isabella I,
Queen of
Castille
, was born on this date. She also became Queen of
Aragon
in
1479
.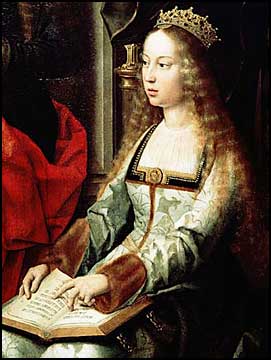 She was
Christopher Columbus'
patron, and must therefore share some of the responsibility for the many thousands of casinos across
America
.
April 22, 1870 -
Vladimir Ilyich Ulyanov
was born on this date He later became
Lenin
, invented the
Communist Party
in
Russia
and made himself first Head Bastard of the
Soviet Union
.
It's interesting to note that
Alexander Kerensky
, the leader of
Russia's
provisional revolutionary government in
1917
until overthrown by
Lenin
, was born on the same day as
Lenin,
only eleven years later.
Well, it's interesting to some people.
April 22, 1904 -
Robert Oppenheimer
was born on this date. Mr. Oppenheimer is known as the
father
of the
atomic bomb
.
The bomb's mother has never been identified to anyone's satisfaction, which only underscores the lax security at
Los Alamos
.
April 22, 1923 -
I love to swim in the nude and roam around the house in the nude. You're just as free as a bird!
Bettie Mae Page
was born in
Nashville, Tennessee
, on this date.
April 22, 1946
-
If you go home with somebody, and they don't have books, don't fuck 'em!
John Waters
, film director, actor and raconteur, was born on this date.
April 22, 1964 -
President Johnson
opened the
New York World's Fair
in
Flushing Meadow, Corona Park, New York
, on this date.
The Fair also is remembered as the vehicle
Walt Disney
utilized to design and perfect the system of "
audio-animatronics
," in which a combination of sound and computers control the movement of life-like robots to act out scenes. In the
It's a Small World
attraction at the
Pepsi
pavilion, animated dolls and animals frolicked in a spirit of racially-insensitive unity on a boat-ride around the world.
Once the fair was over, Walt feverishly pushed his Imagineers to build him an '
actual
' President. Historians argue that this was the beginning of
Ronald Reagan
campaign for the Presidency.
April 22, 1994 -
Richard M. Nixon
suffered a fatal stroke on this date. His body was laid to rest in the unhallowed grounds of his Presidential Library.
His head was severed from his body and wooden stakes were driven through his heart to make sure he was dead.
And so it goes