only three more years until
Golf
becomes an official Olympic sport again in
2016.
August 12, 1927
-
The only silent film to win an Oscar for best picture,
Wings
, opened in
NYC
on this date.
In contrast to co-star
Richard Arlen
,
Charles 'Buddy' Rogers
did not know how to fly a plane when production began, but he learned how to do so by the end of it. During filming, Rogers flight instructor and sometime backup pilot was Lt.
Hoyt "Van" Vandenberg
, an Army Air Corps pilot at
California's March Field
. (Vandenberg later became a general, commanding the
9
th Air Force in
World War II
, and serving as the U.S. Air Force's first official chief of staff after the war.)
August 12, 1939
-
The
Bugs Bunny
everyone knows takes another step forward when
Hare-um Scare-um
premiered on this date.
It was during production of this cartoon that
Bugs Bunny's
name originated. Designer
Charles Thorson
redesigned the rabbit character and labeled the model sheet "
Bug's Bunny
," after co-director
Ben Hardaway's
nickname,
Bugs
.
August 12, 1939
-
Considered one of the highlights of the
Golden Age of Hollywood
,
The Wizard of Oz
premiered on this date in
Oconomowoc, Wisconsin
.
The title role was written with
W.C. Fields
in mind. Producer
Mervyn LeRoy
wanted
Ed Wynn
, who turned down the role.
MGM
executive
Arthur Freed
wanted Fields, and offered him $
75,000
. Fields supposedly wanted $
100,000
. According to a letter from Fields' agent (which he claimed was written by Fields) Fields turned down the role to devote his time to writing the script for
You Can't Cheat an Honest Man
. Since the role was perceived as being too small, additional roles were written for the actor in hopes of balancing the screen time for the actor playing the wizard with that of the rest of the cast. Thus
Frank Morgan
plays the roles of the
Wizard, Professor Marvel, the Gatekeeper, the cab driver with the "horse of a different color"
who performs a musical number, and the Wizard's Guard. It is also possible that Morgan was made up for the spooky projected image of the Wizard's face transposed on the billowing steam in his Throne Room.
August 12, 1941
-
MGM
premiered their version of
Robert Louis Stevenson's
famous novel,
Dr. Jekyll and Mr. Hyde
, starring
Spencer Tracy,
in
NYC
on this date.
Spencer Tracy
originally wanted a realistic approach, whereby Jekyll would commit violent deeds in a neighborhood where he was unknown after drinking alcohol or taking drugs. He was disappointed that the producers, having bought the screenplay from the
1931
version, insisted on a more traditional approach. He also said he felt his wig and make up as Hyde made him look "
ridiculous
".
August 12, 1988
-
Universal Pictures
released
Martin Scorsese's
controversial film
The Last Temptation of Christ
, starting
Willem Dafoe, Harvey Keitel
and
Barbara Hershey
on this date.
Martin Scorsese
banned smoking from the set, both because he's a severe asthmatic, and to avoid any photographs being taken of the biblical characters - namely
Willem Dafoe
, who smoked at the time - with cigarettes hanging out of their mouths.
Today in History
:
August 12, 30 BC
(Given how the Romans were keeping track of time at this point and were drinking a huge amount of wine from lead cups - this date is fluid at best.)-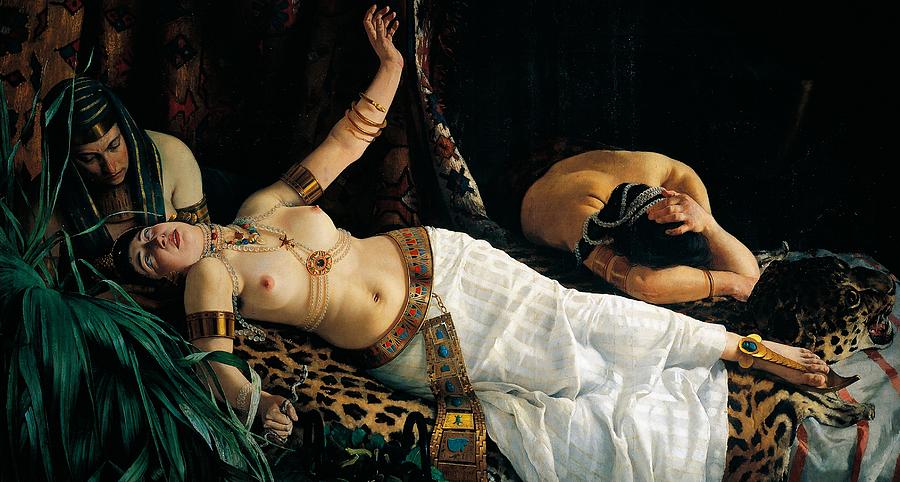 O eastern star!
Cleopatra VII
,
Queen of Egypt
, former wife of
Julius Caesar
and mistress of
Marc Anthony
, committed suicide by means of the unusual practice of nursing a venomous snakebite.
August 12, 3 AD
-
A planetary conjunction (possibly
Venus-Jupiter
) was visible from the Earth with the naked eye on this date.
Many astronomers will later speculate that this may have been the mentioned in the New Testament of the Bible.
August 12, 1676
-
Wampanoag
chieftain
Metacom
(or
Philip
) was killed in a swamp near
Mount Hope, PA
on this date. Thus ends
King Philip's War
, the first war between Indians and European settlers.
Unfortunately, the
Indians
(or
Native American
, for the PC of you in the crowd) have been on the losing side, for the most part, ever since.
August 12, 1813
-
Austria
declared war against
Napoleon
on this date.
An outraged
England
rushed to
France's
defense by declaring war against
Austria
exactly
101
years later when
England
official entered
World War I
on
August 12, 1914
.
August 12, 1865
-
After studying
Louis Pasteur's
germ theory of disease which suggests that infections are caused by bacteria, Dr.
Joseph Lister
becomes the first surgeon to use during an operation.
Lister introduces
phenol
(
carbolic acid
) as a form of disinfectant into his surgery. His heightened standards of hygiene will reduce his surgical death rate from
45%
to
15%
.
August 12, 1869
-
In
San Francisco
on this date, Emperor
Norton I
issues a stern edict outlawing both the Republican and Democratic political parties.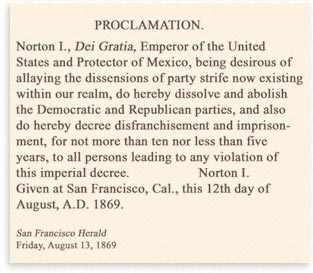 Violators face a prison term of five-to-ten years. Oh, for that wise man today!
Not familiar with
Norton I
? Read the amazing tale of Emperor
Joshua Norton
.
August 12, 1898
-
The
Spanish-American
war ended on this date.
Spain
released
Cuba
and gave
Puerto Rico
to the
United States
. Americans rushed to
Puerto Rico
in gleeful droves, only to discover that everyone spoke Spanish and there were no luaus or volcanoes.
Their disappointment was profound.
They took
Hawaii
as a consolation prize (
Hawaii
was formally annexed by the
U.S
. - officially stolen) later that same day.
August 12, 1948
-
Russian schoolteacher
Oksana Kasenkina
was injured when she jumps out the window of the Soviet Consulate in
New York City
on this date.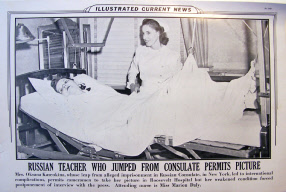 Soviet officials claim they had rescued her from "White Russian" kidnappers, but Kosenkina says she was trying to escape from the Soviets. The
US
later expels the consul general and the Soviets closed their consulate.
August 12, 1953
-
In
Siberia
, the
Soviet Union
successfully tests its first thermonuclear device, based on
Andrei Sakharov's
fission-fusion "
Layer Cake
" design: alternating layers of uranium and hydrogen fuel sandwiched together and wrapped around a conventional Atomic Bomb. The fission explosion compresses the hydrogen, causing a fusion reaction.
Hopefully this is no longer a state secret or boy am I in deep trouble.
And so it goes.
And on a personal note:
I'd like to wish my mom a very Happy Birthday only if she could tear herself away long enough from the slot machines of the
Borgata
.