When was the last time you had a really good temper tantrum?:
Now that you've gotten that out of your system, move along.
August 23, 1940
-
Preston Sturges
' Oscar winning satire on political corruption,
The Great McGinty
, premiered on this date.
On
August 19, 1939
,
Paramount
issued a check to contract writer
Preston Sturges
to buy the story and screenplay of this movie, in the amount of $
10
. Sturges promised to sell the script for that amount if he could direct. The studio took him up on it and the film was a hit and won an Academy Award for the screenplay, probably making it the cheapest Oscar-winning script in history.
August 23, 1957
-
20th Century Fox
released its film adaptation of the
Ernest Hemingway
novel,
The Sun Also Rises
, on this date.
Ernest Hemingway, Tyrone Power
and
Ava Gardner
all attempted to have
Robert Evans
fired during production of the film. Producer
Darryl F. Zanuck
refused, saying, "
The kid stays in the picture
," thus leading to both Evans' long career as a producer and the title of his book.
August 23, 1969
-
The Rolling Stones
hit,
Honky Tonk Women
reached number one on the pop-singles charts, on this date.
The single was given away to all the fans who helped clean up after The Stones free concert in Hyde Park on
July 5, 1969
. This was the first concert
Mick Taylor
played with the band. A life-size cutout of
Brian Jones
, who died 3 days earlier, was kept on stage and the show was dedicated to him.
August 23, 1996
-
One of the most bizarre films ever made (starring
Marlon Brando
)
The Island of Dr. Moreau
, was released on this date.
After being fired by the studio, original director
Richard Stanley
was rumored to have prevailed upon the makeup crew to turn him into one of the background mutants, so that he could at least keep tabs on the making of his dream project. He supposedly did not unmask himself until the wrap party.
Gotta dance, gotta dance, gotta dance!
It's Gene Kelly's birthday today.
Today in History
:
August 23, 1305
-
Scottish patriot
William Wallace
(
Mel Gibson
) was persuaded to take an early retirement on this date.
According to one eyewitness: "
He was hung in a noose, and afterwards let down half-living; next his genitals were cut off and his bowels torn out and burned in a fire; then and not till then his head was cut off and his trunk cut into four pieces. At this point he was given a gold watch, and a humorous card that we had all signed.
"
August 23, 1914
-
Japan declared war on Germany on this date.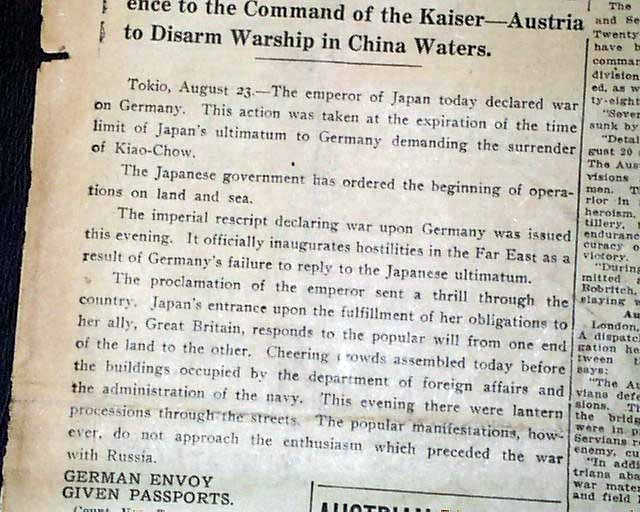 Much confusion and embarrassment ensues about
25
years later when this point is brought up at a meeting of the Axis powers.
August 23, 1926
-
Rudolph Valentino
died from peritonitis and severe pleurisy, on this date,following an emergency appendectomy. His death caused a worldwide frenzy among his fans, sales of the Sheik condoms soared.
Thing is, he probably would have survived if the surgeons weren't so freaked out by the fact that "
Valentino
" was their patient. They were so terrified of operating on such a world famous person, that they procrastinated for several hours, dramatically worsening his condition.
Sometime it sucked to be
Valentino
.
August 23, 1927
-
Nicola Sacco
and
Bartolomeo Vanzetti
, convicted of murder in 1921, were executed in Boston in spite of worldwide protests, on this date.
Their guilt is still disputed.
August 23, 1939
-
Joachim von Ribbentrop
and
Josef Stalin
signed a non-aggression pact, allowing Germany to attack Poland and the USSR to invade Finland without fears of reprisal on this date. Three years later, the
Battle of Stalingrad
began. (The
Battle of Stalingrad
was fought by Germans and Russians, in case the irony was lost on you.)
Moral: secret wartime pacts with evil conquering bastards aren't any more reliable in the real world than they are in a game of Risk.
August 23, 1944
-
Romanian Prime Minister
Ion Antonescu
was dismissed by King
Michael
(another cousin of
Elizabeth
and her itinerant sailor husband
Philip Mountbatten
), paving the way for Romania to abandon the Axis in favor of the Allies.
King
Michael
organized a coup against the pro-Nazi dictator, Marshal
Ion Antonescu
, but was double-crossed by
Joseph Stalin
and betrayed by the Allies who ceded the country to the Russians at the Yalta summit in 1945.
August 23, 1968
-
The Youth International Party designates
Pigasus
as their choice of candidate for U.S. President. The boar hog is introduced at a press conference outside the Chicago Civic Center, with the slogan "
They nominate a President and he eats the people. We nominate a President and the people eat him
."
The gathering is broken up shortly thereafter when the Chicago PD takes into custody the Yippie organizers and their pig.
And so it goes.