Well, now, take down your fishin' pole and meet me at The Fishin' Hole
...
Andy Griffith
, TV star, film actor, raconteur and comedian, died at
86
yesterday.
July 4, 1964
-
The Beach Boys
' song
I Get Around
topped the charts and stayed there for
2
weeks on this date.
This was released as a double A-side single in
May 1964
with
Don't Worry Baby
. It is considered one of the best ever single releases along with
Penny Lane/Strawberry Fields Forever
by
The Beatles
and
Don't Be Cruel/Hound Dog
by
Elvis Presley
.
Kids, Playing with matches is dangerous - we are not recommending it: this is merely for viewing purposes only -
Since you were shown a video about playing with matches, the corporate sponsors at
ACME
insist that you at least pretend to watch this video about the chemisty of fireworks:
Once again, enjoy your
Fourth of July
safely.
Today in History
:
July 4, 1776
-
The Continental Congress approved adoption of the amended
Declaration of Independence
, prepared by
Thomas Jefferson
and signed by
John Hancock
--President of the Continental Congress--and C
harles Thomson
, Congress secretary (among others,) without dissent.
However, the New York delegation abstained as directed by the New York Provisional Congress. The United States was very busy for the next couple of years and didn't get around to commemorating Independence Day until
1796
.
July 4, 1826 -
Frienemies
Thomas Jefferson
and
John Adams
, both lay dying in there respective homes on this date. Jefferson, the nation's third president, deeply in debt at age
83
, died at one o'clock in the afternoon and correctly surmised that Adams had outlived him.
John Adams
, the second president died at age
90
in Braintree, Mass, just a few hours after Jefferson. Adams' last words were, Thomas Jefferson still survives.
It was exactly
50
years to the day after the Declaration of Independence was adopted.
July 4, 1831
-
James Monroe
, fifth President of the United States, died in New York City at age
73
on this date.
This made him the third ex-President to die on Independence Day. How patriotic.
July 4, 1850
-
President
Zachary Taylor
stood hatless in the sun for hours listening to long-winded speeches. He returned to the White House and attempted to cool off by eating cherries, cucumbers and drinking iced milk. Severe stomach cramps followed.
It is likely that Taylor's own physicians inadvertently killed him with a whole series of debilitating treatments. The cur lingered on until he unpatriotically died on
July 9th
.
July 4, 1862
-
Charles Dodgson
, an Oxford mathematician and nude child photographer, told little
Alice Liddell
on a boat trip the fairy tale he had dreamed up for her called
Alice's Adventures Underground
on this date. We assume he had his pants on at the time.
Three year later, to the day, the first edition of
Alice in Wonderland
was published under Dodgson's pen name,
Lewis Carroll
.
July 4, 1884
-
The
Statue of Liberty
was presented to the United States in ceremonies at Paris, France, on this date. The
225
-ton,
152
-foot statue was a gift from France in commemoration of
100
years of American independence. The French, always the comedians, presented the gift eight years late of the centennial celebration and left the shipping and handling costs to the United States.
Created by the French sculptor
Frederic Auguste Bartholdi
, the statue was installed on Bedloe Island (now Liberty Island) in New York harbor in
1885
. It was dedicated on
October 28, 1886
.
July 4, 1898
-
The French passenger liner
La Bourgogne
, sank within an hour after a collision with the British ship
Cromartyshire
, in dense fog,
60
miles south of Sable Island near Nova Scotia, in the Atlantic, on this date. Only
165
of the
711
passengers survived.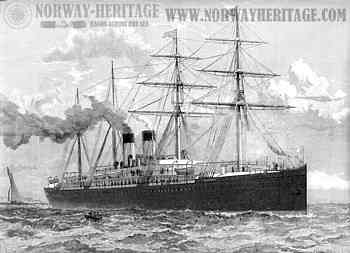 While there are no deaths on the British ship, only
one
woman of the more than
300
women and children listed as passengers aboard the
La Bourgogne
, was among the survivors. The remainder were mostly the crew, along with a few men from steerage. After a brief and horrifying inquiry, the French maritime authorities heard stories of the officers vainly trying to maintain order (only
3
of the
18
officers survived) and of the crew members using knives, boat hooks, oars and whatever else came to hand, against the passengers for places in the few lifeboats that survived the collision. Even more shocking, once the boats were in the water, the brave French crew beat off and stabbed swimming passengers who had tried to clamber aboard.
The authorities refused to hold a proper investigation and the entire incident was hushed up to avoid an international scandal.
Once again, the stellar principle of '
Woman and Children first
' at work.
July 4,1916
-
Nathan's Famous Hot Dogs
opened a stand at Brooklyn's Coney Island and (according to highly specious legend) held an eating contest as a publicity stunt that became an annual event on this date.
Not to be too indelicate but some of the corpses of the first patrons have just about finished digesting that meal.
Hope you're enjoying your holiday - Here's a few shorts before the main feature today:
Once again,
ACME
would like to share their salute to this Independence Day with the annual playing of
Bruce Springsteen
clip of "
Fourth of July
", sponsored by
ACME Split Buns
-Slip your
ACME Snappy Weinie
-
The Almost 100% all beef frank
(but hey don't ask what the other stuff in it is) in our Buttered Split Buns and feel the difference:
And so it goes.