10 years ago today, the US entered Afghanistan, hunting for the terrorist that brought down the World Trade Center Towers. For some reason, we're still there.
A recent poll suggests that one in three veterans of the post-9/11 period considers the wars in Iraq and Afghanistan not worth the sacrifice. Take a moment out of your day today to consider that sacrificies, warrented or not, those men and woman (and their families) have made.
Yom Kippur
starts tonight. If you're celebrating (strange choice of words,) you better hurry up and finish reading this before sundown. May your fast pass easily.
Hopefully your sins are so few that you really can cast them upon the water.
October 7, 1952
-
It's
Vladimir Putin's
birthday.
Putin birthday present this year - the presidency of Russia next year.
October 7, 1950
-
First appearance of Granny in a
Looney Tunes
Cartoon,
Canary Row
premiered on this date.
Drink Friz! 6 Delicious Flavours.
October 7, 1960
-
Kirk Douglas
dons his leather jockstrap and his classic film
Spartacus
premieres in the US on this date.
According to producer
James B. Harris
,
Stanley Kubrick
would repeatedly see
Charles Laughton, Peter Ustinov
and
Laurence Olivier
seemingly whispering to each other. Afraid they were gossiping about him, Kubrick leaned in to hear what they were saying and each was just reading the script aloud again and again to themselves.
October 7, 1972 -
William Friedkin's
taut policier,
The French Connection
, opened in NYC on this date.
According to director
William Friedkin, Peter Boyle
was originally offered the role of
"

Popeye

" Doyle
but turned it down due to his preference for more romantic roles. Legendary New York City newspaper columnist
Jimmy Breslin
was then hired to play
"

Popeye

" Doyl
e, and completed three weeks of rehearsals with co-star
Roy Scheider
before Friedkin decided to recast the role. Breslin's inability to drive was one of the main reasons for his dismissal.
Today in History
:
October 7, 1849
-
On this date,
Edgar Allen Poe
was found in a delirious state (Maryland) outside a Baltimore voting place (saloon).
Mr. Poe was often found delirious, especially outside voting places,
but this time his delirium was serious and he died.
October 7, 1952
-
American Bandstand
premiered on this date.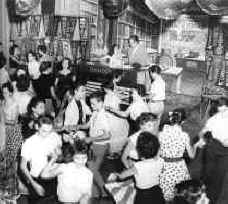 It premiered locally as a live show, Bandstand, on Philadelphia television station
WFIL-TV
(Channel 6, now
WPVI-TV
) on this date in "Studio 'B'", which was located in their just-completed addition to the original
1947
building (4548 Market Street) and was hosted by
Bob Horn
, with
Lee Stewart
as co-host.
Dick Clark
did not become associated with the show until
1956
.
October 7, 1955
-
It was on this day in San Francisco at the Six Gallery, the poet
Allen Ginsberg
read his poem
Howl
for the first time.
The poem begins, "
I saw the best minds of my generation destroyed by madness
." His friend
Jack Kerouac
sat on the edge of the stage and when Ginsberg was done, the audience exploded in applause.
When
Lawrence Ferlinghetti
published the poem
Howl
out of his City Lights bookstore in San Francisco, he was arrested and tried for obscenity, but he was found not guilty.
October 7, 1960
-
Route 66
premiered on this date.
Although the series was called "
Route 66
" many of the episodes were set in areas in the United States which
Route 66
did not travel through. For example,
Route 66
begins in Chicago and ends in L.A., but two episodes were shot in New England, one in Maine and one in Vermont.
October 7, 1964
-
Walter W. Jenkins
, chief White House aide and longtime friend of President
Lyndon B. Johnson
, was arrested for disorderly conduct two blocks from the White House on this date. Jenkins was discovered in a YMCA pay toilet with another man.
Ultimately, Jenkins is forced to resign, so as not to jeopardize Johnson's re-election campaign. Jenkins stated that during his arrest, his mind had been "
befuddled by fatigue, alcohol, physical illness, and lack of food.
"
Yeah, that's it,
befuddled by fatigue
... Nothing is new under the sun, or in a men's public restroom.
And so it goes