July 17, 1955
-
Disneyland
,
the happiest place in the world
, opens in Anaheim, California on this date. In the words of Walt Disney,
That place is my baby, and I would prostitute myself for it.
Things didn't go so well on that
first day
.
I don't know about you but I shudder at the thought of Ole Walt, walking the street in matching lipstick, handbag and stiletto, offering to '
go around the world
' for 20 bucks.
Dope never helped anybody sing better or play music better or do anything better. All dope can do for you is kill you - and kill you the long, slow, hard way.
-
Billie Holiday
Today is the
52
th anniversary of the death of
Billie Holiday
.
July 17, 1943
-
Originally released in B & W (re-release as a color version in
1968
&
1990
,)
Porky Pig's Feat
premiered on this date. A rare appearance for
Porky Pig, Daffy Duck
&
Bugs Bunny
(his only appearance in a theatrical black and white film.)
This is the first time the
Raymond Scott
composition
Powerhouse
is used in a Warner Bros. cartoon.
July 17, 1956
-
The musical version of
The Philadelphia Story
,
High Society
, starring
Bing Crosby, Grace Kelly
&
Frank Sinatra
, premiered on this date.
Grace Kelly
makes her final acting appearance prior to her wedding to Monaco's Prince
Rainier
, as she co-stars (and bed partners) with
Bing Crosby
and
Frank Sinatra
.
July 17, 1959
-
Cary Grant
dragged himself away from his orgies long enough to star in
Alfred Hitchcock's
superlative
North By Northwest
, which premiered on this date.
Alfred Hitchcock couldn't get permission to film inside the UN, so footage was made of the interior of the building using a hidden camera, and the rooms were later recreated on a sound stage.
Today in History
:
July 17 1913
-
On this date, audiences attending the silent film
A Noise from the Deep
observed
Mabel Normand
striking
Fatty Arbuckle
in the face with a pie. It was purportedly the first use of the pie-in-the-face routine in film history.
It may not seem that remarkable when you consider how much history there'd been in film prior to
1913
, but it was an important milestone nonetheless.
The act of hitting someone in the face with a pie was itself nothing new. Hieroglyphics engraved on the sarcophagus of the ancient Egyptian King
Amenhotep III
, for example, depict that merry lord hurling pies of polished stone at his subjects with such force that they were frequently decapitated.
Thucydides
and
Herodotus
both make mention of a great pie battle at Salamis, with the latter observing that "it was a moment of much hilarity until someone hit Xerxes."
Plutarch
describes the wanton
Messalina
"
grinding her pie in the face of a slave
."
The merriment of the ancient world gradually succumbed to the joyless monotony of the middle-ages, however and pie facials were neglected for centuries. The mirth did not resume until
1518
, when
Martin Luther
nailed Pope
Leo X
with a cream-covered blueberry pie - the first documented case of torte reform.
Roughly a century later,
Shakespeare
introduced the routine to Elizabethan audiences with memorable pie-in-the-face scenes in
King Lear
,
Hamlet
and
Othello
. Scholars have recently unearthed a draft of what Shakespeare clearly intended to be his comedic masterwork,
Two Bakers of Venice
.
After Shakespeare's pioneering work in the field, the pie-in-the-face became a staple of popular entertainment. Seen in this context, the celebrated Arbuckle pie facial was just one more step on a very long journey.
Indeed, being struck in the face by baked goods is likely to remain the most hilarious thing in the world for centuries to come.
July 17, 1917
-
Britain's King
George V
issues a royal proclamation changing his family's surname from
Saxe-Coburg and Gotha
to
Windsor
.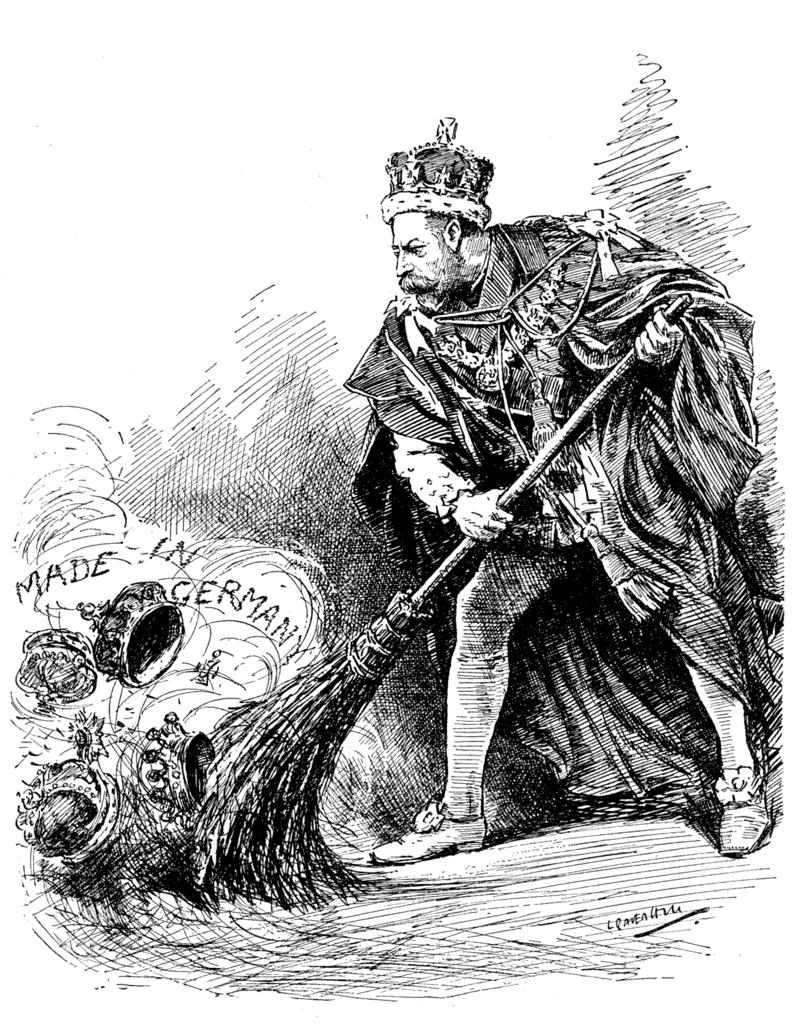 Thus, everyone is fooled into believing that a bunch of inbred Germans are really English. Which is convenient, because England just so happens to be at war with the other side of the family, Germany.
(Yes that's King
George V
and Tsar, Czar, Csar
Nicholas II
)
Speaking of George's cousin, Russian Czar
Nicholas II
was murdered with his family and servants by the Bolsheviks at Yekaterinburg on this date in
1918
. (It's too bad his cousin, George V was more concerned with changing his Germanic surname then saving his cousin.)
This included his daughter
Anastasia
, who may not actually have been killed with the rest of them but was almost certainly killed along with the rest of them despite persistent rumors to the contrary--even in the face of almost insurmountable evidence suggesting otherwise (except when interpreted differently). Even if she wasn't dead then, she's certainly dead now. This has been scientifically proven by scientists who ought to know.
July 17, 1918
-
The
RMS Carpathia
, famous for rescuing
705
survivors from the
RMS Titanic
six years earlier, sank off the coast of Ireland after being torpedoed by a German U-boat, on this date.
While
5
crew member were killed in the attack,
57
passengers and the remaining
218
crew members survived to board lifeboats off the sinking vessel.
July 17, 1936
-
General
Francisco Franco
, low level Spanish Evil Bastard, seizes control of the Canary Islands (in the misguided belief that Spain could become a world power by controlling the supply of small yellow birdies), signaling the start of the three-year Spanish Civil War.
And he's still dead.
July 17, 1938
-
On this date,
Douglas Corrigan
took off from Brooklyn's Floyd Bennett Field for a cross-country flight to the west coast in his nine-year-old, single-engine Curtiss Robin airplane.
Twenty-eight hours later he landed in Dublin, Ireland, thus earning himself the nickname "
Wrong Way Corrigan
" and becoming the patron saint of baggage handlers.
July 17, 1947
-
Jackie Robinson
was playing his historic first season with the Dodgers, the Yankees finally lost after 19 straight victories and Perry Como topped the Billboard charts with "
Chi-Baba, Chi-Baba
(
My Bambino Go to Sleep
)" and Jack Kerouac began his "
On the Road
" trip, on this date. He left his mother's apartment in Ozone Park and wound up on the West Side IRT local, passing Columbia, where he had dropped out, and got off the train at the
242 Street terminal
. At 242 Street, (near Van Cortlandt Park) he boarded a trolley for Yonkers, transferred to another for as far as it would go, then hitchhiked farther up the Hudson. He wanted to take the "
long red line called Route 6
" that he had seen on a map, and the nearest place for him to join it was the Bear Mtn Bridge.
When he got there, he discovered that little traffic passed through that semi-wilderness, and while waiting futilely for a ride, he got drenched in a thunderstorm. Humiliated by his "
stupid hearthside idea that it would be wonderful to follow one great red line across America
," he ended up taking a bus back to NYC and another all the way to Chicago. He took a third bus to the Chicago suburbs and began hitchhiking to Denver, to see friends he had made in NYC, including
Neal Cassady
.
Such is the stuff of great literature - a subway ride that many of you loyal readers have made countless times, is transformed into the the opening trip of the classic novel of the Beat Generation, On the Road.
(Thanks to the head of the Yeats Society for this item - as I've said before, I run with a very eclectic crowd.)
July 17, 1952
-
It's
David Hasselhoff's
(noted 'actor', 'singer', talent judge, hamburger connoisseur and drunk) birthday!
Yay for David! Yay for Germany!
(David shares his birthday with
Angela Merkel
born two years later in
1954
- co-incidence, you be the judge.)
July 17, 1968
-
Premiere of the drug-induced, Big Blue Meanie-infested cartoon
Beatle
film
Yellow Submarine
, at the London Pavilion on this date.
Dammit, I'm tired of pretending that it's not -
Lucy in the Sky with Diamonds
IS
about drugs.
And so it goes.