A good way to waste
7
minutes:
Reel Wisdom: Lessons from 40 Films in 7 Minutes
A very cool commercial
but
choosing a drink shouldn't be a life decision.
It's the
202
th birthday of both
Abraham Lincoln
, a man with only a years' worth of formal education and still became our
16
th President
and
Charles Darwin
, the man who tried to ride a dog to the tropics and the uncle of most
monkeys
.
Go try preserving a union and question people's fundamental religious beliefs in their honor.
February 12, 1924
-
George Gershwin's
Rhapsody In Blue
premiered at Carnegie Hall in New York .
It has become one of the most popular American concert works.
Today In History
:
On
February 12, 1554
, The sixteen year old Lady
Jane Grey
, puppet Queen of England for nine days, was beheaded in the Tower of London, on this date.
Questions arose as to where to bury this semi-queen, until it was decided to place her among the beheaded former wives of
Henry VIII
.
Adolf Frederick
was King of Sweden until he died of digestion problems on
February 12, 1771
after having consumed a meal consisting of lobster, caviar, sour cabbage, smoked herring and champagne, which was topped off with
14
servings of his favorite dessert: semla (a hot cross bun filled with cream) served in a bowl of hot milk.
He is thus remembered by Swedish schoolchildren as the king who ate himself to death.
So remember -
push away from the dessert tray, folks
.
February 12, 1789
-
Ethan Allen
dies in a drunken sleigh accident while crossing the frozen Lake Champlain, reminiscing with friends and rye. Much of the circumstance remains a mystery.
The
Spirit of Ethan Allen
is Lake Champlain's largest cruise ship.
So kids remember, if you're lucky and you die while drunkenly crossing a Great Lake, you too can get a cruise ship or a line of furniture named after you.
Immanuel Kant
, a real pissant, died on
February 12, 1804
. His last words were reportedly
It is good
.
This is hard to believe, since Kant did not speak English.
On
February 12, 1894
,
Hans von Bulow
died, (yes,
Klaus
is related to him).
He was a popular pianist and composer, and the husband of composer
Franz Liszt's
daughter,
Cosima
, who screwed around behind Hans' back and ultimately left him for
Richard Wagner
, (more about him tomorrow)
Emperor
Pu Yi
of China's Manchu dynasty abdicated on
February 12, 1912
, allowing the establishment of a provisional republic under
Sun Yat-sen
, eventually causing Red China.
And making a fine movie.
February 12, 1935
-
The 785-foot
USS Macon
, the last US Navy dirigible (
ZRS-5
), crashed on its
55
th flight off the coast of California, killing two people. After takeoff from Point Sur, California, a gust of wind tore off the ship's upper fin, deflating its gas cells and causing the ship to fall into the sea.
Two
of Macon 's
83
crewmen died in the accident.
The U.S. Navy lost the airships
Shenandoah
in
1925
and
Akron
in
1933
. Some considered airships too dangerous for the program to continue at that point, and work on them in the United States was halted temporarily.
On this day in
1940
,
Superman
appeared for the first time on radio, the first time in a non-print medium. It was the debut of the radio show called
The Adventures of Superman
and the episode was called "
The Baby From
Krypton
."
We don't get to hear Superman speak though until the second episode: "
Clark Kent, Reporter
" (Feb 14, 1940)
(this was sent in by a loyal reader. Thank you good citizen.)
February 12,1967
-
Police in London arrest
Keith Richards
,
Mick Jagger
and
Marianne Faithful
after they discover amphetamine pills, cannabis resin, and Marianne scandalously naked but for a fur rug. The two Rolling Stones received jail sentences which were successfully appealed.
Questions still persist - where exactly was that Mars Bar anyway?
February 12, 1976
-
Sal Mineo
, film and theater actor, was stabbed to death in Los Angeles while coming home from a play rehearsal.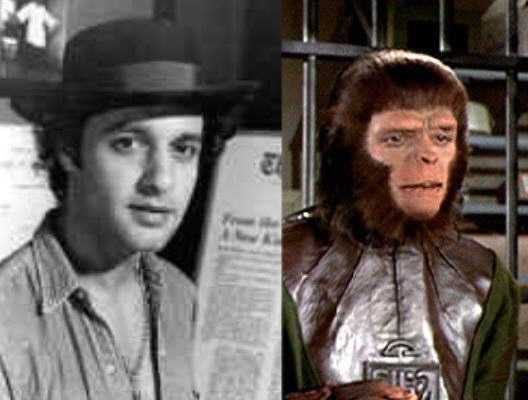 A pizza deliveryman,
Lionel Ray Williams
, was arrested, convicted, and sentenced to
57
years in prison for killing Mineo and for committing
10
robberies in the same area.
February 12, 2004
-
After
43
years together,
Barbie
and
Ken
, shocked the nation when they announced that they were breaking up.
Barbie
appeared to have moved on to an Australian surfer named
Blaine
.
But starting in
2006
, in an effort to compensate for his lack of genitalia, Ken hit the gym and sported a new look in an effort to win Barbie back
Currently, Ken wants to be with Barbie again and he has mounted a nationwide
campaign
to get her back.
And so it goes.