So, according to the President, we might not agree all the time but we wouldn't want to live anywhere else. And
'

Uncle

' Joe Biden
and
'

the Orange Man

', John Boehner
are proof that the '
American Dream
' lives (I'm not quite sure, who's dream that is - but I'm just quibbling.) Of course, we cut immediately to Mr. Boehner crying.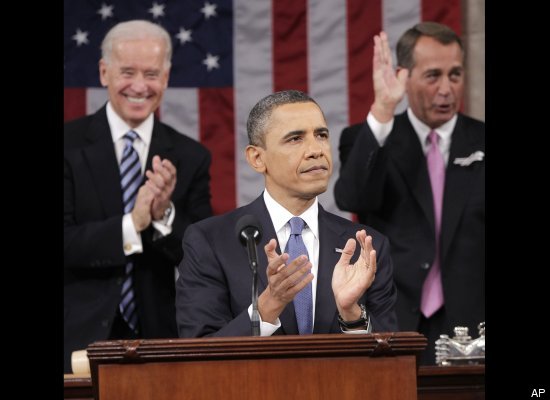 Rep.
Paul Ryan
delivers the Republican response and doesn't say anything new, different or embarrassing to himself. It is deemed a successful speech.
Rep.
Michele Bachmann
delivered either the Tea Party response or an imformmercial to her '
Crazy Town
' special.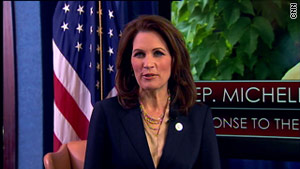 I believe she either accused the President of being a
Socialist
or asked WWII veterans to declare war on the President.
Another fantastic
Premake
trailer from
Ivan Guerrero
- A live-action version of
Up
from the '60's
This was another great use of old clips
January 26
is in India and dancers from all over the nation gather in New Delhi every year on this day to dance in the huge National Arena and all along a five mile parade route.
On
January 26, 1979
,
Le Freak
was on the top of the American charts.
It's nice to think there's a connection.
Today in History:
January 26, 1958
-
Ellen DeGeneres
, actress, comedian and Cover Girl spokes model, was born on this date.
Ellen seems to have survived the whole American Idol fiasco unscathed.
January 26, 1962
-
Mafia boss
Charles

Lucky

Luciano
died of natural causes at the Naples airport. On the day of his fatal heart attack, Luciano had plans to sell the rights of his life's story to a movie maker. Luciano dropped dead as he was about to shake hands. The Mob disliked the idea and had tried unsuccessfully to change his mind. It has been hypothesized that Luciano's heart attack was a result of poisoning by the Mafia.
He was buried in St. John's Cemetery in Queens, New York after a federal court ruled his burial on United States soil could not be blocked on the grounds that a corpse is not a citizen of any country and is therefore not subject to immigration control or deportation laws.
January 26, 1979
-
Dukes of Hazzard
premiered on CBS television with
One Armed Bandits
- (A shipment of slot machines is hijacked.)
High comedy indeed.
January 26,1979
-
70-year-old multibillionaire
Nelson Rockefeller
is stricken by a massive heart attack while giving dictation to his 27-year-old research assistant,
Megan Marshack
. Some time after that event, Marshack had called her friend, news reporter
Ponchitta Pierce
, to the townhouse and it was Pierce who phoned 911 approximately an hour after the heart attack.
Much speculation went on in the press regarding a personal relationship between Rockefeller and Marshack. Rockefeller's will leaves Marshak $50,000 and the deed to a Manhattan townhouse.
January 26, 1984
-
A magnesium flash bomb at Shrine Auditorium in Los Angeles ignited
Michael Jackson's
hair during the filming of a Pepsi television commercial, causing third-degree scalp burns.
It is later reveals that unscrupulous doctors prescribe a full but highly unorthodox regiment of pedophilia to ease the singer's wounds.
January 26, 1998
-
U.S. President
Bill Clinton
denies, on television, having had sexual relations with former White House intern
Monica Lewinsky
.
Sometimes, a blowjob is just a blowjob.
January 26, 1996
-
Insane madman millionaire
John E. Du Pont
shoots Olympic wrestler
David Schultz
three times, killing him. A two day police standoff follows at the Foxcatcher estate and wrestling compound, with SWAT teams biding their time under the assumption that Ddu Pont, an expert marksman, possessed an arsenal at his disposal.
Mr. Du Pont died in prison this past December. Perhaps Mr. Du Pont has gone to a better place where greasing yourself up and rolling around a mat with another person in a unitard is not considered a crime against nature.
And so it goes.